I got totally confused and quite scared when I first had to build my product design portfolio. More than 10 years later, I remember like it was yesterday.
This guy invited me to a job interview for a cool company (at least I found them cool at that time). He just needed a portfolio to "check first". So I stood there, close to my dream job, but didn't know how to put together a decent product design portfolio. This thing seemed like a huge task, quite impossible to put together in a few days.
Fast forward more than a decade, I'm leading a 30-person design team. After checking hundreds of portfolios and sitting through hundreds of interviews, I now have quite a clear picture.
And I would love to help. I take this quite seriously. As a result, we built UXfol.io, our UX portfolio platform, a perfect choice for all product designers. We started building this tool after seeing how many people struggle with this challenge and do it wrong. We aim to help designers showcase meaningful design stories, not just a few images in their portfolios. And while they do it, they will help the whole design profession gain more recognition.
This article shares the recipe for a great portfolio, a template you can use. It shows you the tools to build it and shares examples of some of the best product design portfolios I've seen. I packed so many tips into this article, but first let's clarify something.
Who counts as a Product Designer?
In the digital world, a product designer masters the art and science of designing digital products as a professional. They usually design the product interface and the user experience. In most cases, they work on websites, mobile apps or other software interfaces.
The term "product designer" can mislead a bit in our case, because we use it widely for industrial designers as well. This article focuses on those working with digital products, but most of my suggestions also apply for industrial designers too. The main roots of each design profession resemble each other. We both try to understand our customers, build prototypes, iterate, etc.
Telling a great design story provides the best strategy to get a great job, whatever field you design in. This can even be a great designer tip on starting your own clothing line, for example.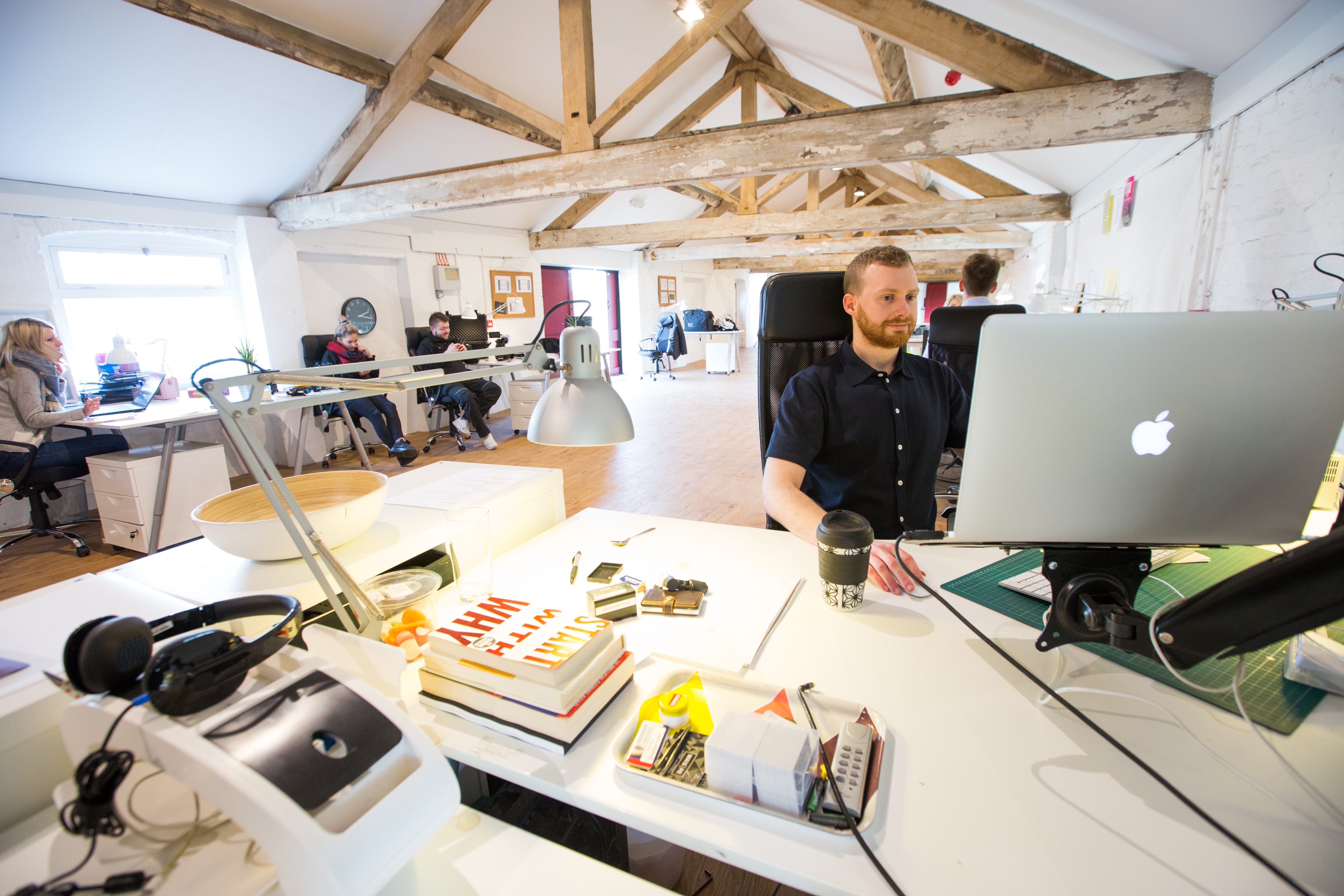 The secret sauce: How to stand out with your product design portfolio
Product designers work on three different levels. I might oversimplify, but this model will come in useful here.
Visual design: This involves the aesthetic part of the job. The look and feel of the products. The sense of style, and the ability to make something cool or lovable.
Usability: This deals with making our products easy to use and understand. It includes prototyping, user testing and a lot of other things to make sure people have a flawless experience with our product.
Usefulness: All about figuring out what features the product needs, it gets into really, deeply understanding customers, knowing the problems and challenges they face, and coming up with feature ideas to solve these problems. This represents the strategic part of design.
And here comes the trick. A great product designer does well on all three. That means not just drawing pretty websites, but having the tools and methods to ensure easy use. Also, it requires the ability to help your business figure out what features or content the website needs.
This focuses on the word "business". People love to hire product designers who can do more than draw cool buttons. They love to hire people who can help them figure out the pain points of the target market and solve these problems with a great product.
Finding out what a product should do, how will it solve customers problems and thus, what features it needs, forms a core part of creating a winning product strategy. And this way, you can increase your importance as a player in your organization.
So what do they want to see in your product design portfolio? Besides nice images (a must), they would like to hear stories about how you came up with a useful product.
They should tell how you got to know your target group. What customer insights did you gain? What problems did these people face? How did you turn these insights into feature or product ideas? How did you experiment with these ideas and do prototyping and testing? How did the final product work in real life?
Tell them a story this way. So this article will now share an exact product design portfolio template you can use to tell great design stories. Or in other words, build great UX case studies.

Product Design Portfolio Template
Let's look at how the projects or case studies in your portfolio should look. It resembles telling a fairy tale or a drama. And remember, it has to contain how you understood your audience and created something super useful for them. Do it step-by-step like this.
1. Describe the challenge
The story begins. You know, "Once upon a time…". Start personal: "I joined this company and identified the biggest challenge we faced as…". Or: "I was working on this product and it turned out that xyz frustrated most of our users." Just describe the situation by pointing out the business risk or customer pain point you faced. This will instantly create some tension, and people will get curious about how you solved the situation.
2. Introduce the team and your role
Now that we know the situation, introduce the heroes. Describe your team setup, who participated, who worked on what, and your exact role on this team.
3. Talk about your research
Once we know the team, share your design journey. Reveal your process step-by-step. Usually, it starts with some research like user interviews, competitor analysis, personas, jobs to be done, customer journey, you name it. For each method, divulge why you chose it, show some images and explain the results.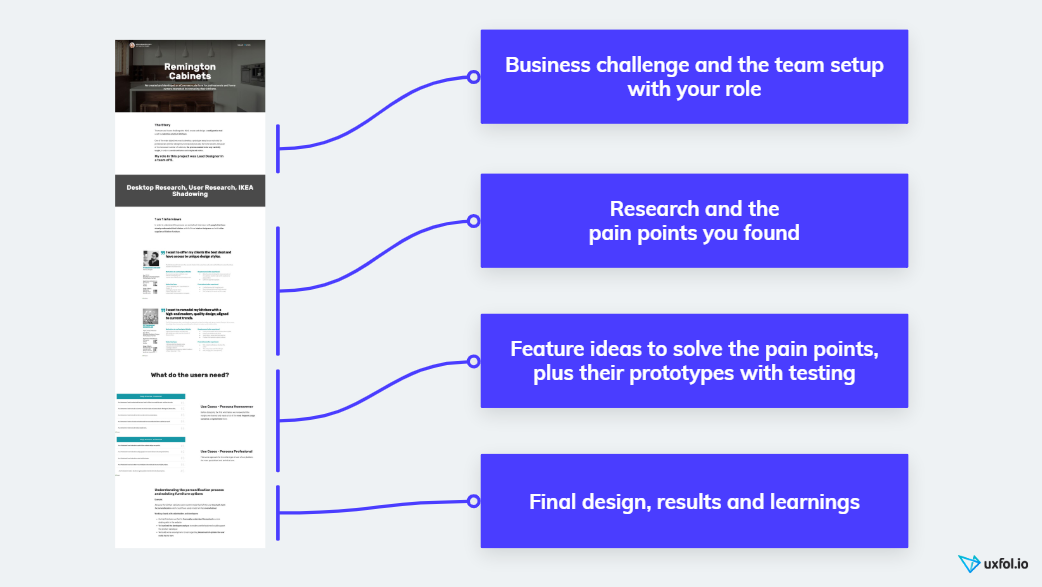 4. Describe the target group's pain points
Share everything you learned about the users or target group. Sum up the main pain points the customer faced. It helps us understand the context and prepare for the next part, when you solved these problems for them.
5. Showcase feature or product ideas
Now that we know your users' pain points, share ideas about how you solved them. Talk about the initial, high-level product or feature ideas you or your team came up with.
For example, you realized that owners couldn't leave their dogs anywhere while they went on vacation. Consequently, you thought of building a search engine for dog-friendly vacation destinations or a marketplace for dog sitters. At this point you don't know which solution will work out best. Describe these ideas in words or even with early sketches. They don't have to look too pretty.
6. Validation and prototyping
Here comes the exciting part when you decided which direction to go. First go over how you tried to validate the ideas. List the many methods like fake door tests, landing pages, mocking a service with manual work, or simple prototypes and user tests. Readers should see how you experimented with your ideas and why you chose the winner in the end.

Once you have the best product or feature idea, relate how you built the first prototype for it. Also, how did you iterate on it with user tests to improve its usability?
7. Impress us with the final design
Now present your work's shiny UI design. Use a fancy gallery section or talk about the great style guide or UI kit you created. Explain how your colors and fonts strengthened the brand. Use big images and mockups here, so your work looks real.
8. Sum up the results and learnings
Finally comes the time to reveal some results. Include everything that proves your work succeeded: product metrics, and quotes from customers or business leaders. Summing up your personal learnings works great at the end as well.
The best UX designer portfolios use this template. Let's look at some examples.
Great product design portfolio examples
In her portfolio, Chloe Blanchard tells a story of how her team helped a consulting company come up with a new app for their own consultants. She explains the goals and the team setup at the beginning, then walks us through the project step-by-step. She even included some photos of the workshop they ran with the client. At the end we find nice concept images from the app they came up with.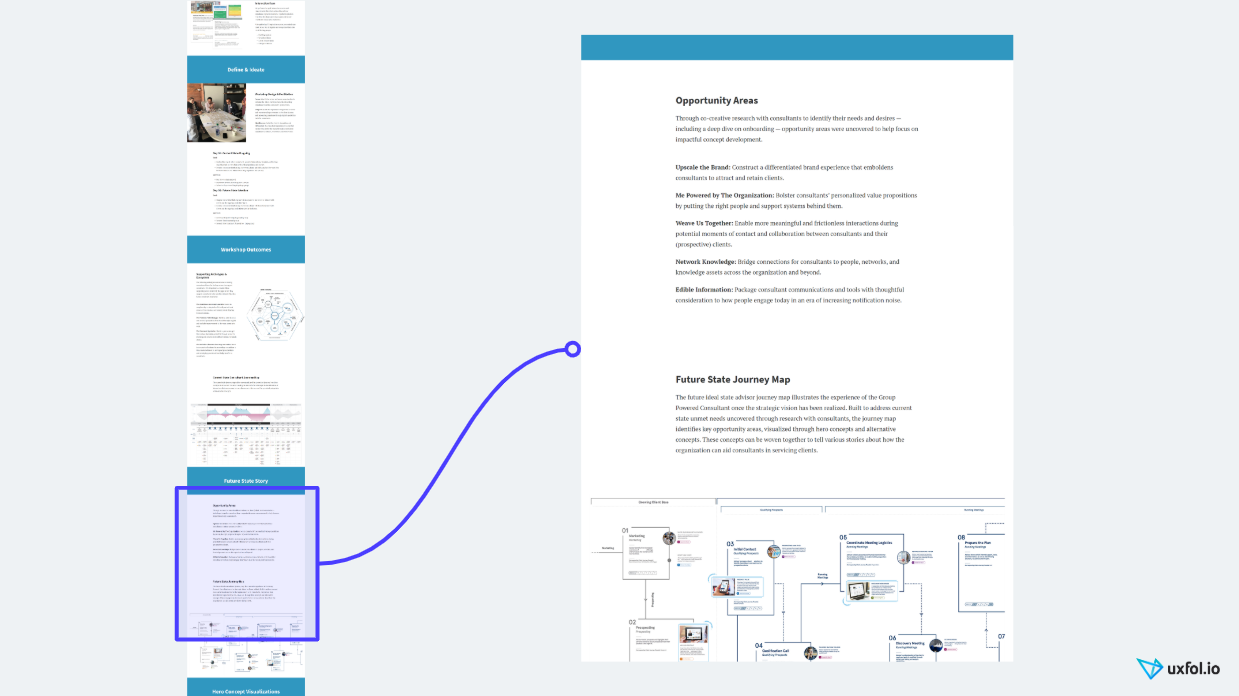 Beto Lima lays out how he redesigned 99app.com in his portfolio. At the beginning he sets the stage with the background story of 99, Über's main local competitor in Brazil. This makes the whole thing more meaningful. Then he shares all the methods he used, from stakeholder interviews to card sorting and prototyping. I really love that closes with the news that he managed to get 12% more users with the new design.
I like Storm Samson's Pottery Barn project because he describes how he experimented with different user flows on his site. It shows diagrams of these flows and images of the final screens, also explaining the logic behind the necessary changes. He starts the whole thing listing the business challenges the company faces, so we know the context and can imagine the importance of his work.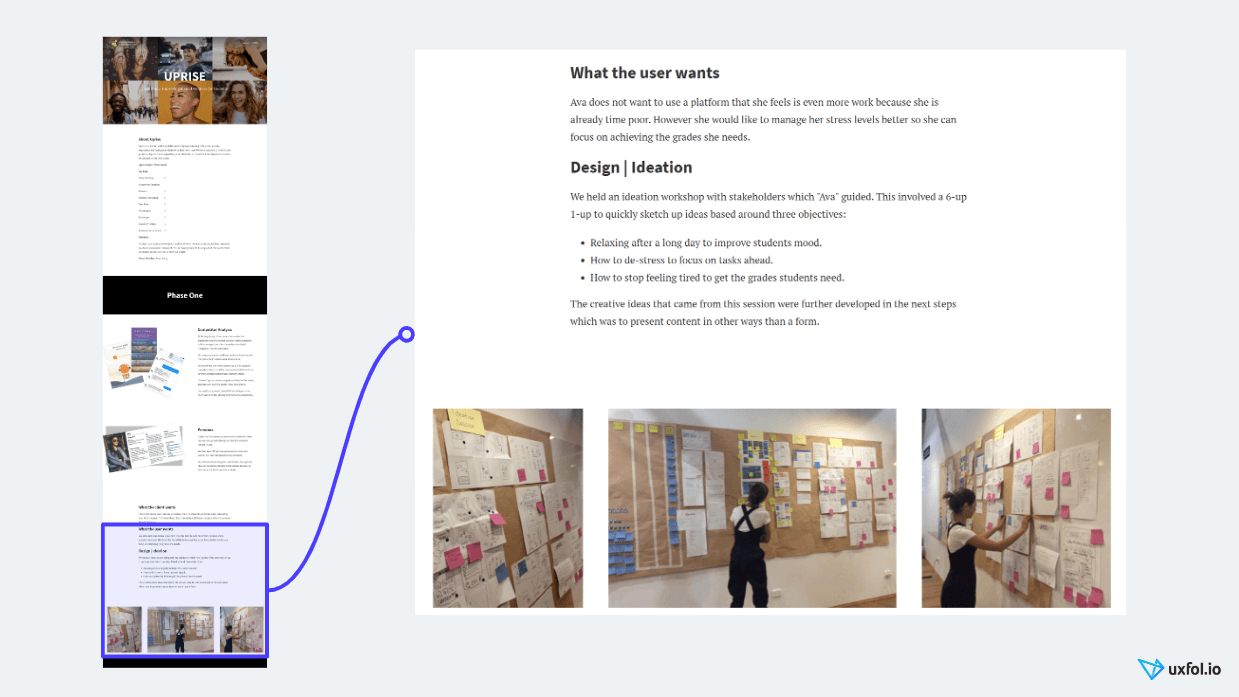 I left one of the best examples for last. Elissa Santamaria from Sydney created a great portfolio with UXfol.io as well, including her project Uprise. She starts her product design case study explaining the situation. The company, which built a stress management app for working professionals, wants to enter the new market of university students. They hired Elissa to explore opportunities in this segment. And she did quite well. She examined the competitors, built personas and came up with three different concepts and main feature sets. Then she ran user tests with students to figure out which worked in real life. She shares a lot of learnings and also a cool quote from the client.
So these product design case studies exemplify greatness. But how many of them does your portfolio need?
How many projects to include and how to choose them
Oh boy, so many people mess this up. Even senior people. They think, "I'll put this piece into the product design portfolio as well so they will see I can do this type of work too. Everyone will find something related to them."
Wrong.
You should put in only three to five projects. Not less than three, so they see you bring much more than a one-hit wonder. Not more than five, so they will see just your best work. Your job: Prioritize.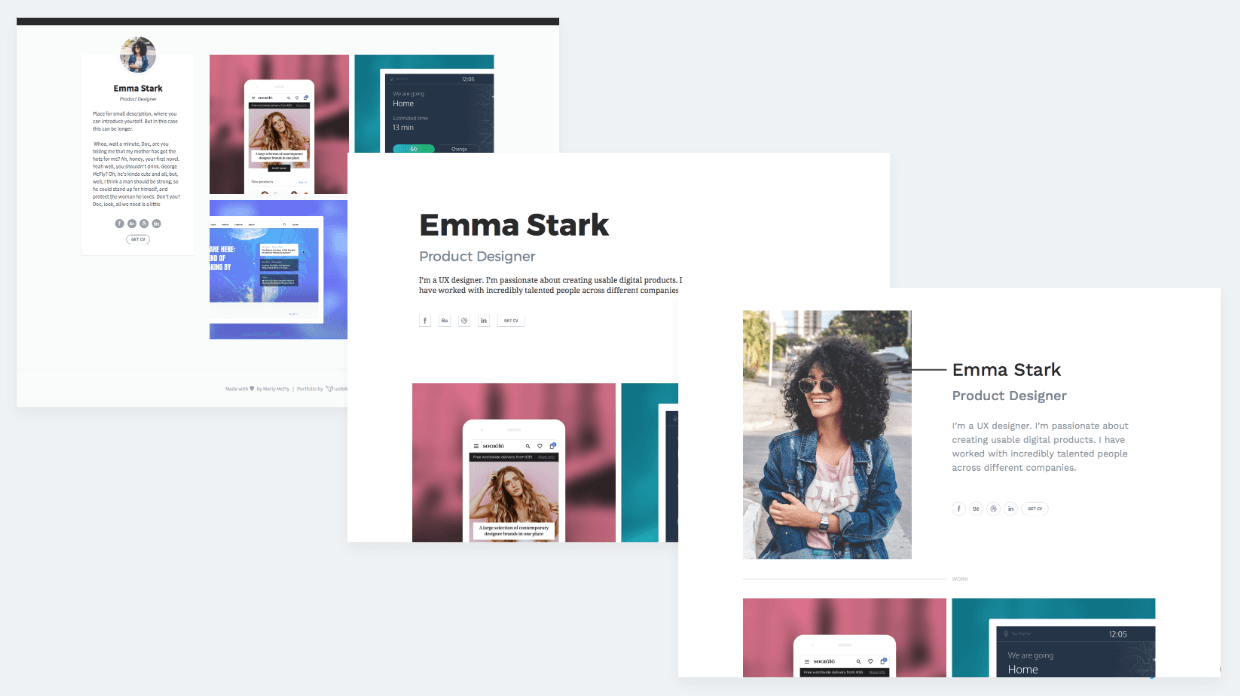 Your portfolio should contain your best work, and only your best. They will judge you by your weakest project, so don't sweat leaving it out.
Employers and recruiters will look for evidence in your portfolio that you have experience in the type of work they want you to do. Give it to them, investigate what a particular company is working on, and put similar projects into your portfolio. If you want to get into a healthcare company, show them healthcare projects. If you want to get into a position to build a design system, show them what design systems you have built before.
It works the other way around as well. Choose the topics and work you would love to do in the future and put them into your portfolio so recruiters from companies working with similar products will find it interesting. If you want to work on mobile apps, put only mobile app projects in. If you want to work on products for children, showcase projects about that.
Include projects which you really liked. During the interviews they will ask you to talk about them, and nothing convinces better than seeing enthusiasm in someone's eyes.
If one of your projects lies very close to your heart, but has become a bit outdated or has sloppy design, don't hesitate to revamp it and put the new version in.
How to do all these things quickly? What if you hate writing?
To sum up, you need a portfolio of three to five projects with:
Your

best

work,

Topics or areas you want to work on in the future,

A nice front page with your name and a short bio, social links maybe, and

Three to five nice big images representing your projects.
If someone clicks on these links, they will land on a page that tells the design story of that project, just as described above. Start with the challenge and the team, then talk about your research and the user pain points you discovered. Relate what feature ideas you came up with and how you experimented with prototypes. Next, close the whole shebang with some beautiful images of the final product and some words about the results and your learnings.
Naturally, I talk about your product design portfolio as a website, because 2018.
So the big question remains: How will you do all these things? And what if writing case studies doesn't really come to you as more of a visual person? I think I can help.
Many designers start to build a portfolio looking around WordPress templates.
Don't.
By now, I think you know why: Great companies won't invite you to an interview because you have spent days adjusting HTML and CSS code.
They will because they saw some good design stories in your portfolio. OK, don't believe me. Ask industry veteran Jared Spool or design sprint inventor Jake Knapp. So don't start coding, but rather find a good tool that helps you build your online portfolio.
Our tool UXfol.io lets you do all this while saving you days of time. When you sign up, you can choose from among beautiful templates for the front page of your portfolio.
Add a short bio, upload an image, then start building your projects. Include project pages for your case studies. When you add a new project, you can choose different sections to add. We have great templates for every UX method you might do, from describing the challenge at the beginning to research, personas, or screen galleries for presenting the UI design.
You can embed your prototypes right into your portfolio from many popular tools like Axure, Marvel or InVision.
Forget about hunting for mockups, too. Just upload your screen designs and choose to display them on a mobile phone, a tablet or a desktop.
And here comes the best part: If you add a section, say about user testing (or anything else you've done), we will give you guiding questions and some example sentences. So you don't have to be a pro copywriter. Simply answer these questions and get a decent text for your portfolio. It works like magic.
As you see, we built this tool solely to create online product design portfolios. And it works super easy.
How to start building your product design portfolio
So how to get started? The easiest first step: Decide on the first project to put in. Choose the most exciting project you've done in the last 12 months.
Choose your favorite, the first one to put in.

Find a tool to build an online portfolio. We recommend UXfol.io, of course.

Start building by telling the story of that project.
That's it. Time to roll up your sleeves and get started! Actually, it won't come that difficult. Building a portfolio will help you evaluate your skills and get a bird's-eye view of your recent work. And of course your portfolio page will develop into a point of pride because you will see all your work, as well as all these great design stories you went through.
I hope I could provide you useful advice. If so, try UXfol.io – You will love it!