A list of UX websites – just what was missing from the internet. Bear with me! This one's different. First of all, it's not a rehash of other articles, nor is it sponsored by any of the entries. Every website on this list was recommended by practicing designers. Second, I personally reviewed all of them to make sure they deliver. I'm 100% sure that you'll find at least a few websites that can contribute to your designs in some way. So let's dive in!
Categories:
I. Design inspiration
Finding inspiration is an essential step in the design process. Yet, for some reason, you don't see it in guides about UX design. When it comes to inspiration – and especially UX design inspiration – what matters most is that you source it from quality sources. That's why websites curated by experienced designers are much better than websites where anyone can publish anything. Therefore, this list only contains curated design inspiration resources:
Refero (UX/UI)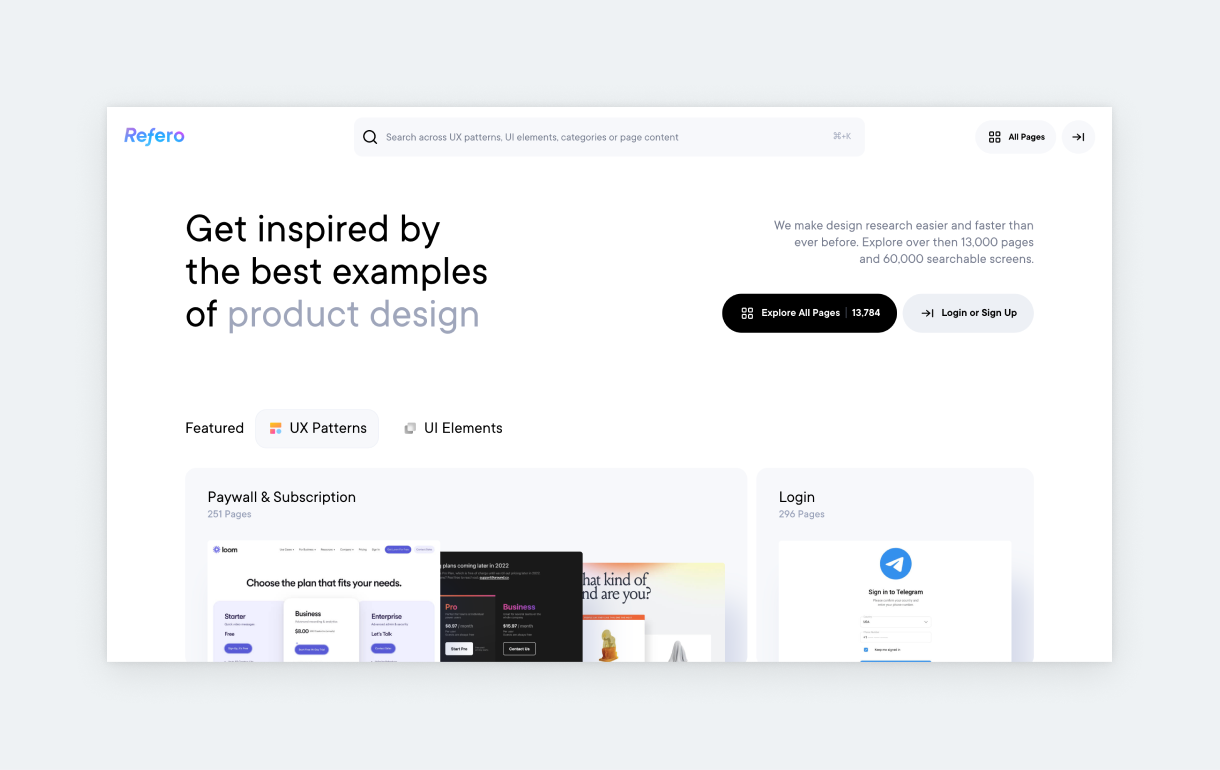 Refero is a curated collection of design inspiration in two main categories: UX patterns and UI elements. Both are sorted into clean subcategories, making it easy to find numerous great examples of what you're looking for (checkouts, 404 pages, product detail pages, tables, maps, color pickers, and so on.) For each individual example, Refero also lists the UI elements it employs alongside the typo and color codes.
Pageflows (UX/UI)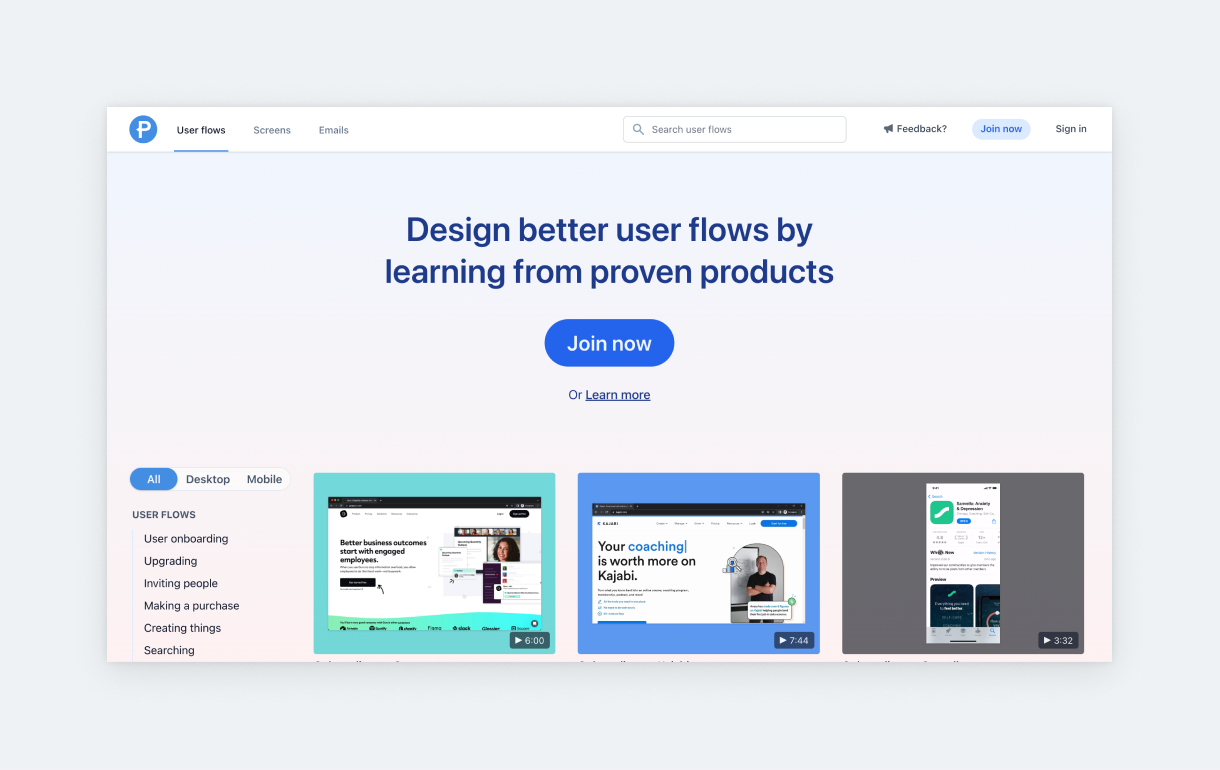 Pageflows is a subscription-based site for desktop and mobile user flows, sorted into particular categories like analytics & stats, canceling, inviting people, and so on. It's especially useful for novice designers. If you don't want to subscribe ($35 for three months), you should become a regular visitor, as many of the examples get locked behind a paywall after a while. Still, a short, daily, or weekly visit can help build your design vocabulary.
Scrnshts (UI)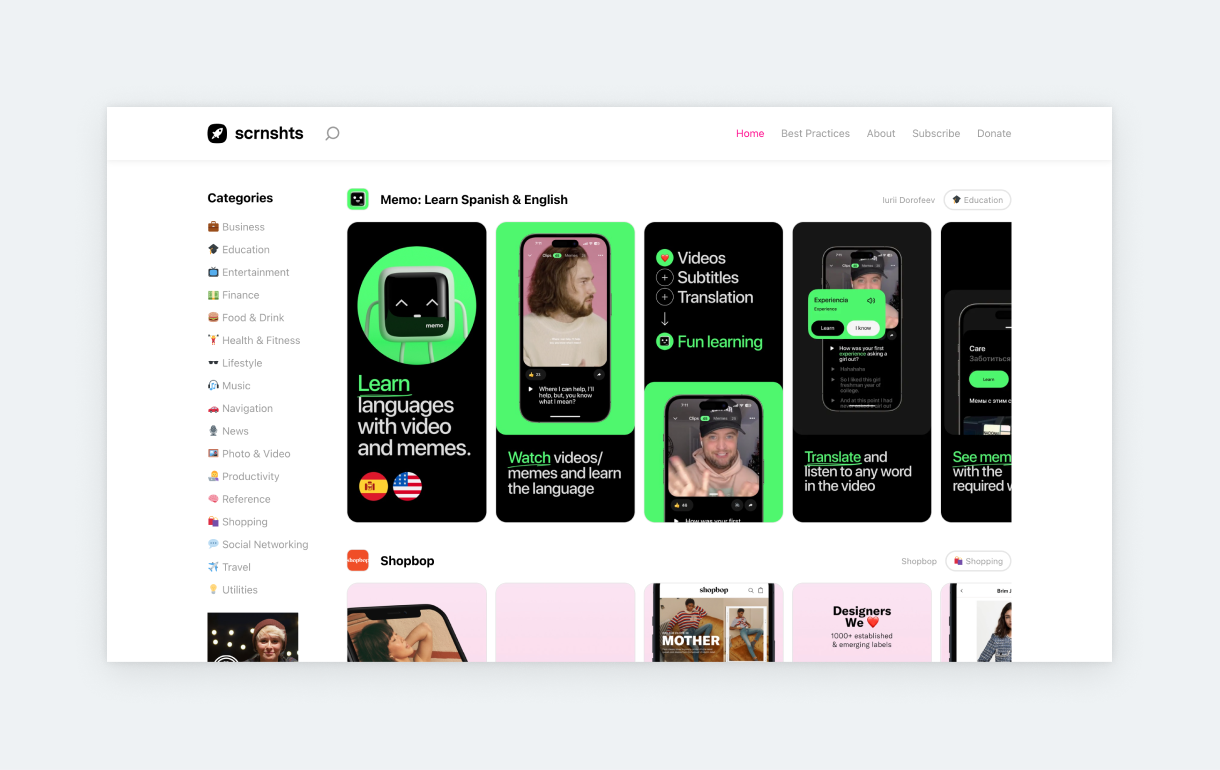 Scrnshts share AppStore-style screen showcases of apps in various categories, like finance, entertainment, health, fitness, or business. The highlight here is on UI and presentation. If you need some inspiration for presenting an app in an attention-grabbing way, this is the website for you.
UXArchive (UX/UI)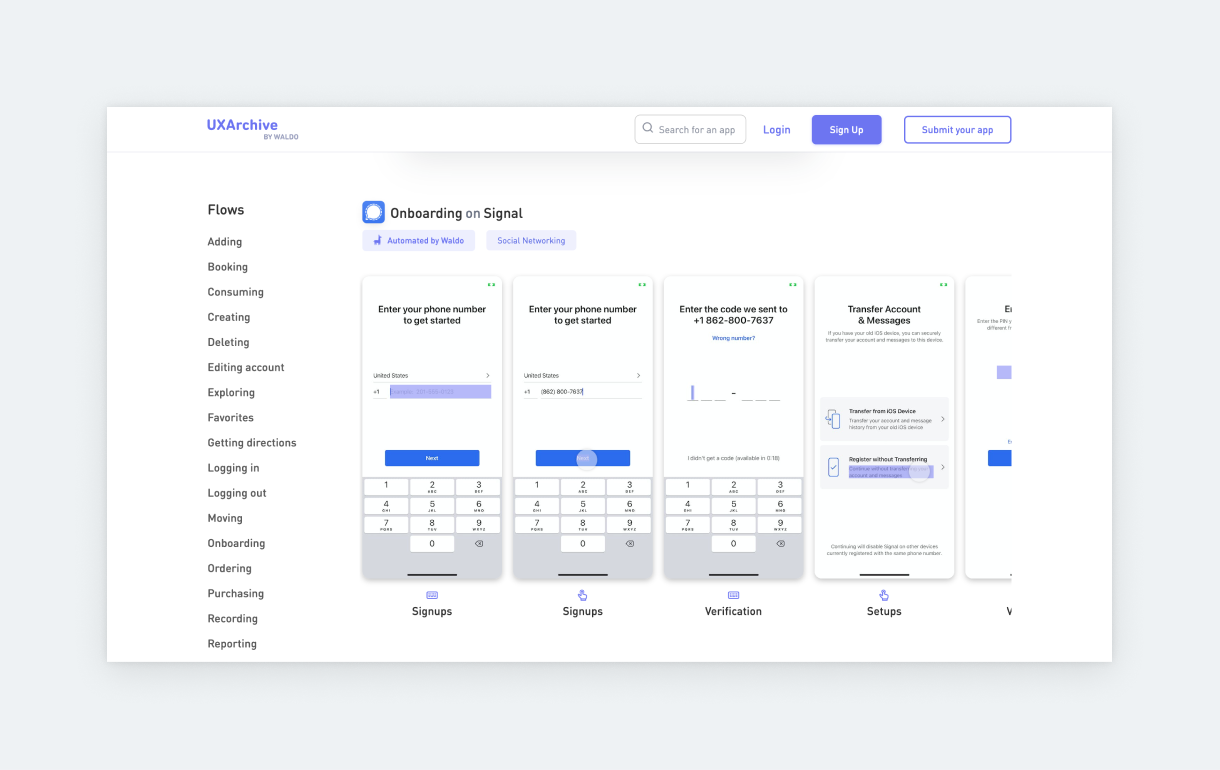 UXArchive is a fantastic showcase of more than a thousand flows from hundreds of apps. You can browse in 25 categories, and you can scroll through entire app flows for free. It's an excellent resource for getting unstuck.
Waveguide (UX)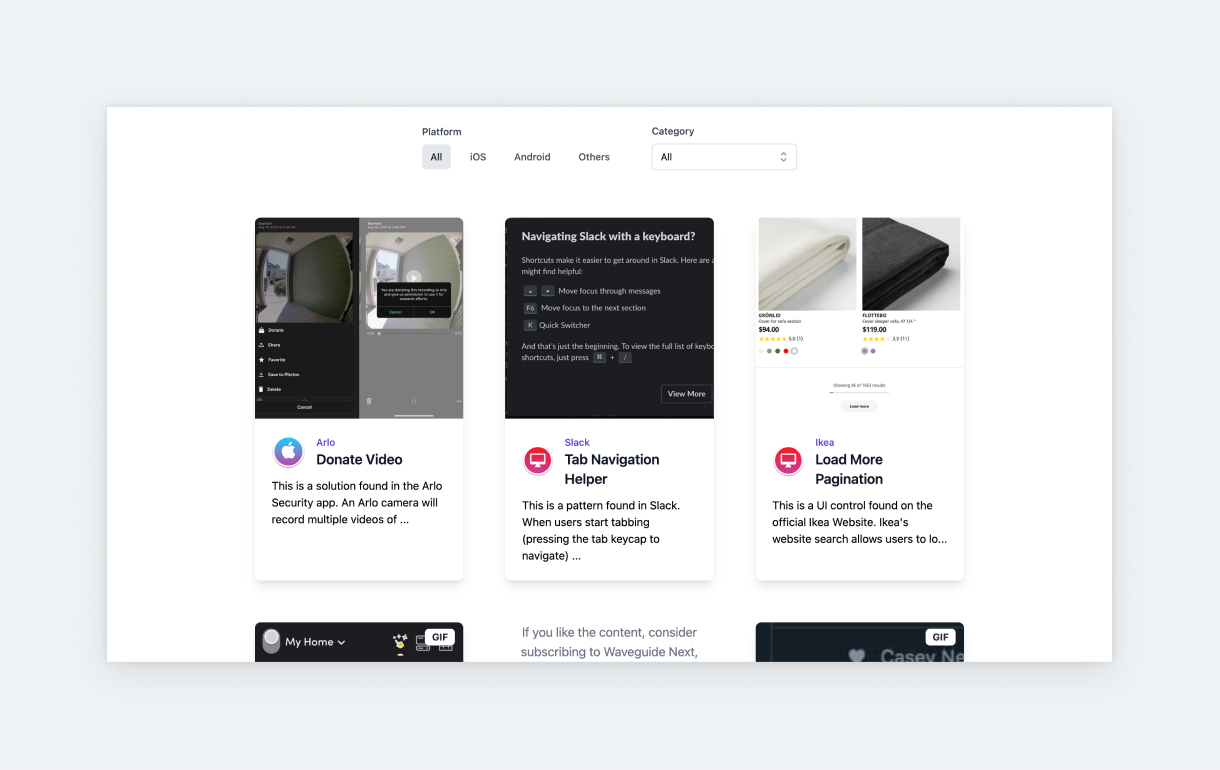 Waveguide has a different approach to UX design inspiration: they take small interactions, features, screens, or flows and explain how and why they work. Their categorization is also based on this approach. You can browse examples of correctness, delight, discoverability, aggregation, learnability, and more.
Mobbin (UX/UI)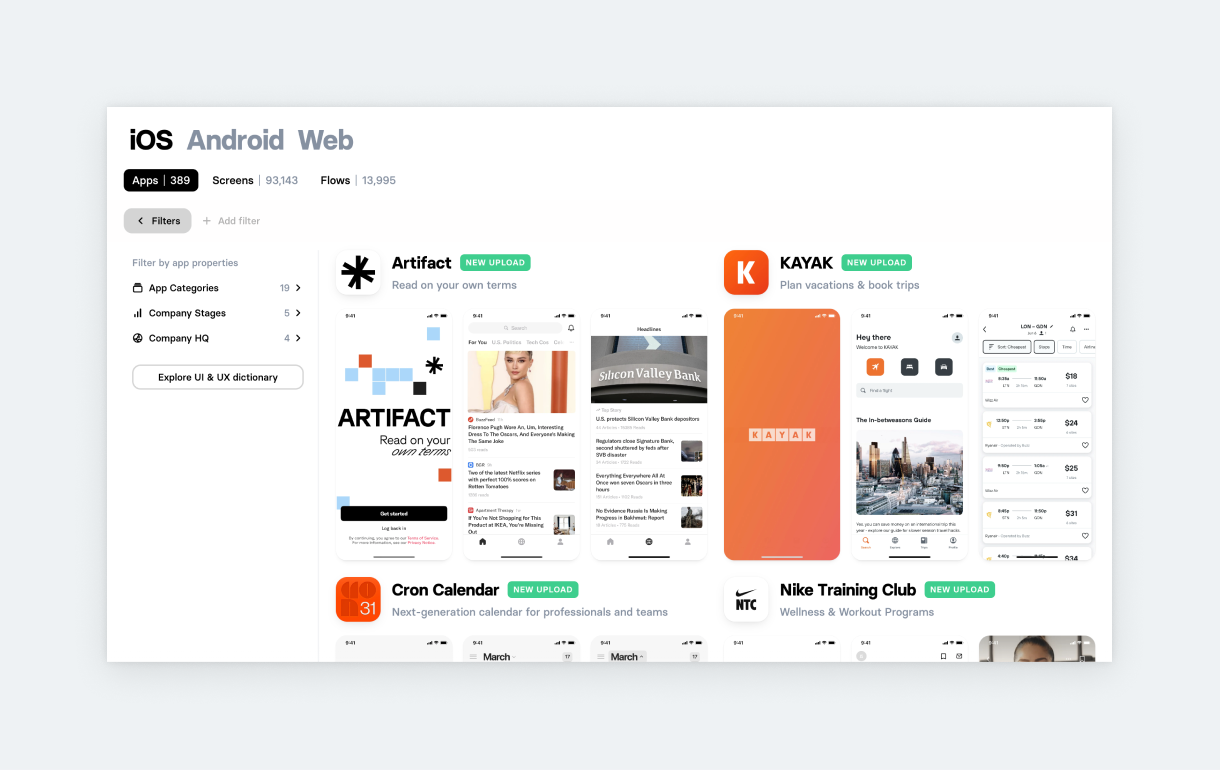 If you don't want to download dozens of apps to your phone for research purposes, Mobbin is the UX/UI design website for you. Mobbin takes screenshots of every screen from an application and lays them out beautifully. The site has almost 100,000 screens in its database. You can filter for apps, screens, or flows. In the free plan, you can't browse older examples, but you can still check out new additions.
GoodUX (UX)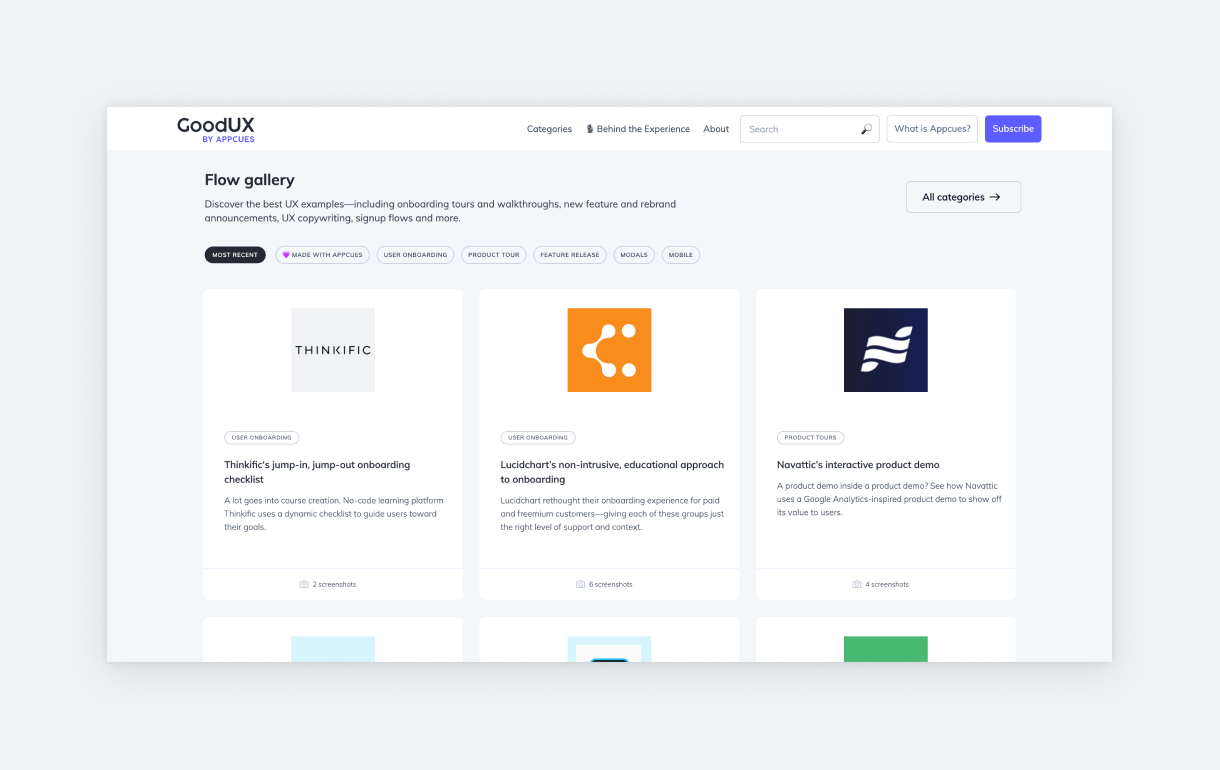 GoodUX shares UX design examples in context: they take a flow and explain why it works. If you don't have the time to read everything, you can check the bullet points at the end of each article. Also, you can subscribe to their newsletter to receive good UX examples in your inbox on the regular.
Dark Mode Design (UI)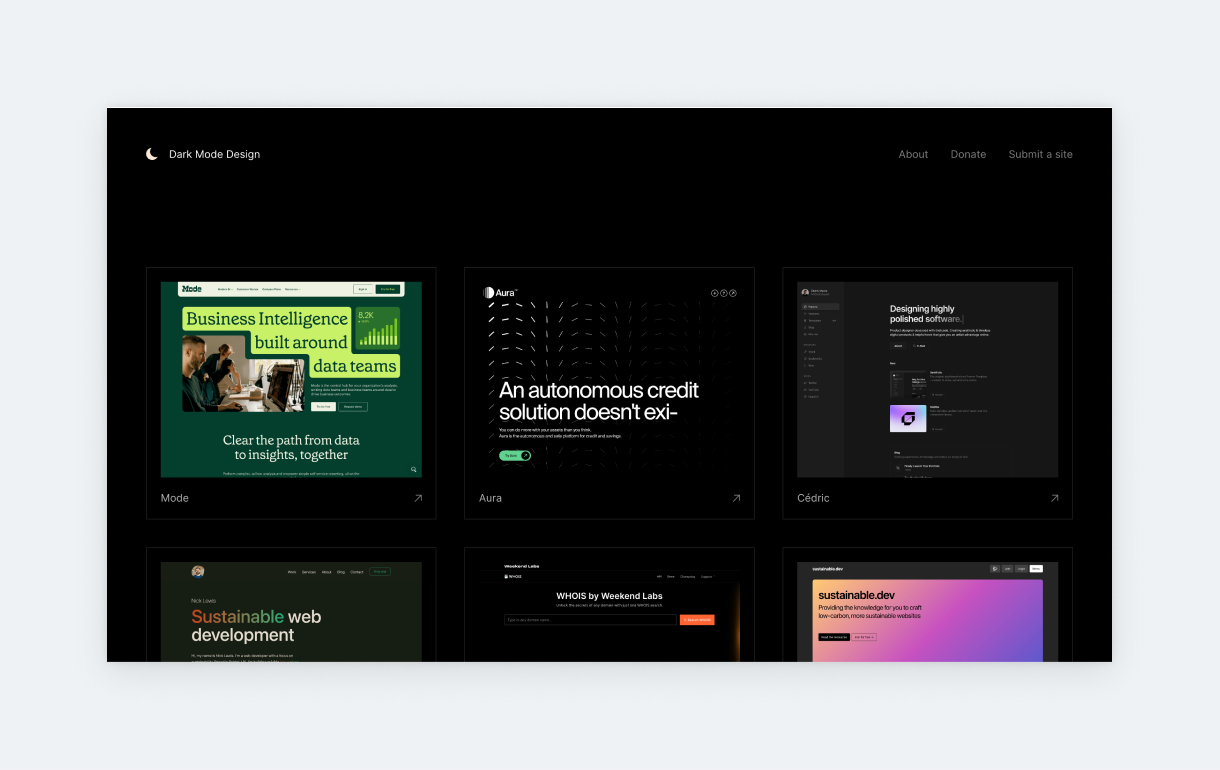 Dark Mode Design is a handpicked collection of beautifully designed and inspiring dark mode websites. It's best for UI design inspiration, but you can also find some great UX solutions.
Minimal Gallery (UI)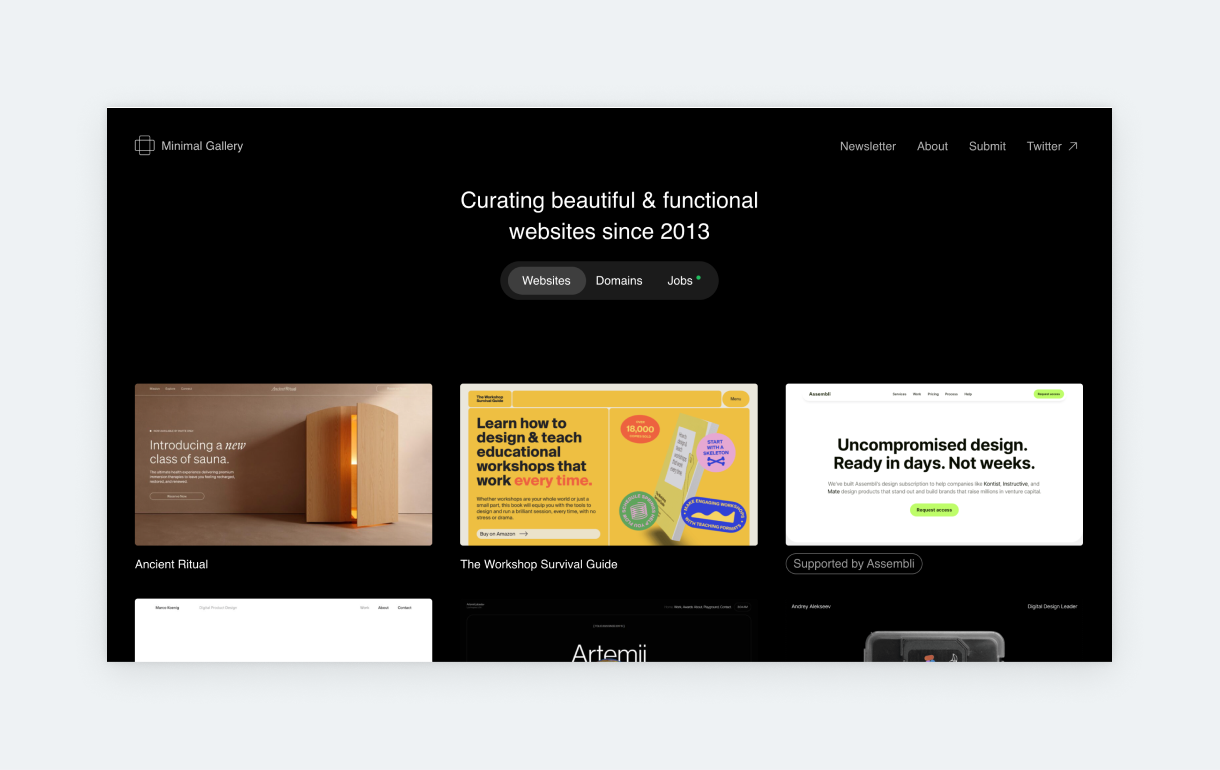 Minimal Gallery is a popular showcase of website UI inspiration. It has been around since 2013, which is a testament to the site's quality. From a usability perspective, many of the sites are questionable, but nevertheless, they're lovely to look at.
---
II. UX/UI best practices
Awareness is a critical ingredient of great design. Building on the knowledge that other designers, psychologists, and researchers before you have already figured out becomes possible only if you're aware of this vast knowledge. That's why you should immerse yourself in design laws, best practices, and principles: you'll become a better designer. Also, let's not forget that distilled principles and rules help the field of UX design be taken more seriously.
UX Myths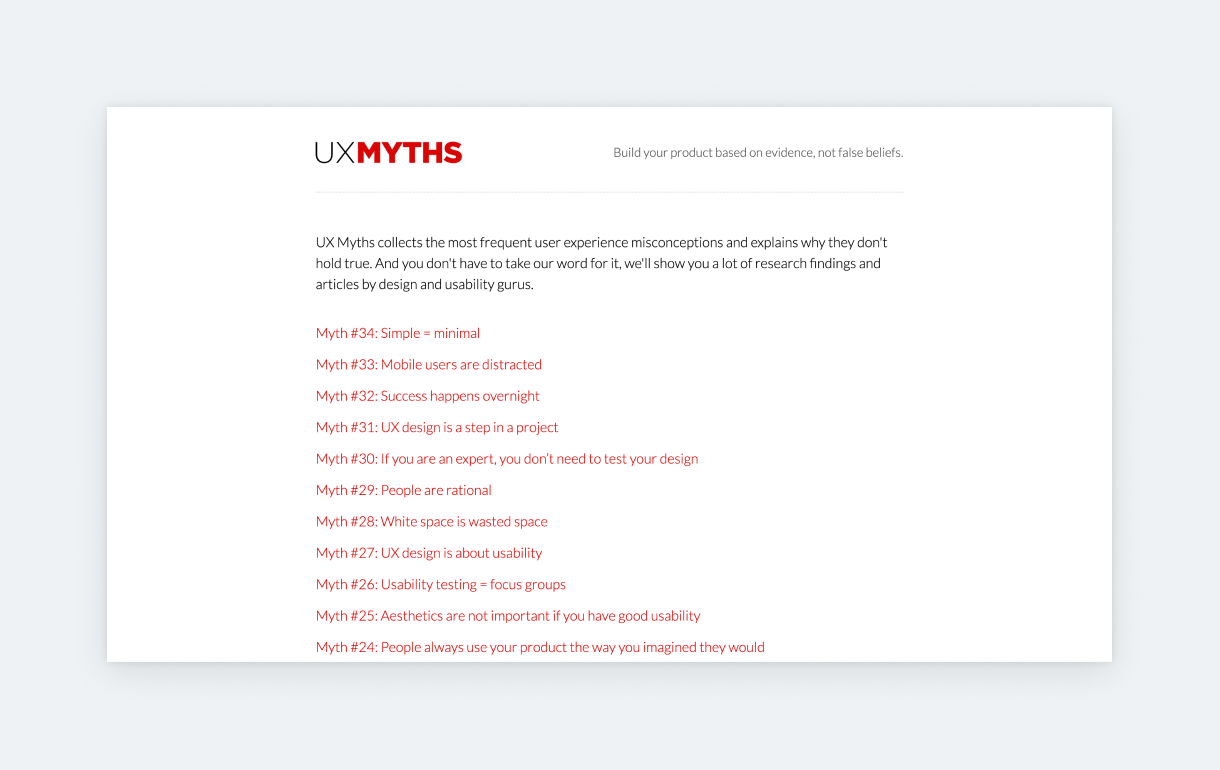 UX Myths is a very clean and simple UX website that collects frequent user experience misconceptions and explains what's wrong with them. Currently, it lists 34 misconceptions – some are delightfully controversial – like "Aesthetics are not important if you have good usability" and "Icons enhance usability." Both of these examples are commonly held by UX designers but are false.
Humane by Design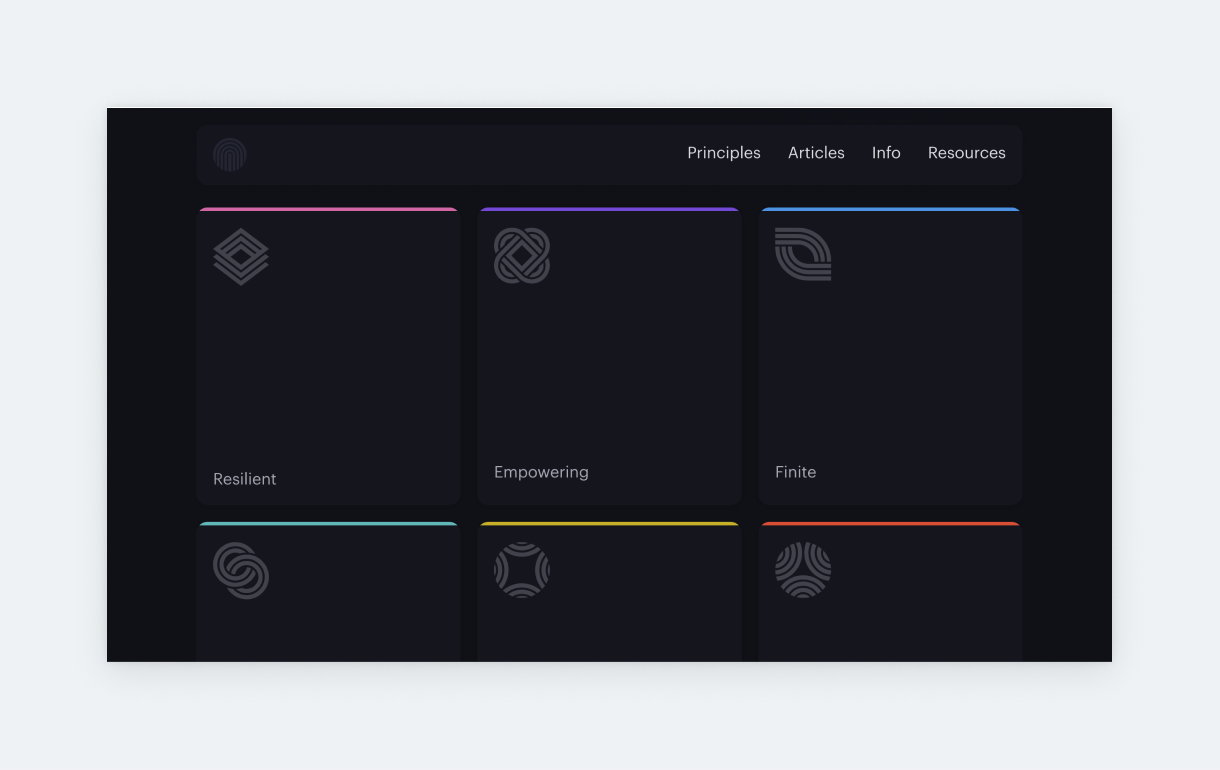 If you need a quick overview of ethical design principles, check out Humane by Design. This stunning website lists 7 straightforward principles focused on user well-being. Each principle is a quick and easy read with great visuals and examples for better understanding and memorization.
Guide to UX Research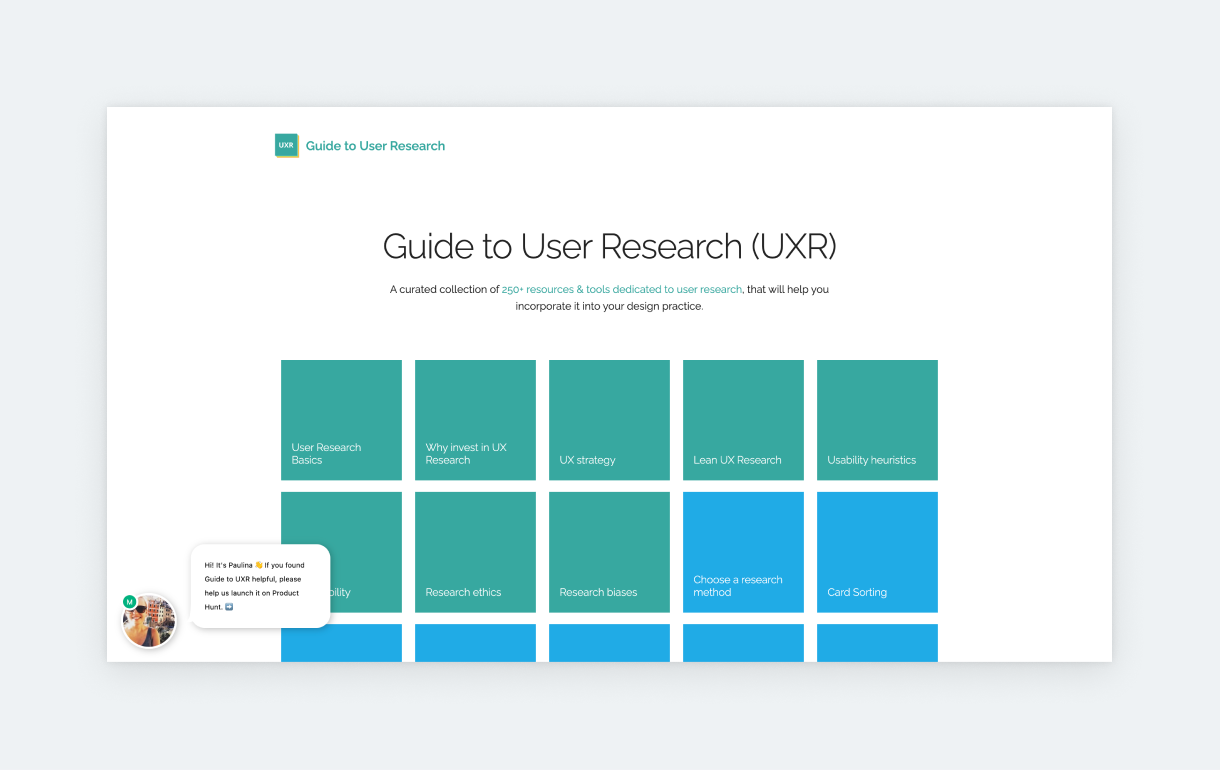 Guide to UX Research is a collection of high-quality resources on 45 UX research-related topics. The topics contain various categories, like quick overviews, step-by-step guides, and deep dives on the topic at hand. If you're a designer who's also doing research, and you don't want to spend hours doing research on research (or using it as an excuse to procrastinate), bookmark this UX research website.
UX Project Checklist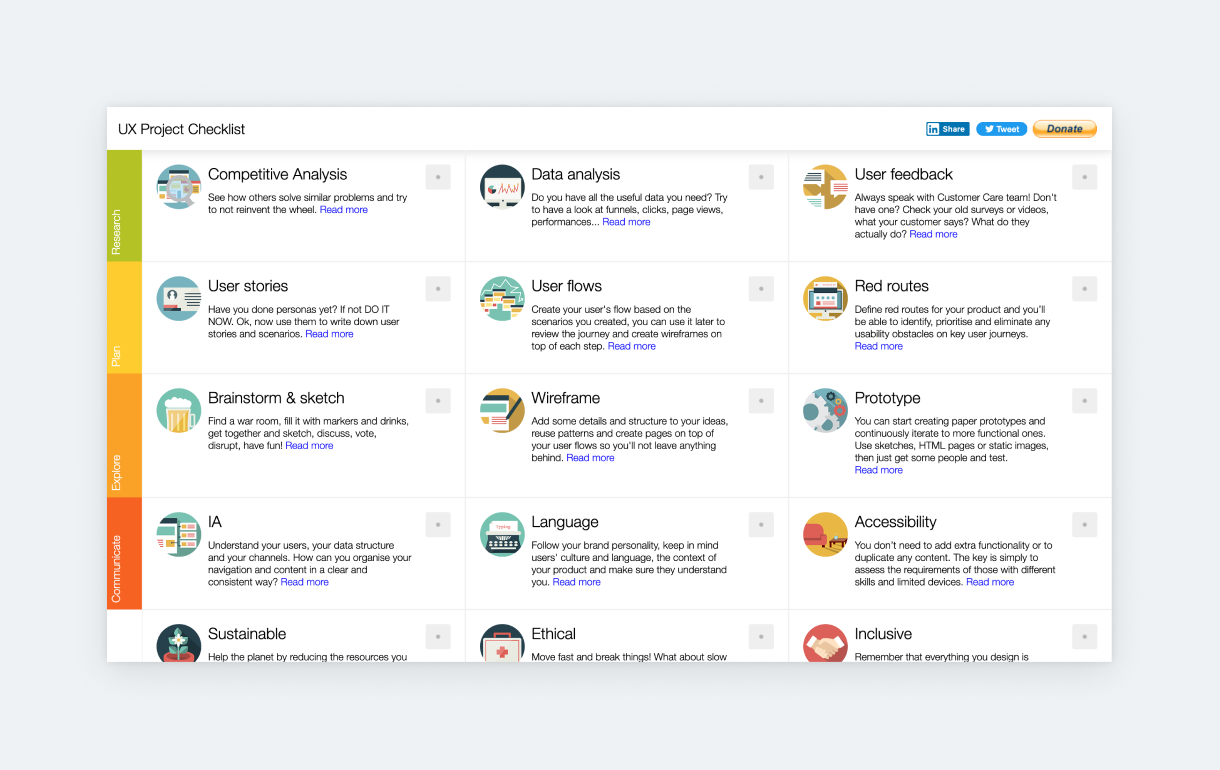 This well-organized site contains fantastic resources for all stages of UX design projects. It covers everything, from the basics, like research and exploration, to less publicized topics, such as delight and communication.
Netguru – Design Process for Pros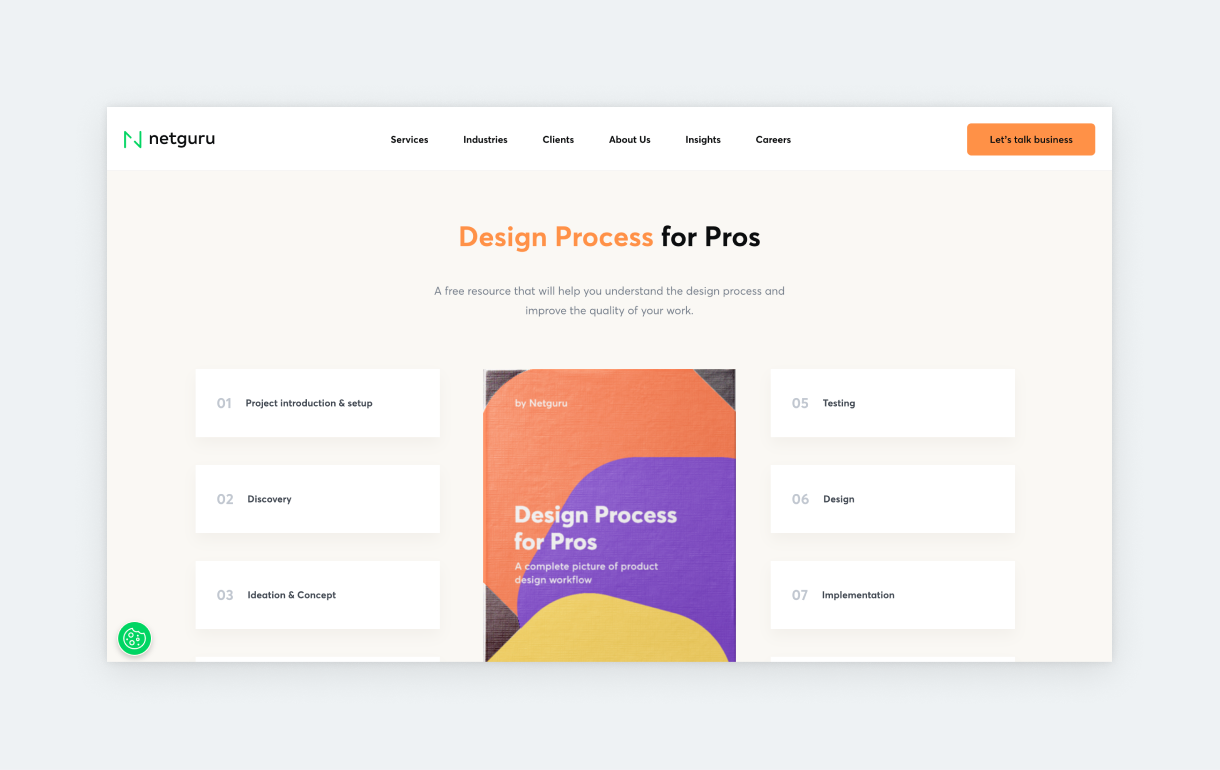 We all know that UX design books can be super expensive. But with players like Netguru, budget is not an excuse anymore. "Design Process for Pros" by Netguru is "a free resource that will help you understand the design process and improve the quality of your work." This online ebook has 8 main chapters covering the stages of UX design. Each main chapter is broken down into smaller chapters that are easy to follow and digest. This might be a free book on design, but it doesn't compromise on quality.
Laws of UX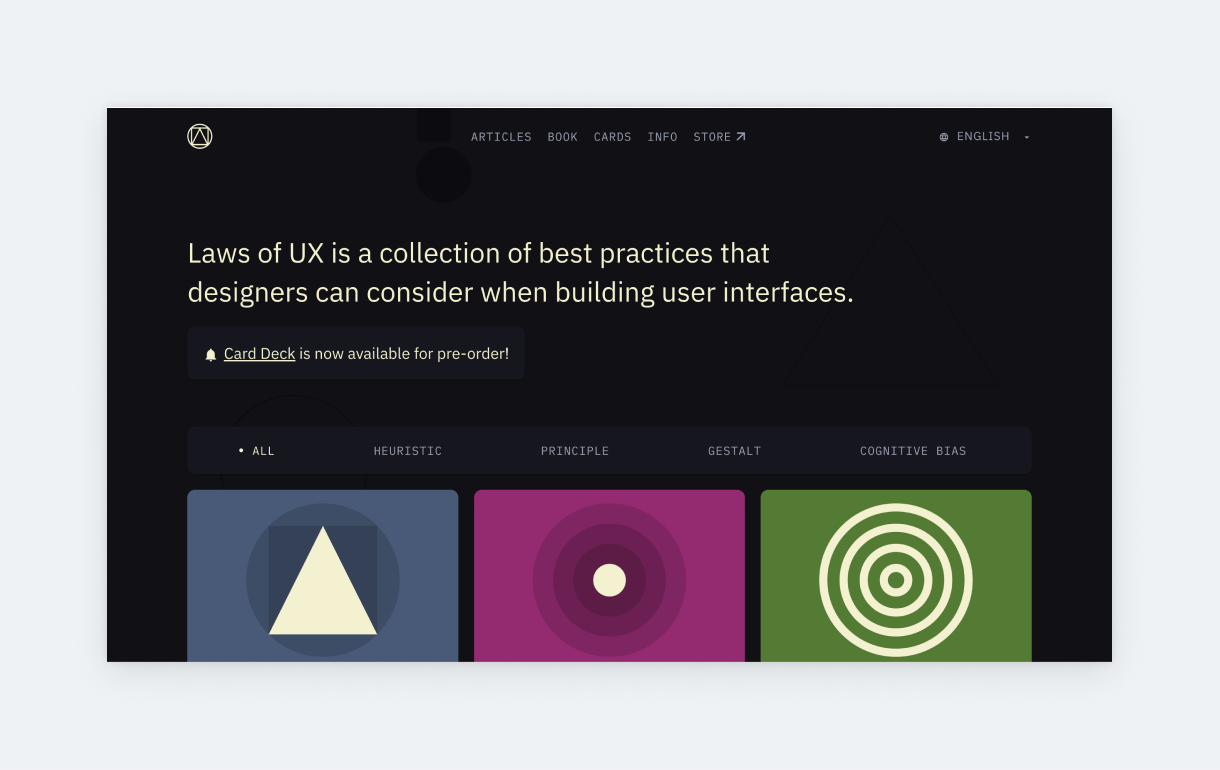 Many patterns in UX have been distilled into clear-cut laws. I'm sure you've heard about Hick's Law, Miller's Law, and so on. Taking these laws and principles into consideration while designing can save you time, elevate your design, and inform your decisions. So, every designer should review them at least once in their career. Laws of UX is a website that lists and categorizes these UX-related best practices, providing you with definitions, takeaways, and examples.
The User Experience Research Field Guide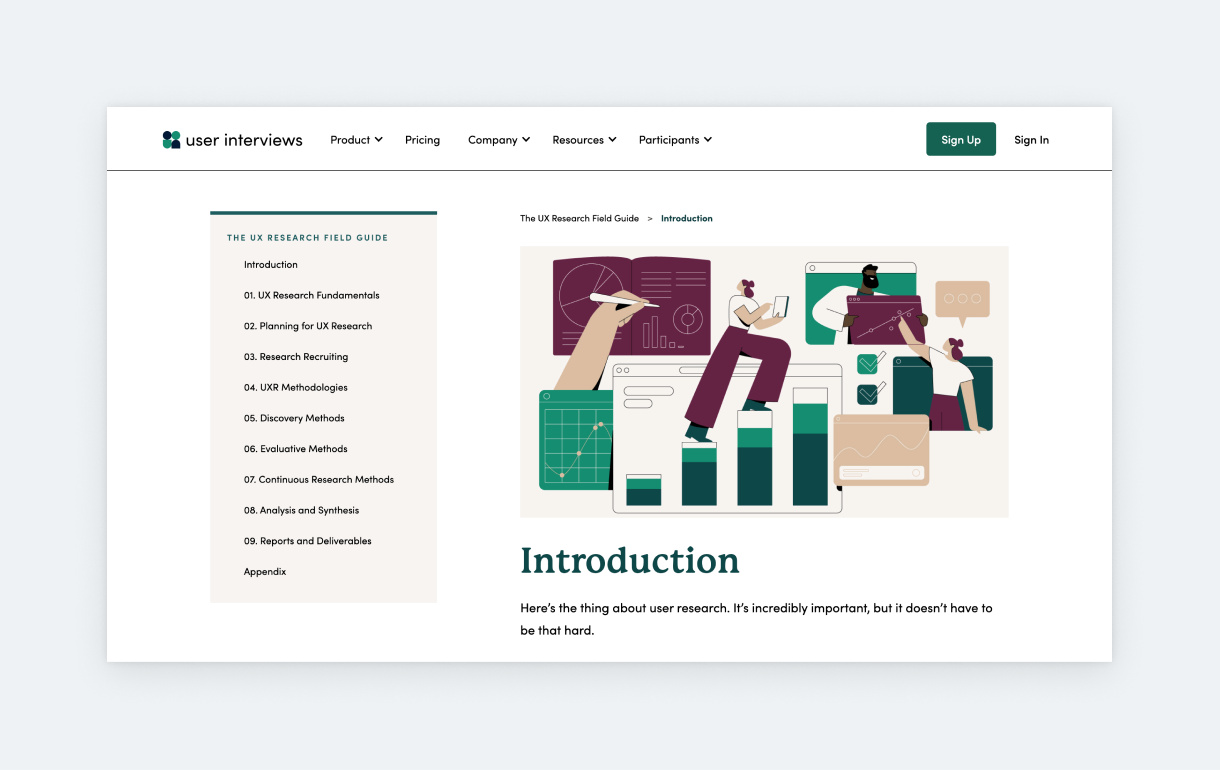 "By the time you finish reading, you'll be a total pro at doing user research," promises UserInterview.com's comprehensive guide on UX research. And I must say, they deliver on this promise. This guide is like an online ebook that'll walk you through every step of the UX research process. It's well-structured and highly detailed. Oh, and it's not even pushy about UserInterviews.com's product!
Dark Patterns Tip Line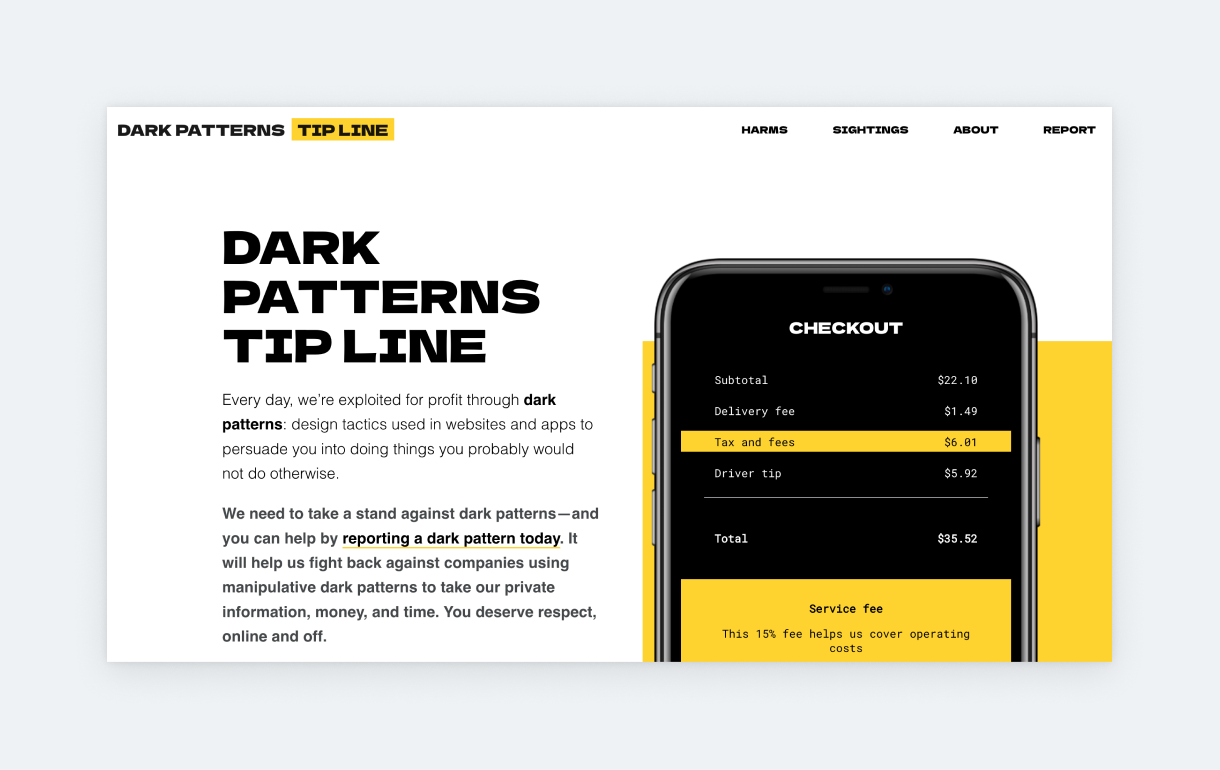 Looking at bad design can be just as valuable as collecting inspiring designs. On Dark Design Patterns Tips Line, people from all around report dark patterns like shady cancel flows, user shaming, misleading banners, deceptive checkouts, and so on. They also have a page to list some of the most common dark patterns with great, concise explanations and examples.
Design Better by Invision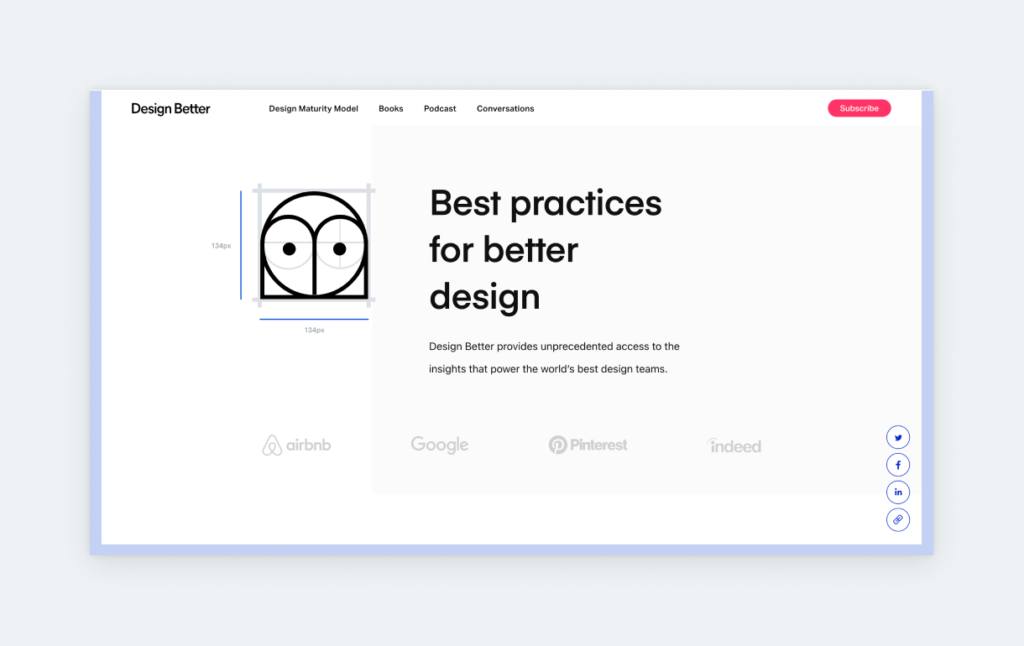 Business Thinking for Designers, Design Leadership Handbook, and Design Systems Handbook are just a few of the exciting titles by Design Better (Invision). This UX website is a fantastic, trustworthy resource on design best practices and guides. It has something for complete beginners as well as aspiring design or product leads.
---
III. Design systems
No wonder design systems are so popular these days! They save both time and money – the dream of every business owner. However, there's so much noise about them that it's hard to get started with one. In this chapter, I'll list some high-quality UX/UI websites that'll help you get started with a design system:
Design System Guide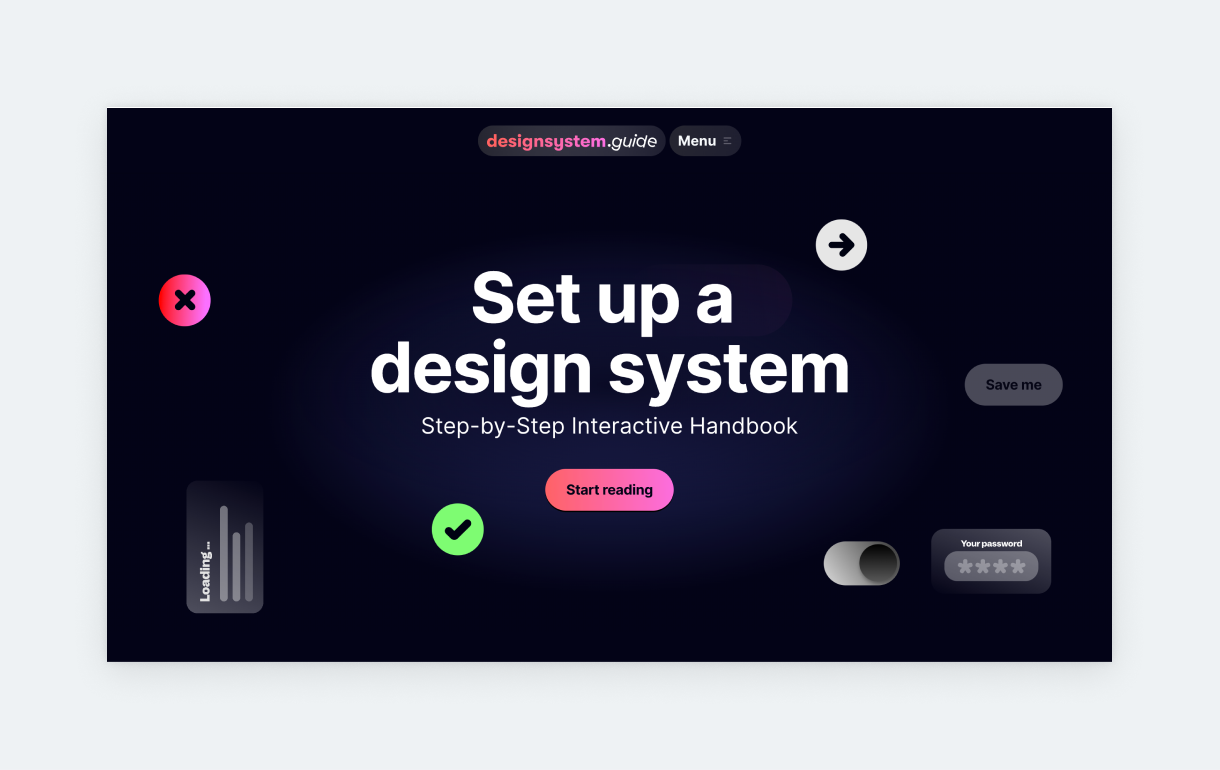 The Design System Guide is an interactive ebook that's a fantastic starting point if you're new to design systems. It's a concise but complete walkthrough of the entire process, with many checklists along the way to keep you focused and help you proceed. What's more, it also features tool suggestions at parts where using a specific tool might be necessary.
Design System Checklist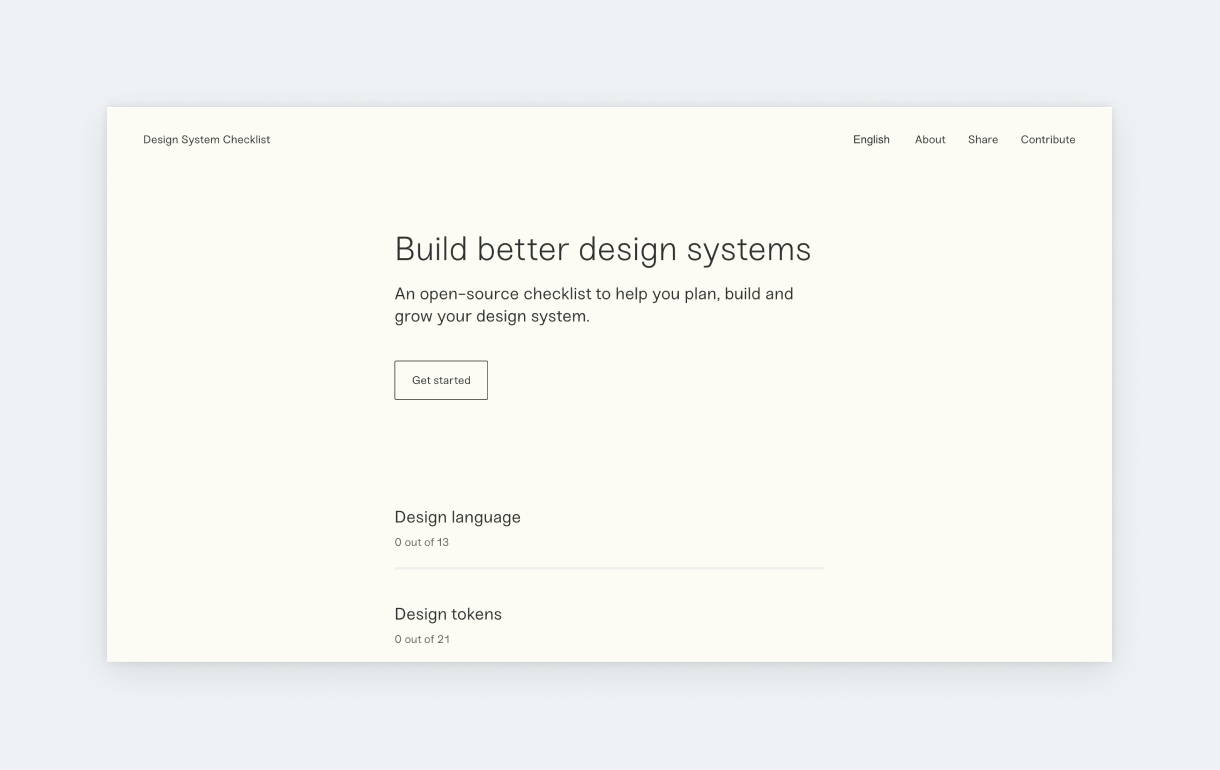 The Design System Checklist is a simple, open-source project with 5 checklists to help you build a design system from scratch. Overall, it has 155 items, covering everything from planning and components to project management.
Design Systems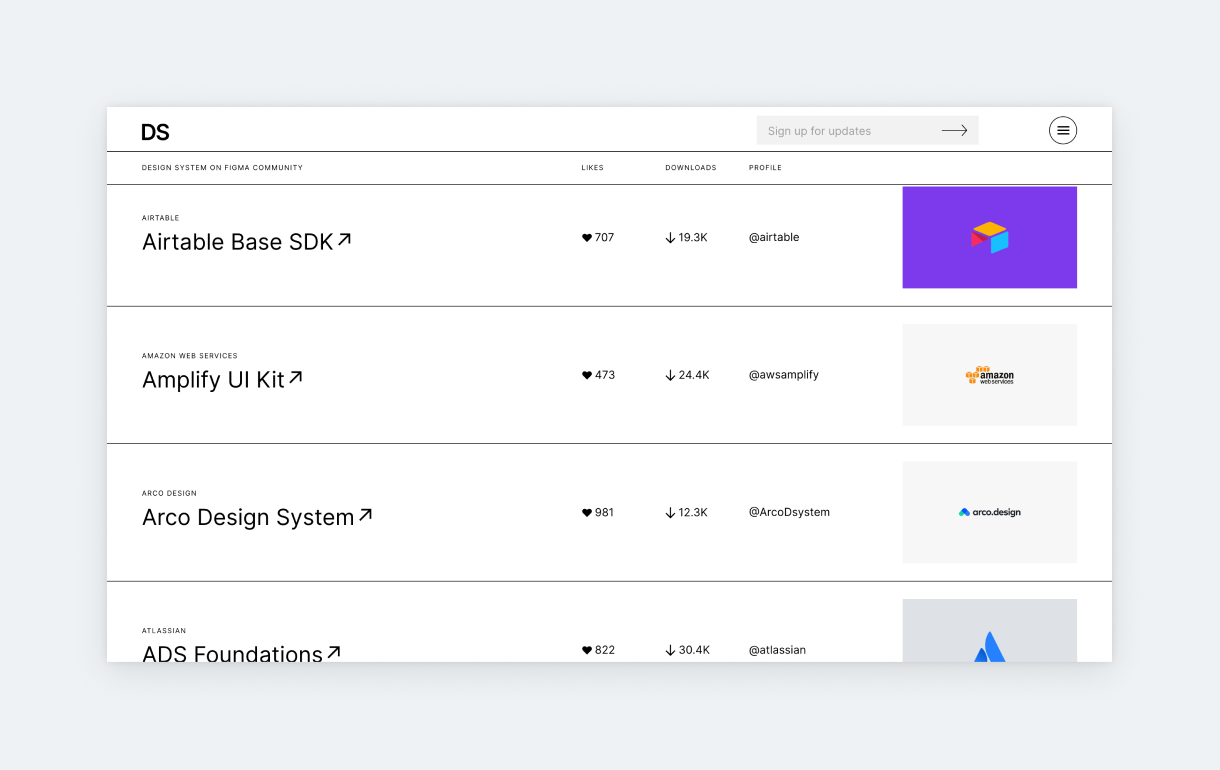 This Figma publication is a fantastic resource for design system inspiration of the highest quality. It's basically a repository of links to design system files by companies like Airtable, Spotify, Uber, and Shopify. The files are uploaded to the Figma community, so it's super easy to reuse them for your own design system.
Design System Repo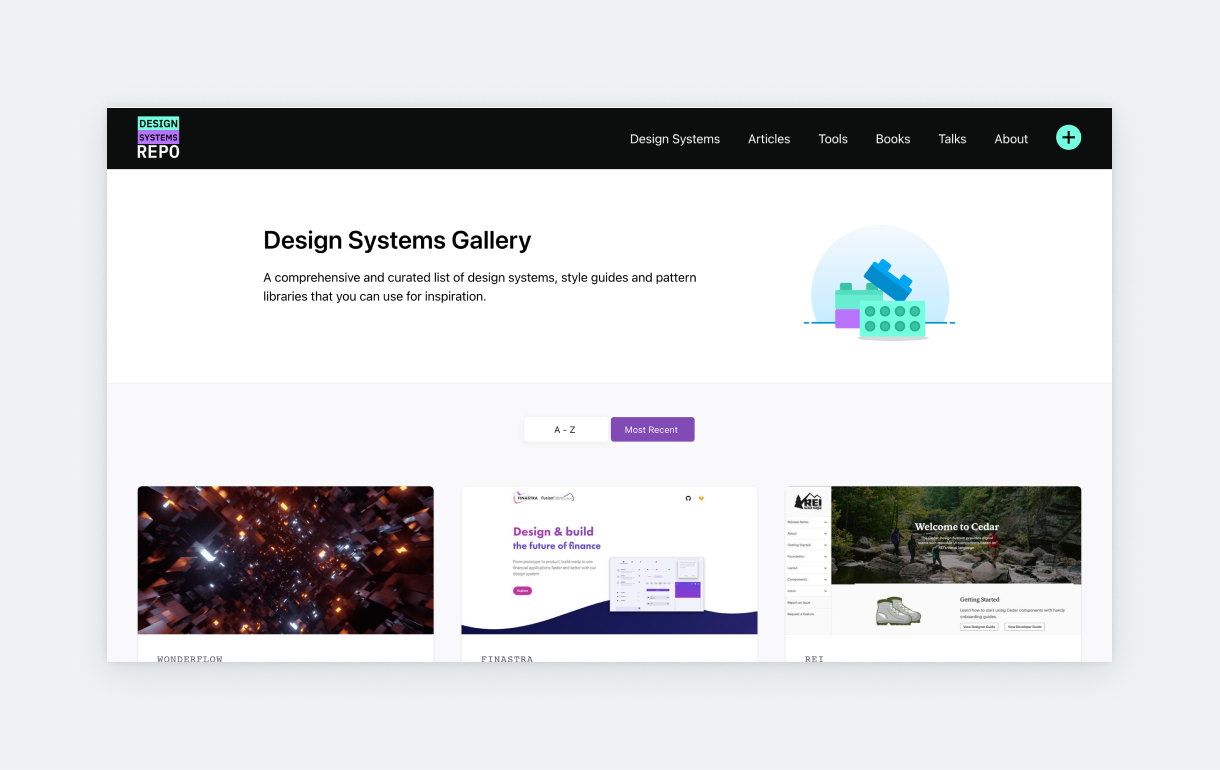 If you're looking for design system and design system documentation inspiration, take a look at Design System Repo. It's a long-long list of systems linked to their original documentation. Some of the entries are famous in design circles, while others are less-publicized, hidden treasures. Check out a few to widen your horizon!
Design System ROI Calculator by Knapsnack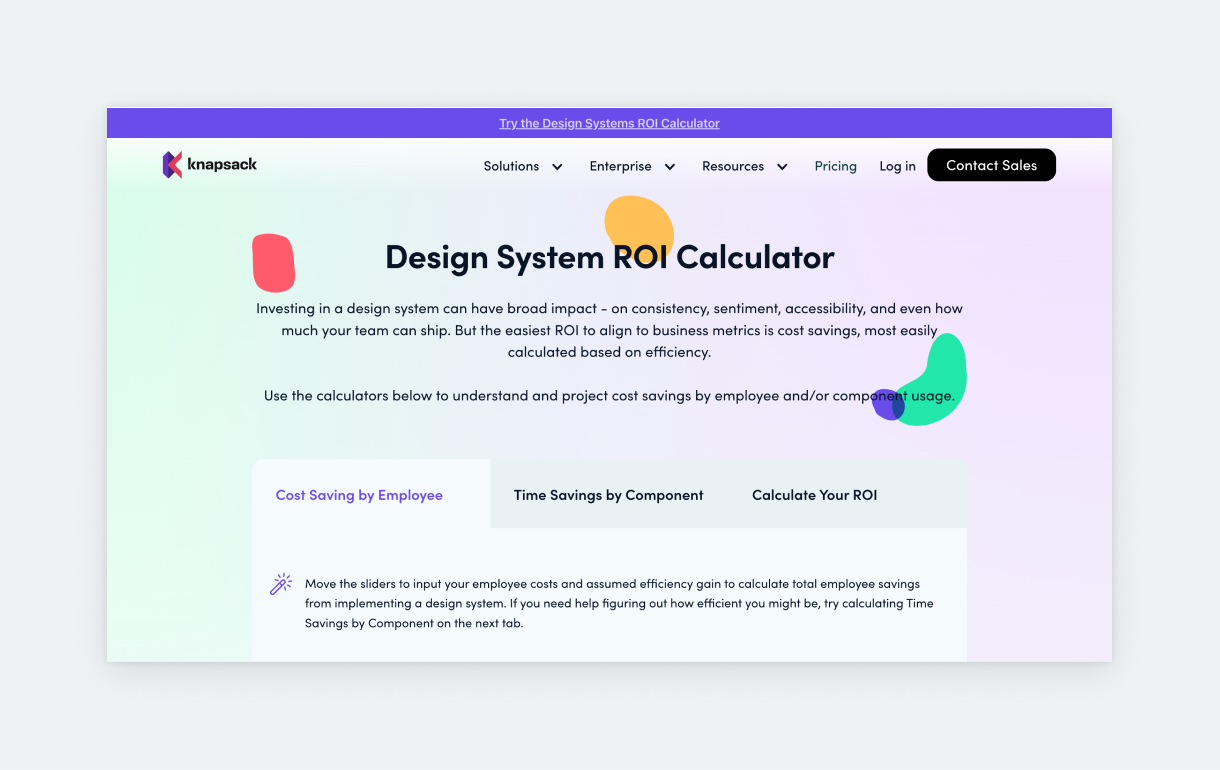 Sometimes stakeholders need some convincing to get on board with design-related ideas. That's when numbers come in handy, as there's nothing more convincing than numbers. Knapsnack's calculator can give you an estimate of the return on investment in a design system. On top of the ROI, it allows you to calculate cost savings by employee and time savings by component.
---
IV. UX/UI blogs
On top of learning new things and finding new perspectives, reading about UX design will also keep you motivated. And you don't even need to overdo it! One article a day is just enough to keep you going. However, this strategy requires you to be selective of your sources. So, let's check out some blogs with professional integrity:
UX Planet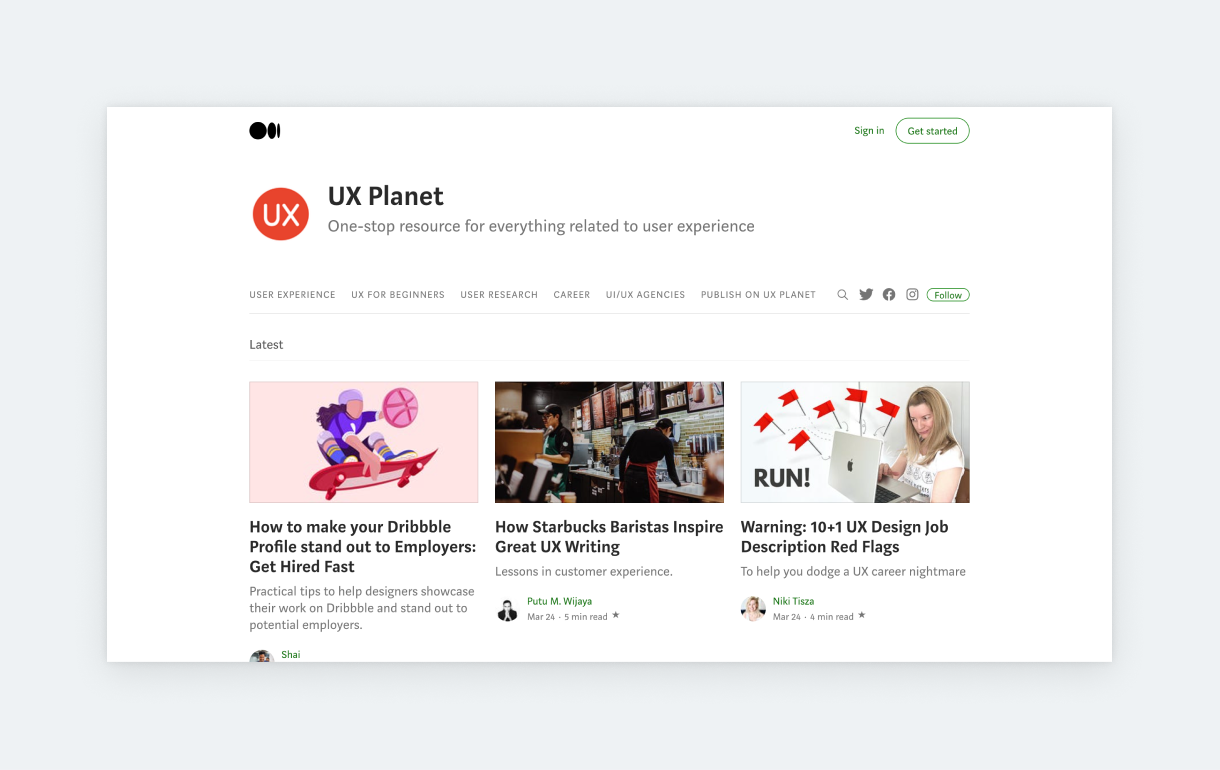 UX Planet has a great mix of articles addressing the entire spectrum of product designers, from juniors to design leads. They publish articles by practicing designers with various specializations and from various niches. You can sort the articles through categories, such as UX for beginners, user research, and career. This blog is definitely worth bookmarking!
UXfolio Blog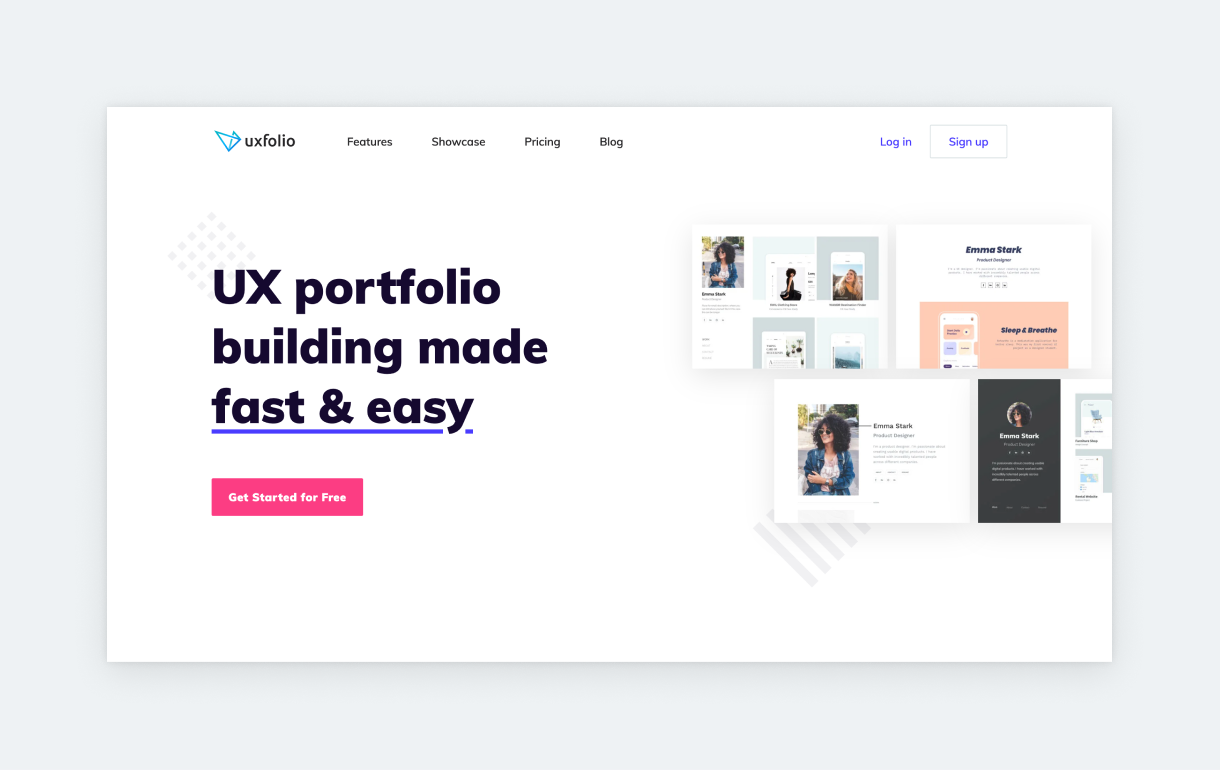 Shameless self-promo, here we go! The editorial goal of UXfolio is to write about reality instead of ideals. The discussion around UX as a career is polluted with bullshit, which puts junior designers at a disadvantage. Here's an example: most bloggers will tell you that the most important thing in a UX portfolio is showing your process and highlighting usability. We wish that would be the case, but that's a lie. In reality, the process is essential, but it comes after UIs. Yes, UIs in a UX portfolio. Whether we like this or not, we've consulted enough design leads to know that this is reality. And it's our duty to share these uncomfortable truths with you.
UXstudio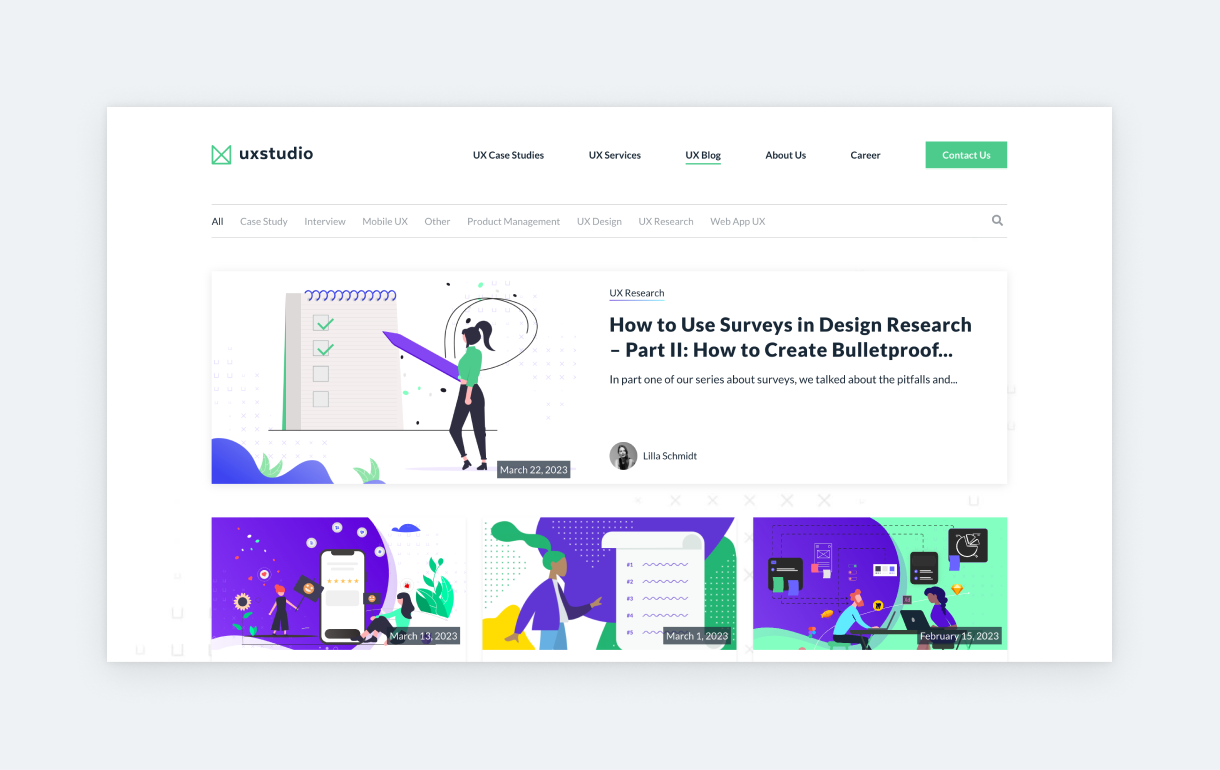 UX studio is a leading international design agency that has worked with brands like Netflix and Google. Their articles are written by practicing designers and researchers, sharing first-hand experience and expert advice on various UX-related topics. 10/10.
Muzli Magazine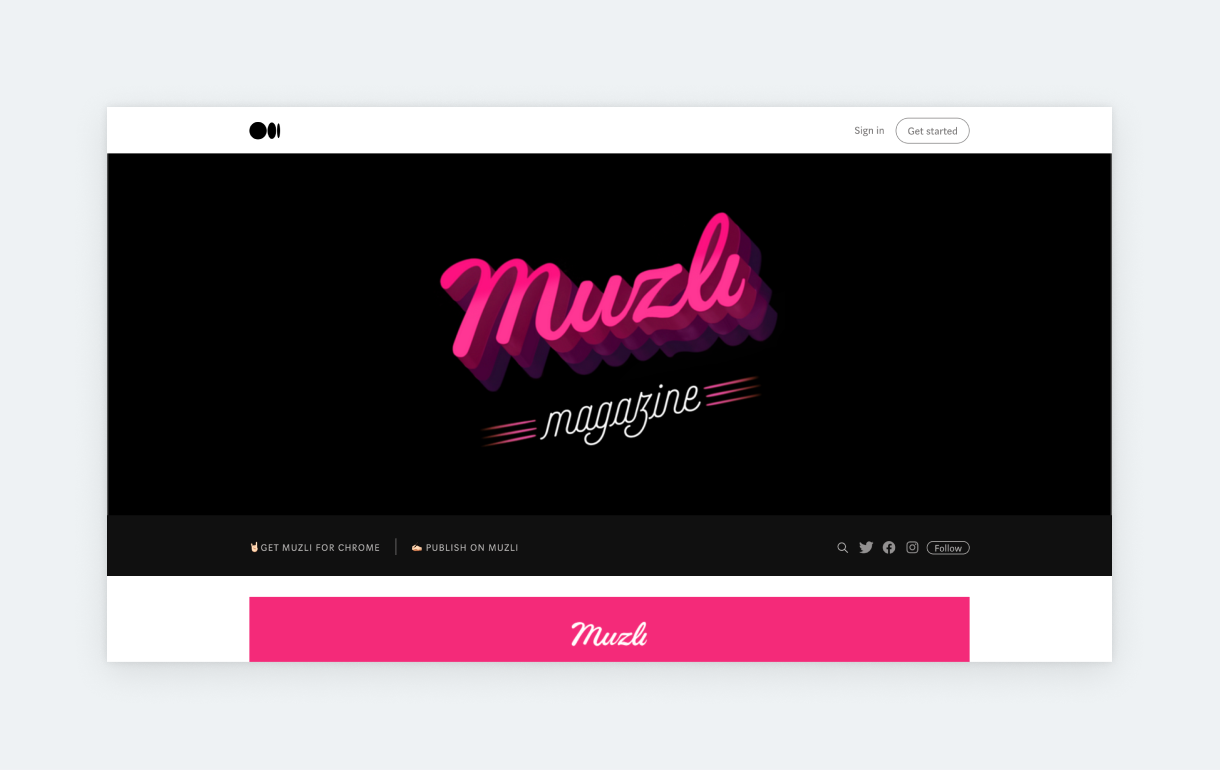 Muzli is the favorite browser extension of designers. On top of being a fantastic resource of visual inspiration, Muzli also has a blog – Muzli Magazine – where they curate great articles from various sources. Though they aren't exclusively UX-focused, most articles on their feed are related to UX/UI design.
Nielsen Norman Group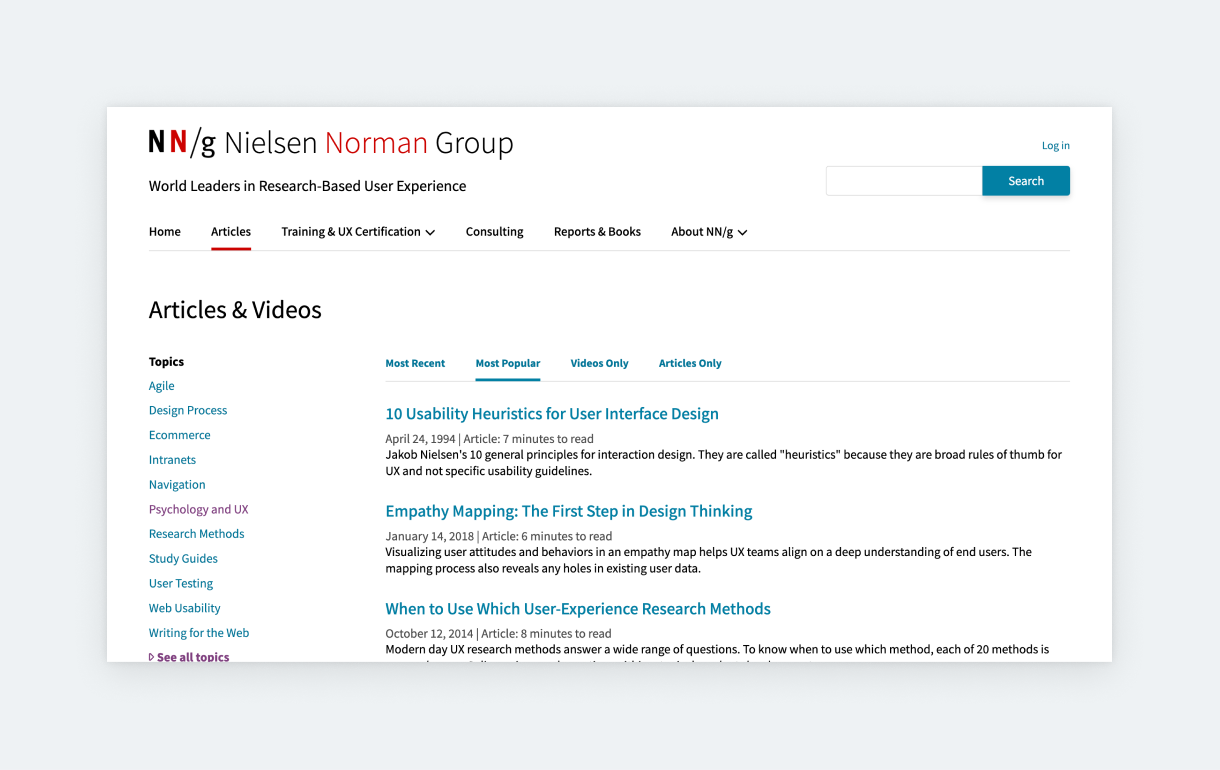 If you're looking for a super serious voice in UX design and research topics, check out Nielsen Norman Group's articles! They write about topics like user testing, web usability, writing for the web, research methods, and user psychology. The topics are not equally active; however, they all have plenty of top-notch articles in their archives.
UXmatters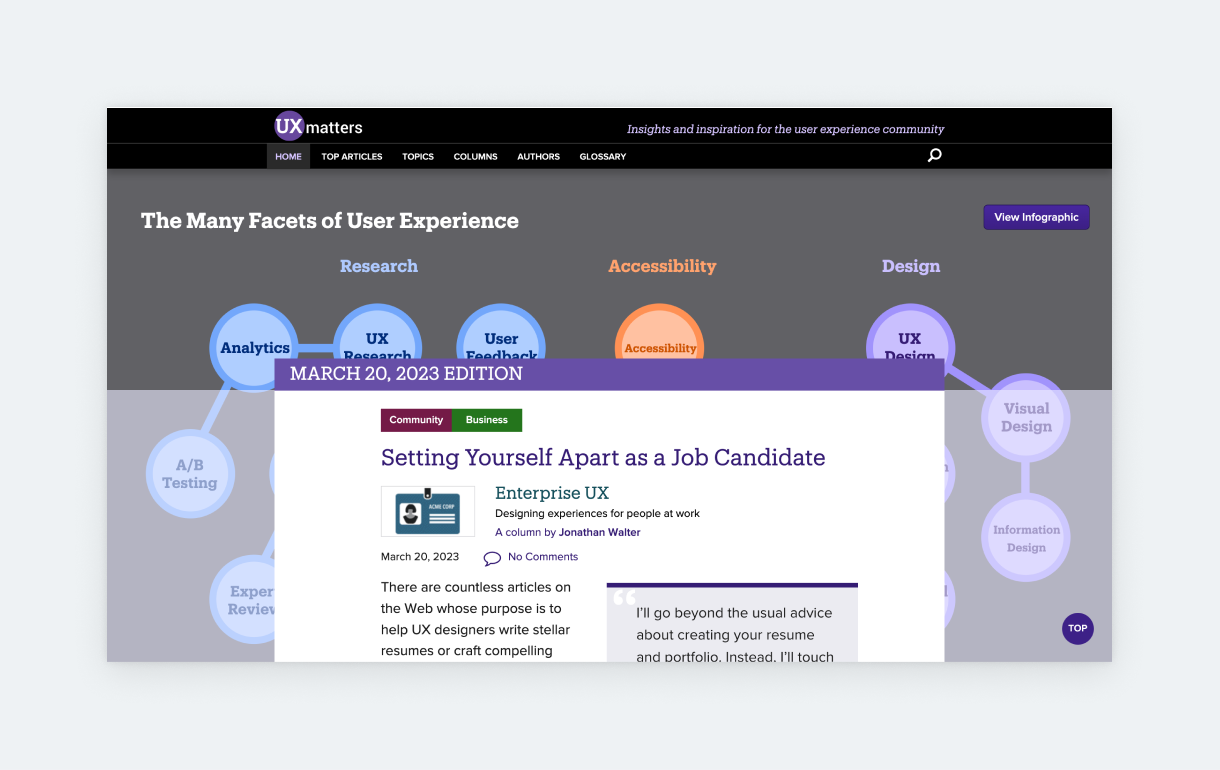 UXmatters shares riveting articles on an array of UX-related topics. They have something for everybody, and the topics they cover are interesting even if – at first glance – they might not be relevant to you. They usually publish 3-5 articles a week, so they're pretty active.
Designlab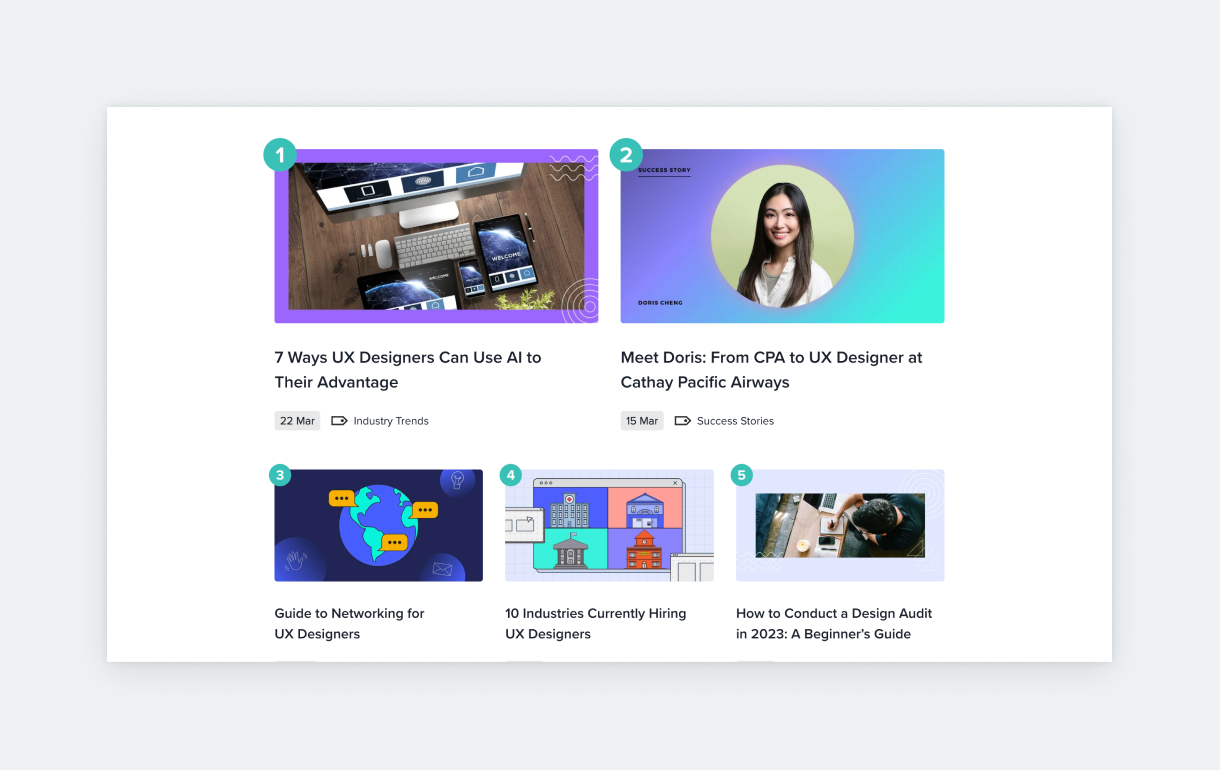 Designlab has a superb blog covering current hot topics in the realm of UX. They also create in-depth guides that can be helpful to juniors and seniors alike. Their UX career-related articles are also very insightful and filled with expert info and advice.
UX Design Weekly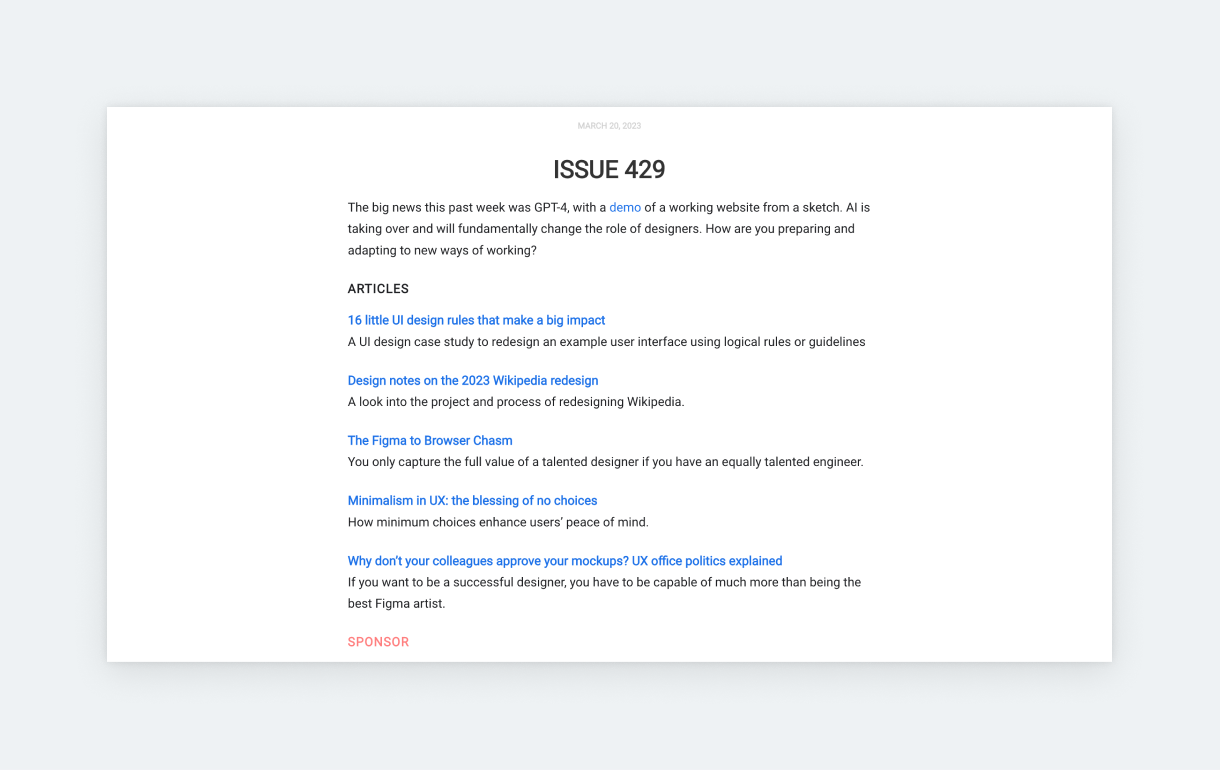 UX Design Weekly is a popular newsletter. However, if you're not fond of newsletters, you can just bookmark their website and check it from time to time, as they publish every issue online. Each issue is filled with UX/UI design-related articles and resources.
HeyDesigner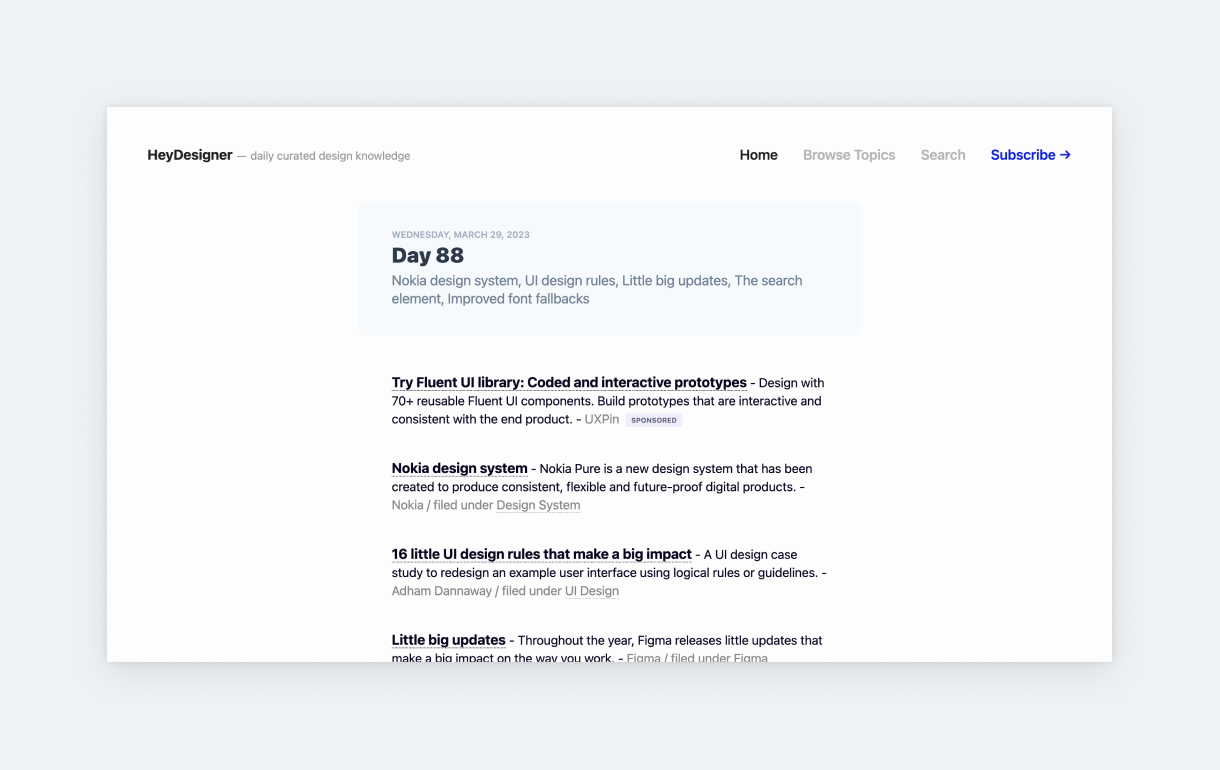 HeyDesigner is a stunning website where founder Tamas Sari publishes daily curated design news. The content is a mix of current news and articles/guides on various UX and UI design topics. The number of articles per day is not overwhelming, and each day there's something for everybody. You can also subscribe to the HeyDesigner newsletter if you want to receive the day's curation in your inbox.
---
V. Learn UX for free
Bootcamps and courses are super expensive. I think we can agree that spending money on your future is one of the best investments. But, before committing, you should make sure that UX/UI is for you. Some people say that learning UX design is easy. That stands true if your goal is to become a mediocre designer. But if you're after the salaries that you can see plastered on various websites, you'll need extreme dedication and passion. Free UX courses are a great way to find out if UX is really the path for you.
Hack Design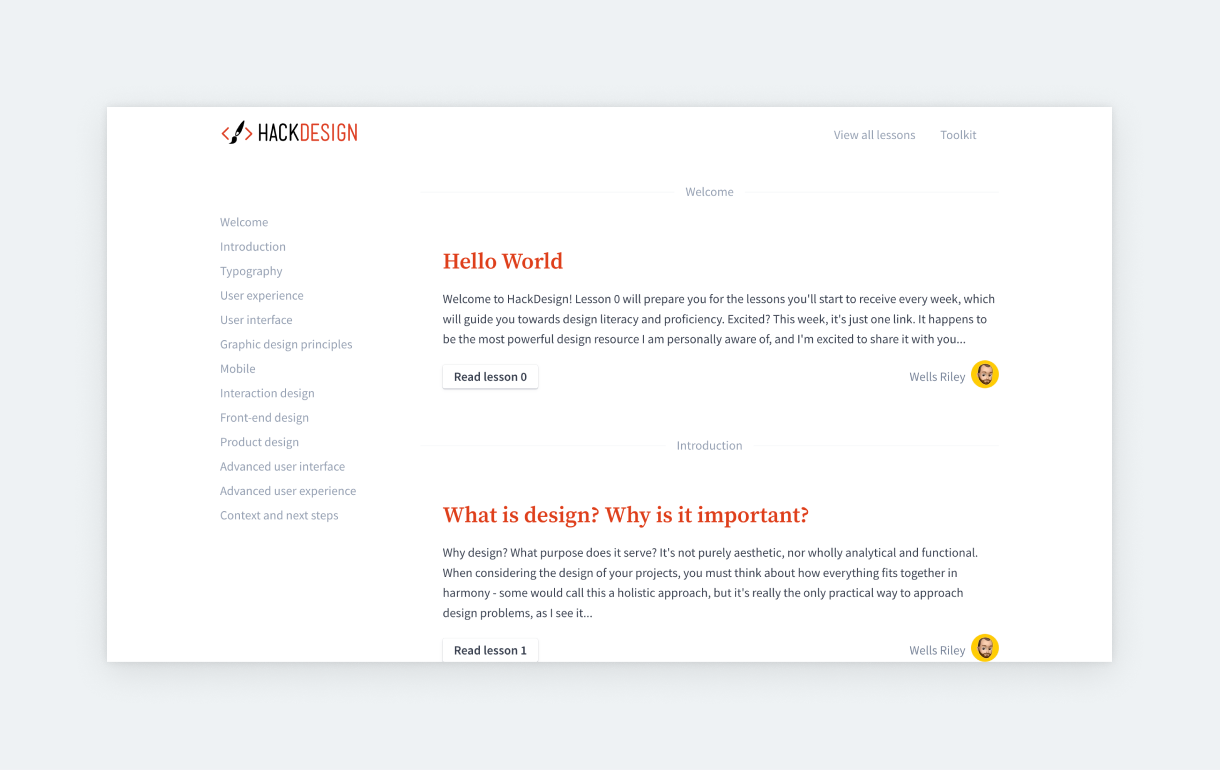 Hack Design is a free design course that covers a great deal of UX and UI design. It contains 41 lessons. Each lesson starts with a short introduction and continues with a list of curated articles that cover everything you need to know about the topic. Be prepared that there's a lot of reading involved here. However, if you're not willing to dedicate the time to learn these things, maybe design is not for you.
Learn Design by Figma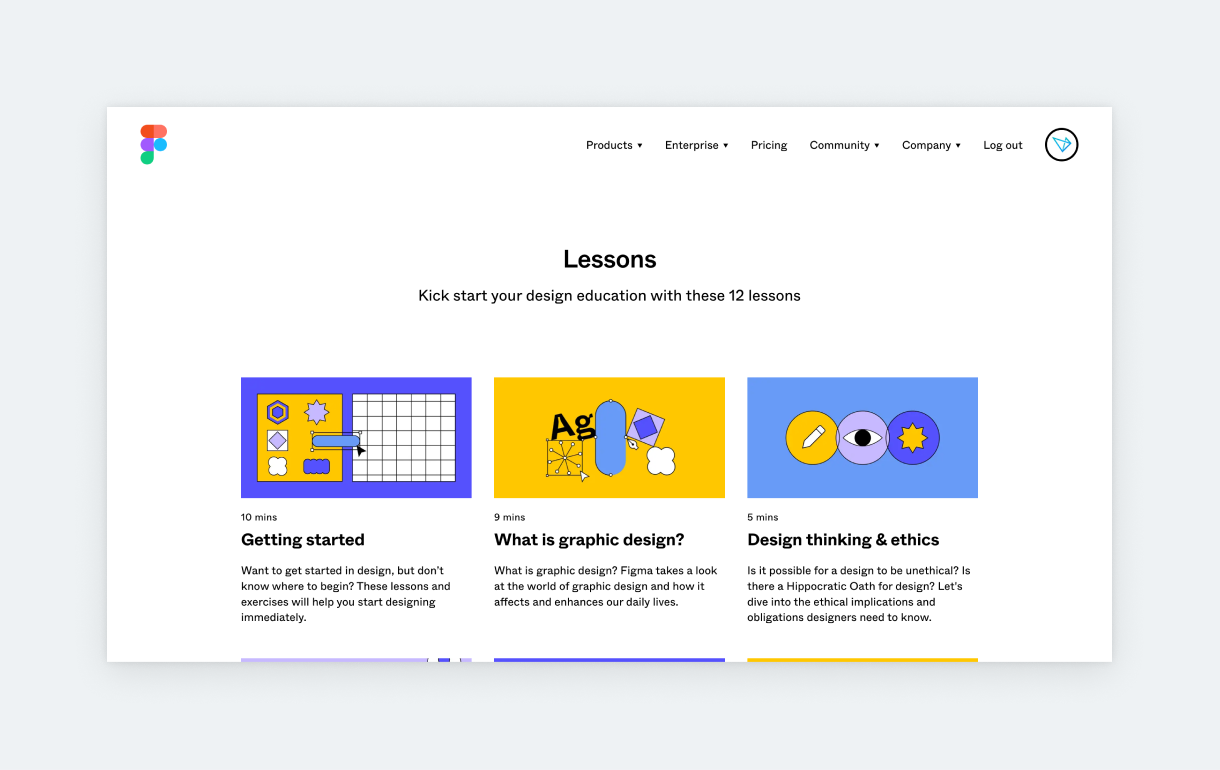 Figma offers a free, 12-lesson introduction to design. Please note that this is not a Figma tutorial; it's an overview of essential concepts and aspects involved in design. By no means is it exhaustive, but still, it's a great, digestible introduction.
Digital Skills: User Experience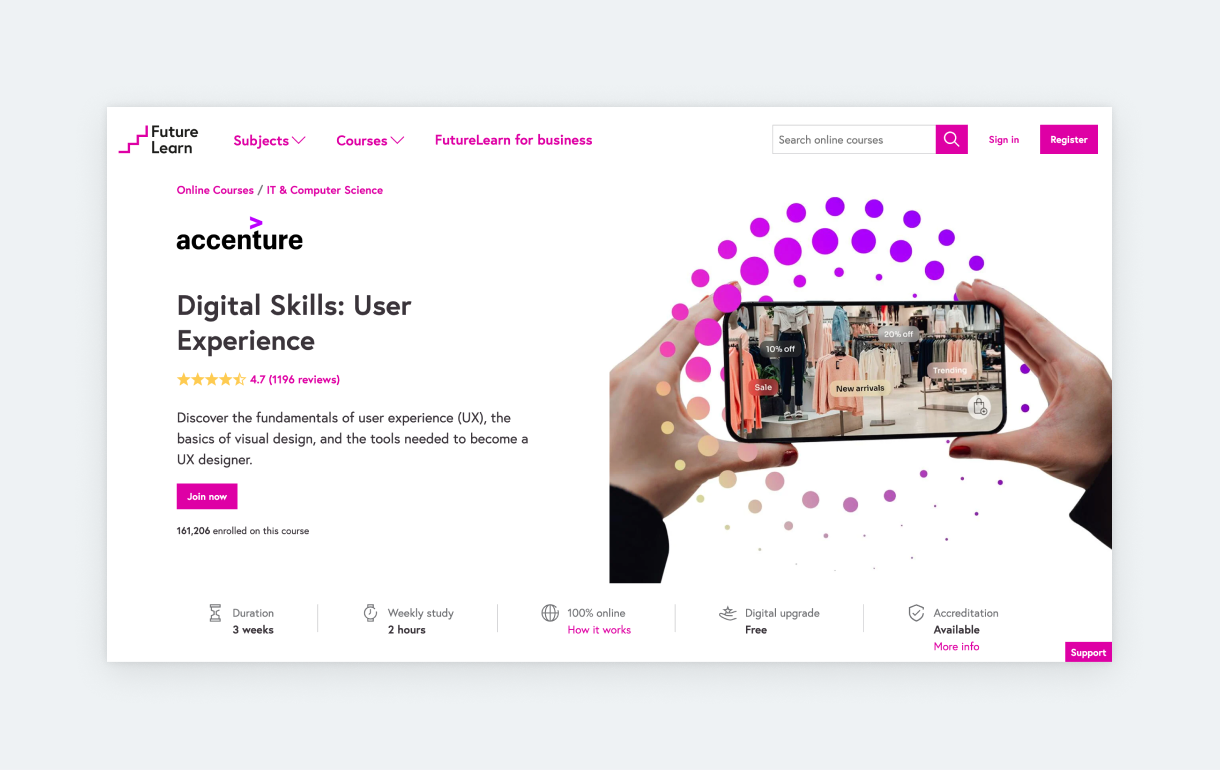 This free course explains the foundations of UX, the key approaches to doing UX design, the process of designing products, information architecture, and prototyping. It takes 3 weeks to finish with only 2 hours of studying per week, so it's doable even while maintaining a job.
---
VI. Miscellaneous websites
Playbook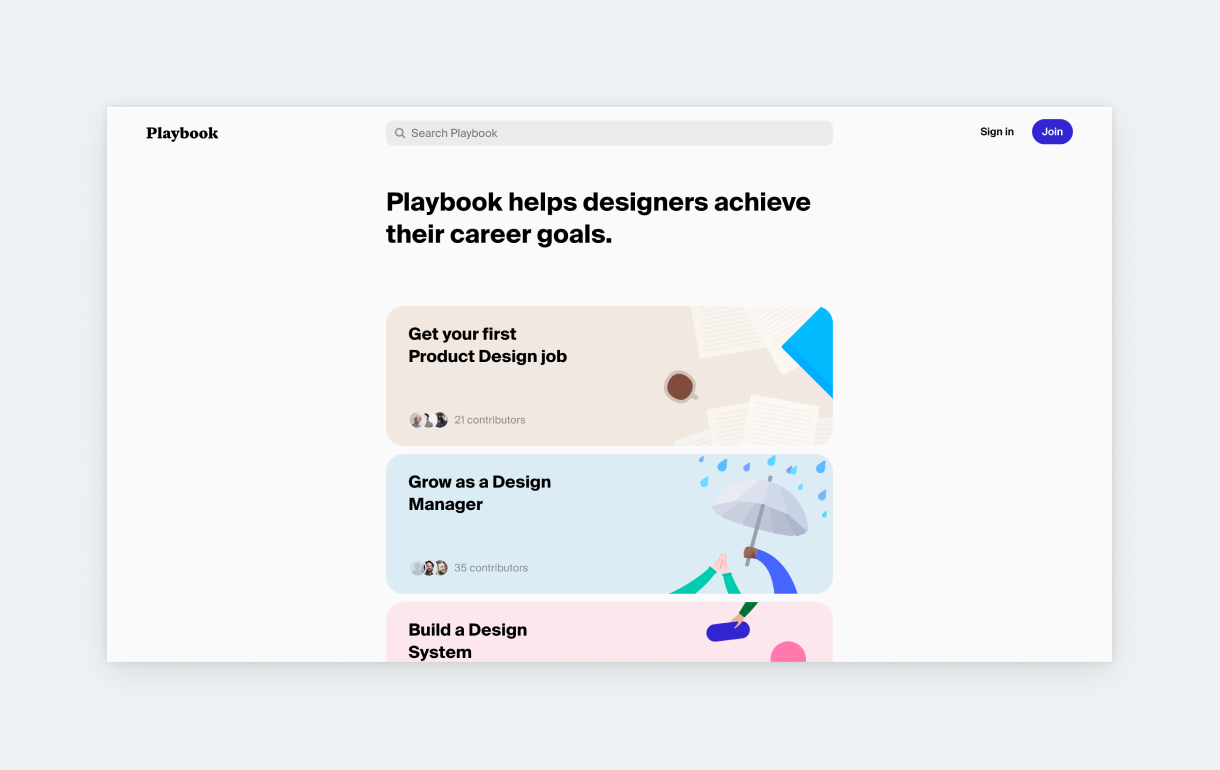 Playbook shares UX career advice in 4 categories:
Get your first Product Design job,
Grow as a Design Manager,
Build a Design System, and
Be a successful Freelancer.
Each category has various goals and action items that you can follow to get closer to the objective set out in its title. The majority of contributors are senior designers, so you know that the advice comes from experience.
UX Research Tools Map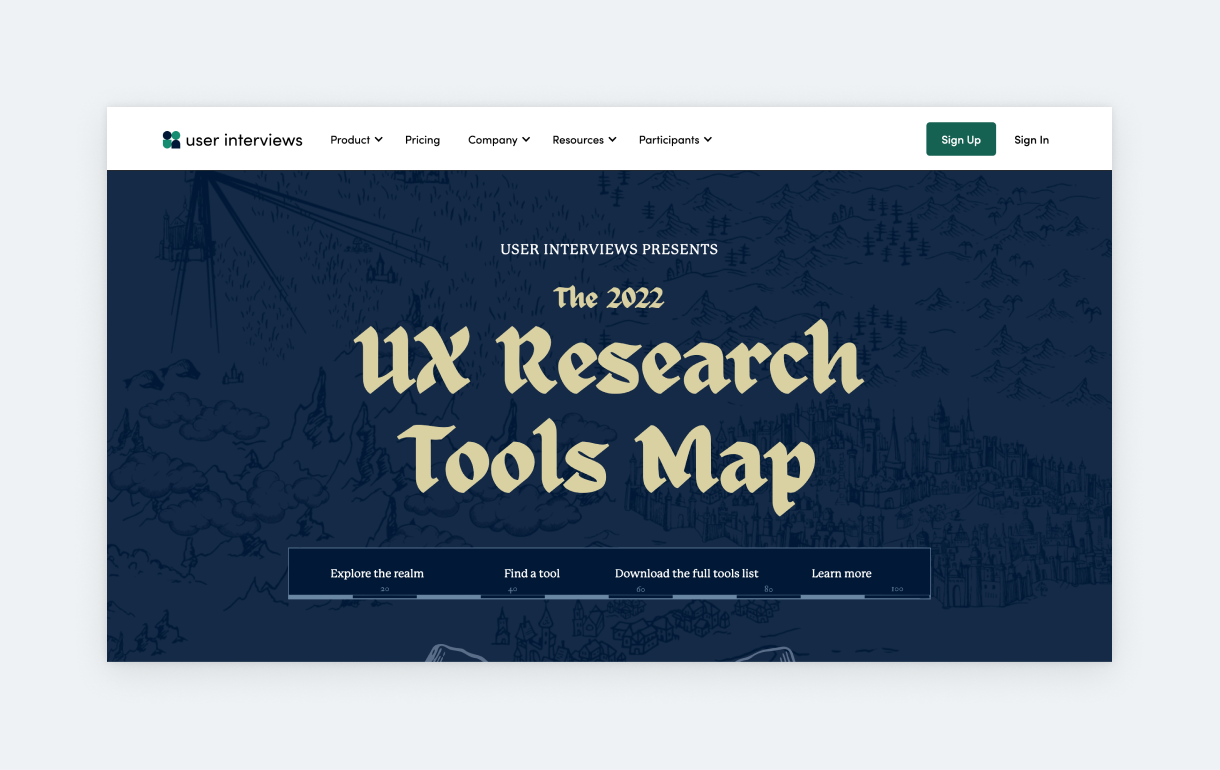 UX Research Tools Map is an illustrated guide to user research software. While the map looks cool, I think that the UX tool finder is actually much more helpful. It allows you to filter research tools based on features that are important to you.
R&D Toolkit by Marc Henry Lee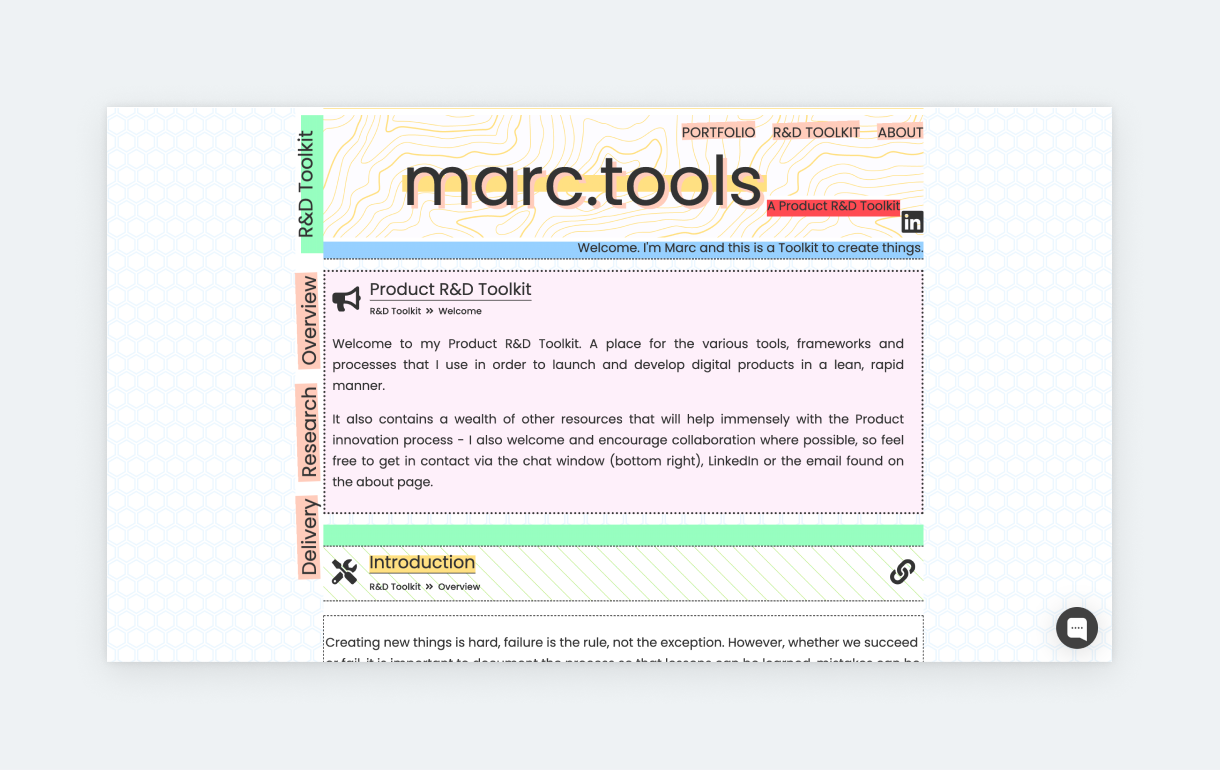 This UX website contains guides, tools, and frameworks that can help you design and launch products the lean way. Now, this might sound very simple, but Marc took this project very seriously, so the site is full of downloadables and concise information that'll help you along the way.
Designing Mindfulness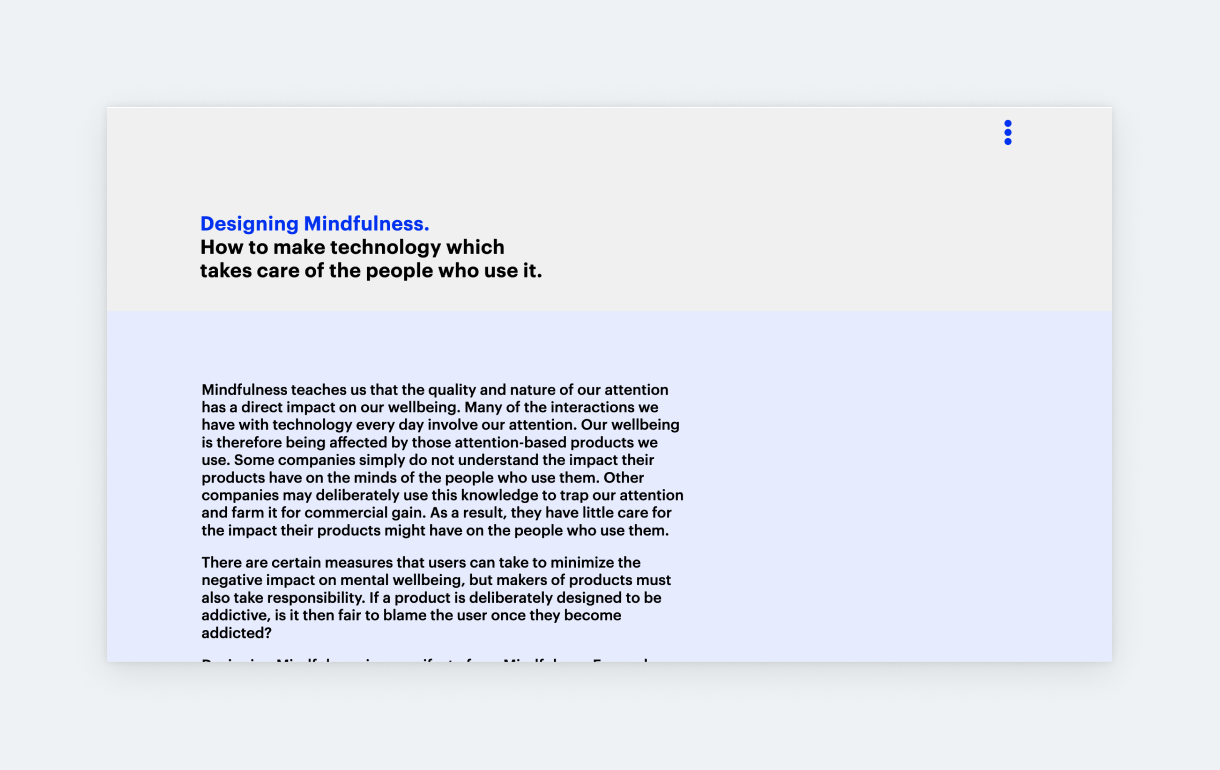 Designing Mindfulness is a simple website that's dedicated to 9 principles and actions that you can take as a designer to create products that take care of the people who use them. I'd argue that most of these principles are principles of great design, so Designing Mindfulness is an excellent resource for anyone working on a product.
---
Closing thoughts
I hope that you've found at least a few of these websites helpful! If you have any recommendations that you think could be helpful to fellow designers, drop me an email at akos@uxfol.io. And don't forget: if you want to build a fantastic UX portfolio, try UXfolio! UXfolio is the only portfolio builder made especially for UX professionals. It's packed with features like device mockups, stunning galleries, and text ideas for easier case study writing. Magic! ✨