Everyone from the experienced specialist in UX to someone just starting a UX career needs a portfolio. Every employer or recruiter checks this first when looking for potential candidates.
We all know its importance, even though most of us constantly put off creating it. When we finally start, we then need to finish ASAP. This makes us end up rushing the task. Definitely do not follow this strategy.
Competition increases every day, making it essential to keep up with the trend. It sounds hard but once you understand what a great UX portfolio looks like, it comes pretty easy.
We have collected ten UX portfolio examples we find inspiring for different reasons.
They share one thing in common: They take good care of their UX portfolio. This actually means taking good care of the UX of their UX portfolio.
In this article, we will also teach you the fundamentals to include in your UX portfolio. Also, we'll give you some guidelines to creating a truly meaningful portfolio.
Try to see the big picture
Try to see it this way: When you look for a UX job, your readers represent your target audience and your portfolio – your product. In this case, your readers count among the people more likely to hire you. Provide them a good user experience, the information they need and make it easy to understand.
UX leads, hiring managers and recruiters won't spend much time reading your portfolio. If they don't find what they are searching for or they find the content chaotic and hard to understand, they'll just go on to the next candidate.
So let's see what they actually want to see in your UX portfolio.
What UX leads and recruiters want to see in your UX portfolio?
We all know that UX means much more than some pretty screens. So why would a UX portfolio present a different case?

Consider your UX portfolio as your product, and specifically your most important one. Think through what you want to show your potential future employers. What do you want them to know about you?

Pretty screens won't do it all; they need to know much more about you, like your:

Logical thought processes
Skills, both hard and soft, including

Communication
Teamwork
Ability to work independently
Decision making based on results, user feedback, etc.
Ability to learn from mistakes
Problem solving

Design process
Knowledge of methods to use and when to apply them
Openness to feedback
Desire to improve.
It sounds good, right? But maybe you are wondering how to showcase all these in a portfolio.

Well, we had the same question a few months ago. So we decided to speak to internationally recognized people in the UX industry to get to know more about this topic. We talked to Design Spring inventor Jake Knapp, behavioral scientist Susan Weinschenk, UX industry veteran Jared Spool, former Twitter design principal and Abstract co-founder Josh Brewer, InVision lead designer Pablo Stanley and many more well-known UXers who are actually hiring people in their teams. You can find the interviews we made with them on our UXfol.io blog.

We asked them what skills UXers need nowadays and how they can showcase them in their UX portfolios.

Surprisingly, they largely said the same things.

They all mentioned that the best UX portfolios show the design process and decisions. UX leads and recruiters don't just want to see the final UI design but the whole process you followed to reach the final results. They want you to explain your decisions and to tell why you decided to go with those specific solutions.

Just showing your final product or UI design can't do this. You need to tell the story behind your design. Tell design stories, present your design process step-by-step, from the beginning to the end.

This holds true for all the outstanding UX portfolios. That sets them apart from the less meaningful and memorable ones.


What fundamental parts must you include in your UX portfolio?
So, following the UX leads' advice, let's see which things you must include in your portfolio to get their attention.
First, make the front page of your portfolio both eye-catching and straightforward.
Include these things on the front page:
Name, job title and photo
Three to five big, nice images of your best projects
A short bio highlighting the most important points
Social links
Resume (downloadable in pdf)
Contact details, or a contact form so people can easily reach you.
Once you have your front page in order, readers will want to dig deeper and check your best work in detail. Case studies present the best format to showcase previous work. Writing case studies basically tells your design stories.
It'll go much easier than you think. I will present you the logic all great design stories follow.
Take these steps when writing a case study:
Header image with a title
The challenge
The team and your role
Your design process, presenting your

Step-by-step design process,
Methods you used
Decisions you took
An explanation of why you did it that way

Results
Your learnings
You will understand how to use this guide in a few minutes by checking some great UX portfolio examples we collected for you.
The main logic behind great UX portfolios
All the portfolios we will show you follow the same logic. You might wonder why but it has a simple answer. As I mentioned earlier, UX leads and recruiters want to see this structure when reviewing a UX portfolio.

They don't have much time, so make your portfolio concise, well-structured and meaningful. To do so, create a stunning front page. Include the most important information about you and your best works.

By this I mean to showcase a thumbnail and the title of your best work. If those impress well enough, your readers will dig deeper and click on them. This should lead to a case study where you explain your contribution to the project in detail. Showcase three to five case studies – no more, no less.

Now let's see some examples, some great UX portfolio and case study examples.

We collected ten inspiring UX portfolios. We will highlight one case study from each UX portfolio and explain what makes it truly meaningful and powerful.

Ready to get inspired?!

10 great and inspiring UX portfolio examples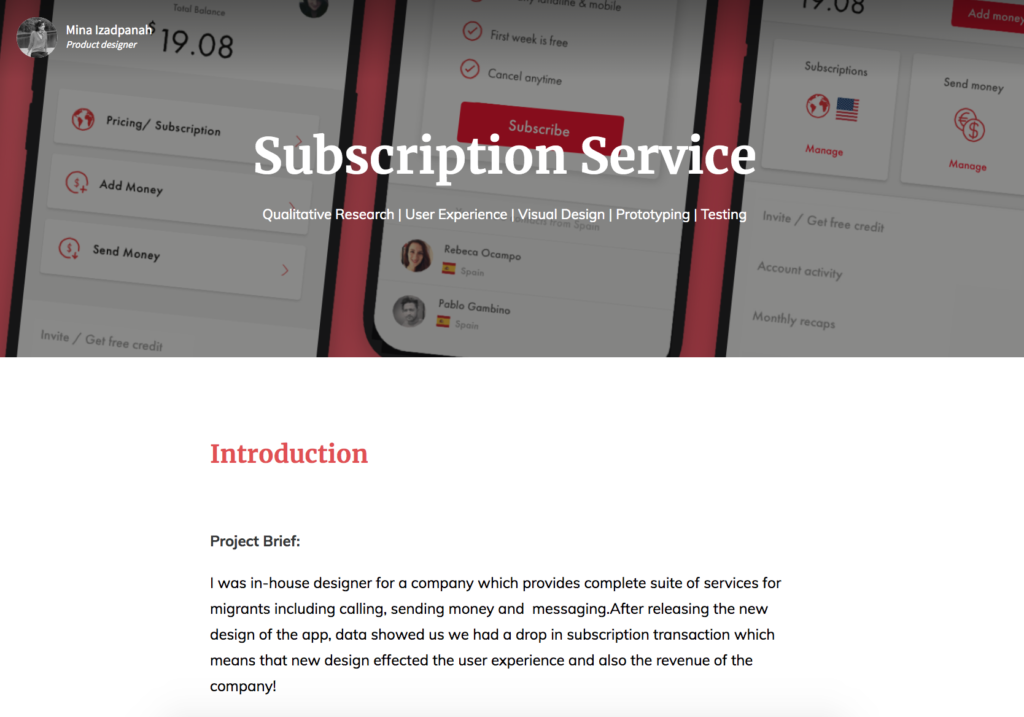 When opening Mina's case study on subscription service, you can immediately see what she worked on. She summarizes her design process in the project's subtitle: "Qualitative Research, User Experience, Visual Design, Prototyping, Testing".

She follows a logical structure throughout the case study. First, she gives a brief of the project in the introduction. Then comes an explanation of the objective, introduced the team, their responsibilities and the tools used.


After giving an overview, she explains the whole design process. It starts with the research, highlighting notable findings, potential solutions and the prioritization of these. Then she added a storyboard and a user journey flow.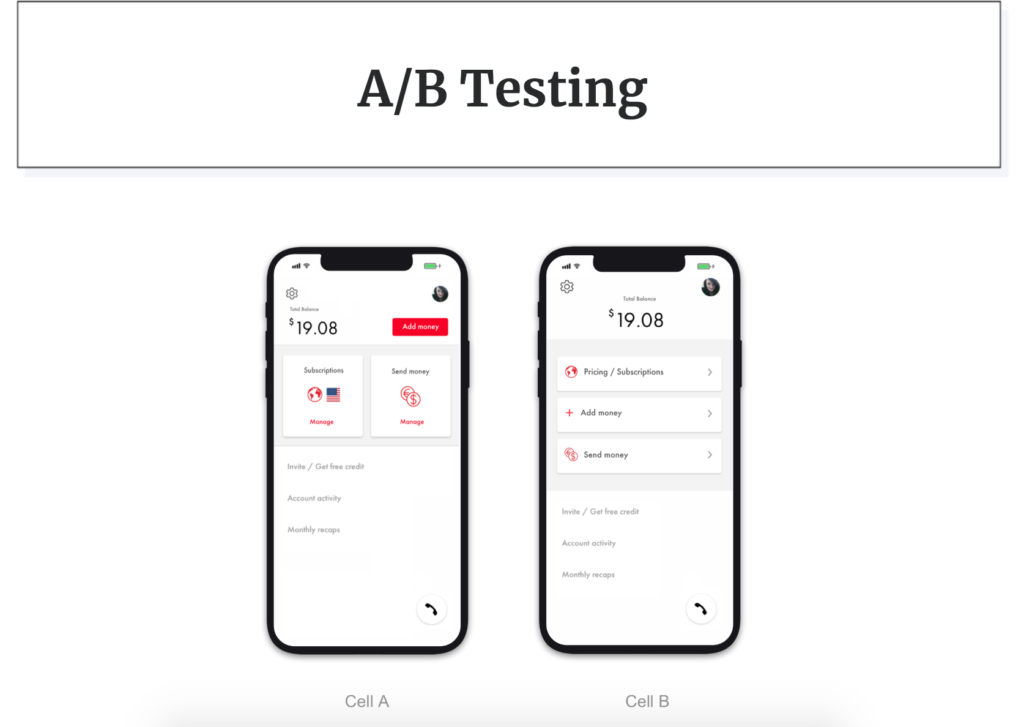 Next comes the design, which she starts with low fidelity wireframes and prototypes. She even added a gif to showcase the prototype and shared some test results. After showing some high fidelity prototype and mockups, she explains how she A/B tested the versions and measured their success.

At the end of the case study, she talks about her learnings and plans for the future.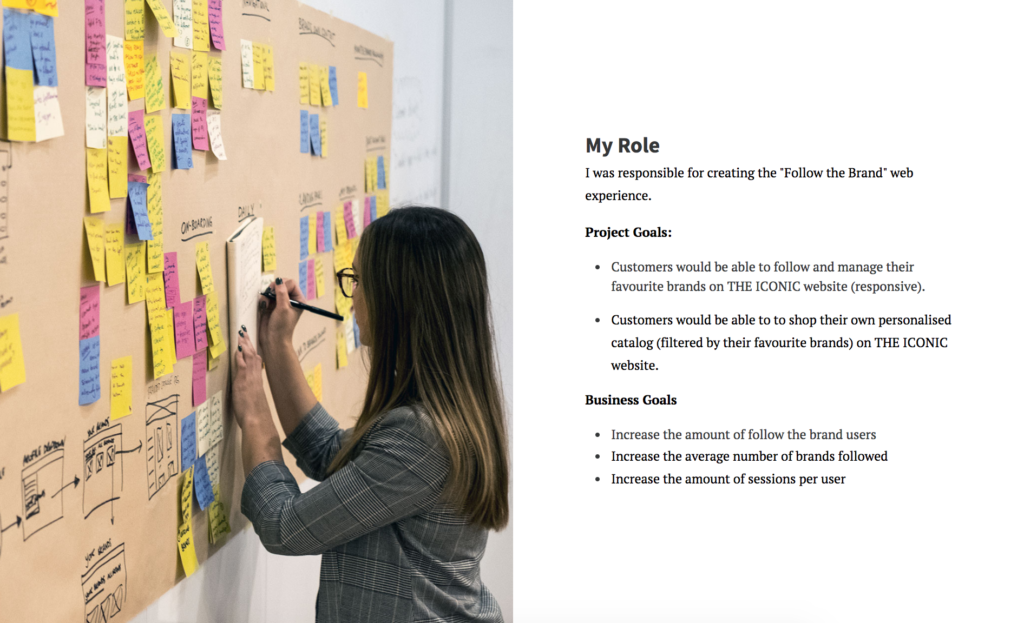 The way Emily's project starts arouses the reader's curiosity. First she introduces the challenge, capturing reader interest right at the beginning. She bolded some parts for quick scanning. Then, she explains the project background, her role and the goals. And after sharing the main information of the project, she walks through her design process. She even added some photos of herself while working on this project.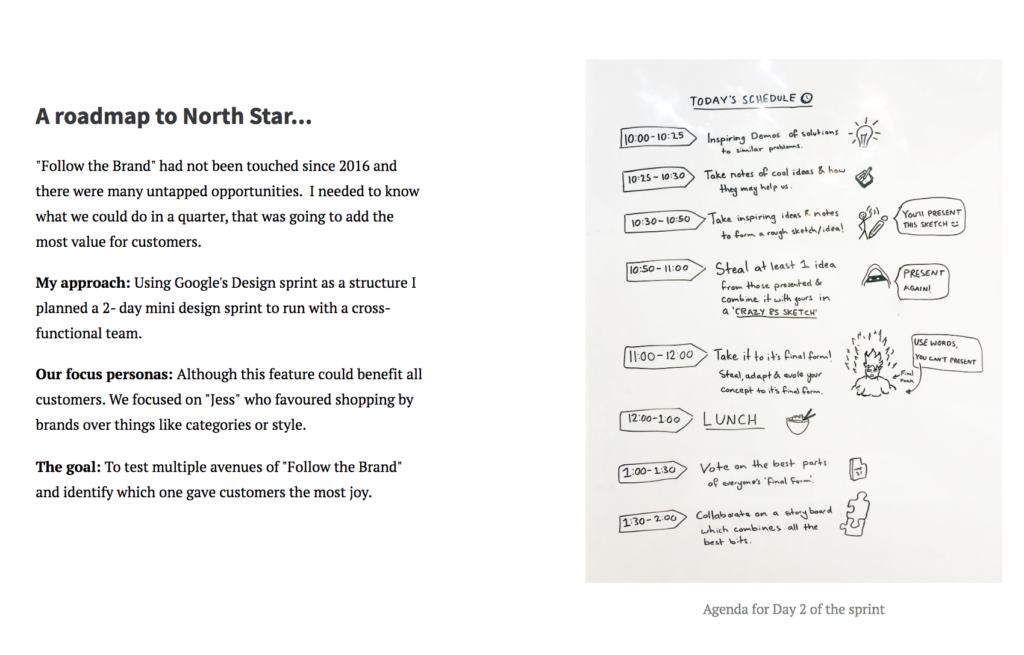 She talks about the design sprint workshop she ran with the cross-functional team and what came next, the wireframing and prototyping. She shares the feedback she got and the decision the team made. For the user testing phase, she highlights some feedback, learnings and the next steps. In the UI design section, she talks about some UI challenges and workarounds.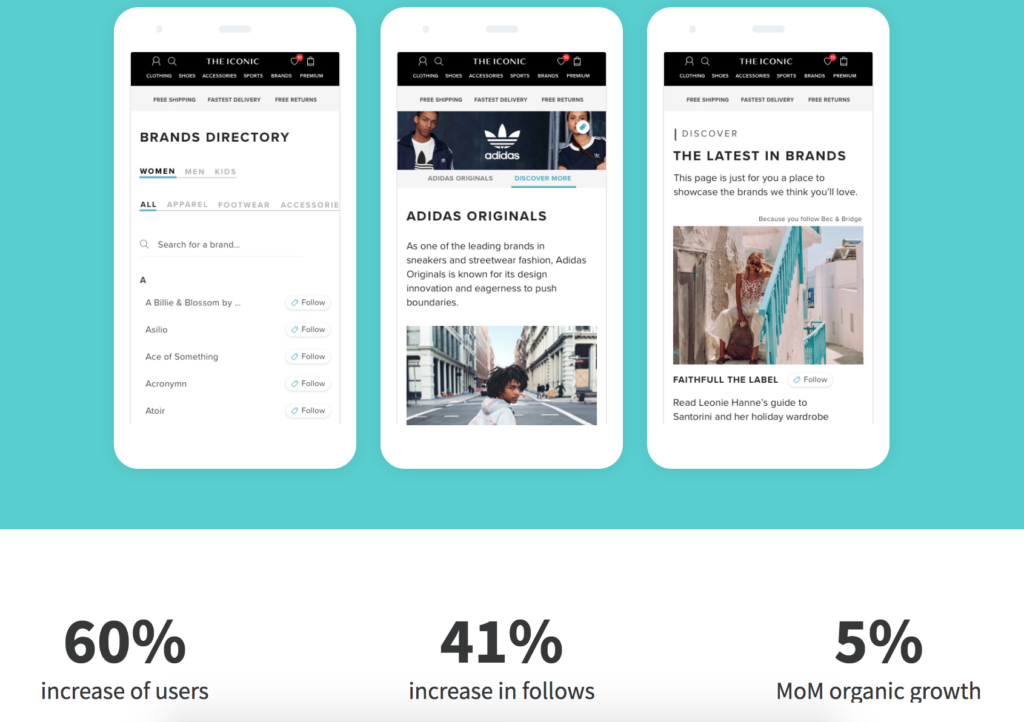 She shares some details about the content and the final design for which she added scrollable mockups. At the end of the case study, she highlights some impressive results, takeaways and the next steps.
Katarina's SALT project involved "designing a mobile app for consumers of sustainable fashion brands to provide full transparency on sustainable clothing production". I personally really like these projects that aim to solve a social problem.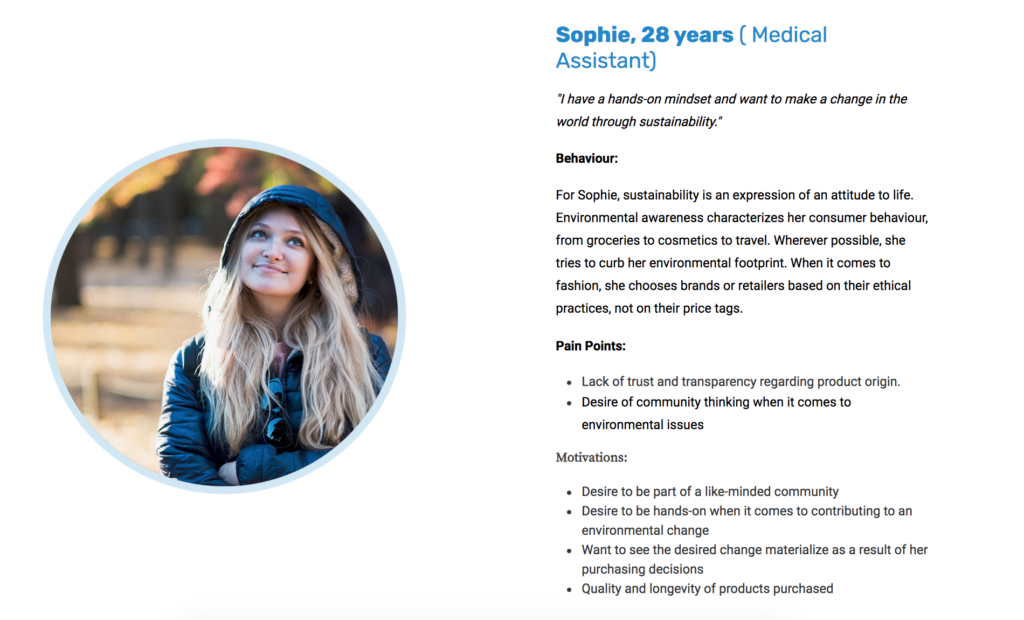 First, she presents the project itself. She explains the objectives, the challenge and her role in the project. Then comes her design process. She writes about the research and its analysis, takeaway and results. Then she gets into how she implemented these results. After presenting the personas and a user flow, she starts to explore the design solutions.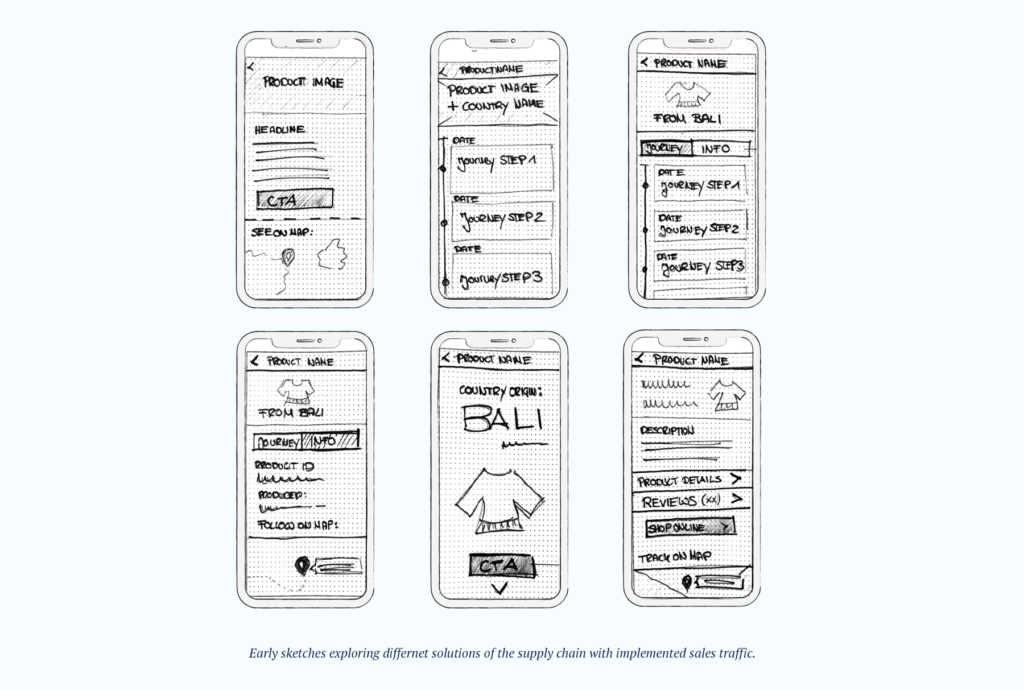 She added some sketches about the ideation and some mid-fidelity wireframes on prototyping. In covering visualisation, she not only highlights the most important details in general but also lists the most important parts one by one: the onboarding, the newsfeed, the scan & track feature and the user profile.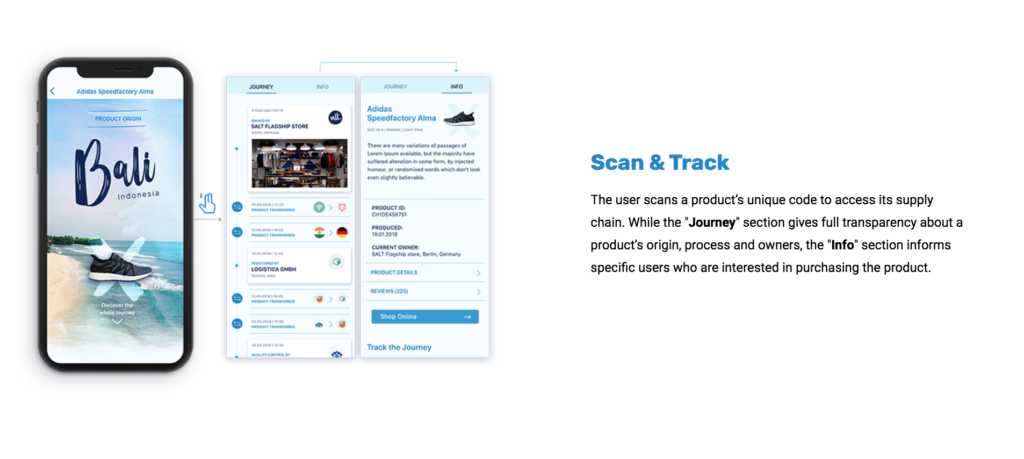 At the beginning, she explains how the lack of sales and business-driven features posed the main challenge. Then she added a bit about the tests she did on materializing the product. At the end, she summarizes the lessons learned during this specific project.
4. "my|parlour" case study by Eric Zirlinger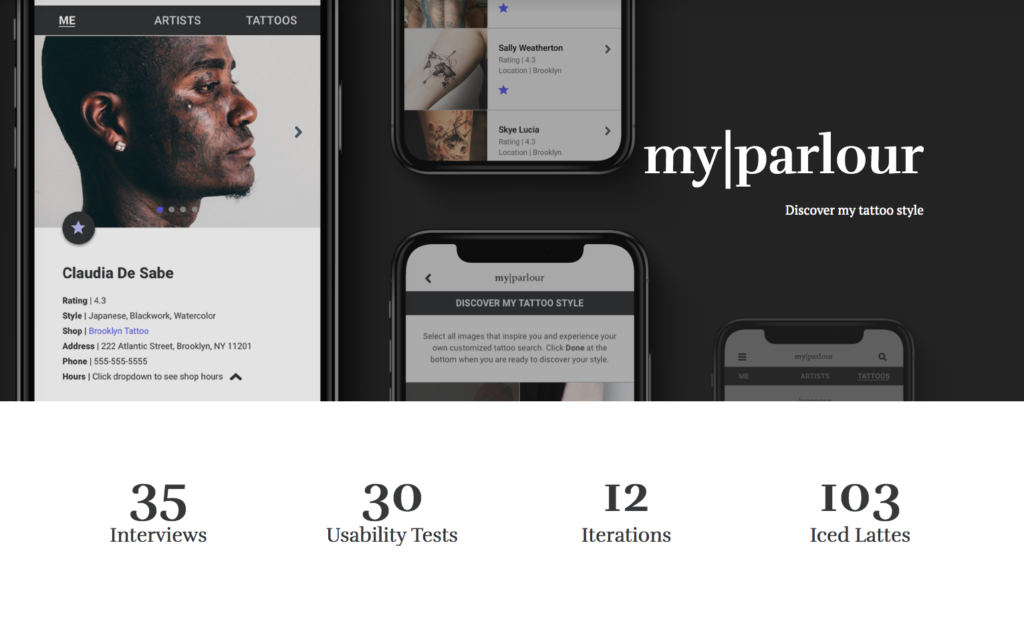 Eric grabs reader attention right at the beginning with the statistics. He explains his role and the tools he used, the background information of the project and the challenges.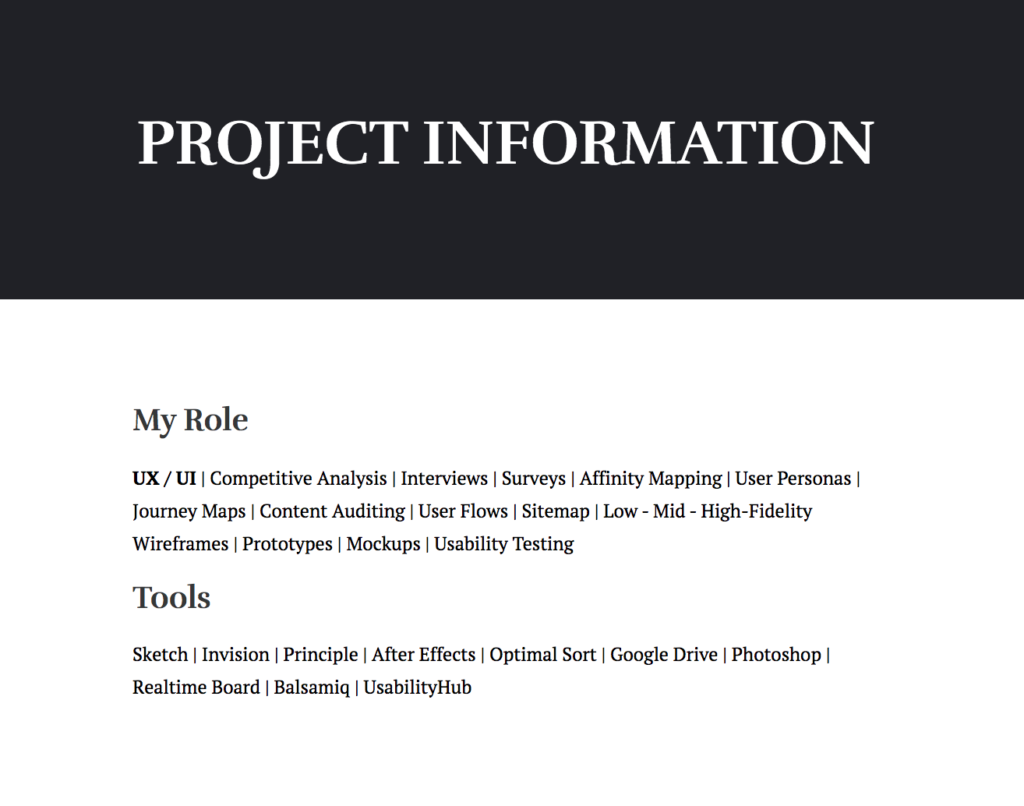 Then he shows his design process. He starts on the research with competitor analysis, interviews, personas and user journey maps. For the part on building, he explains how he used card sorting, created user flow and a sitemap, and how he managed to get to the UI design phase starting from sketch and wireframes. Here he shows powerful iterations. He also did usability testing and highlights the feedback from them and how he managed to solve the problems that came up during testing.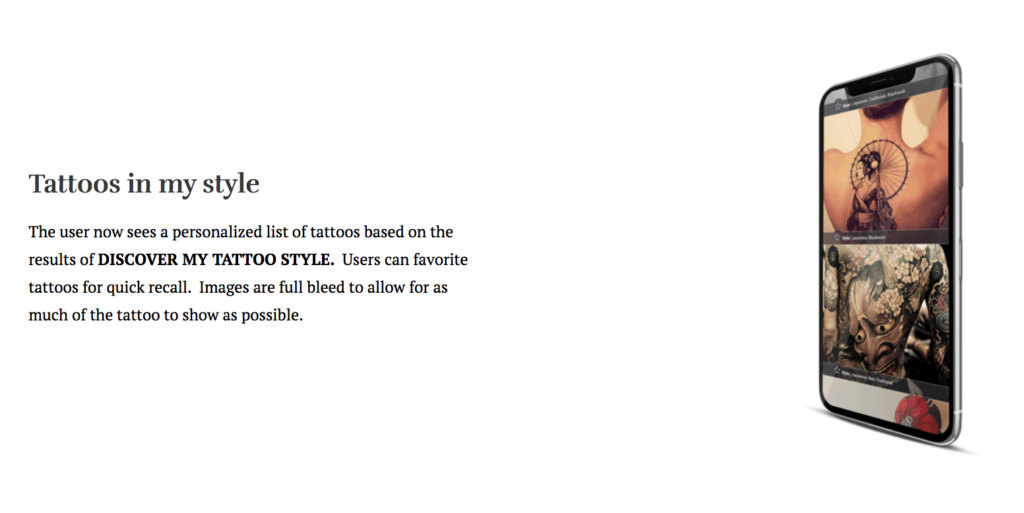 After describing all his design process, he introduces the app itself, pointing out some main features and showcasing them with cool GIFs.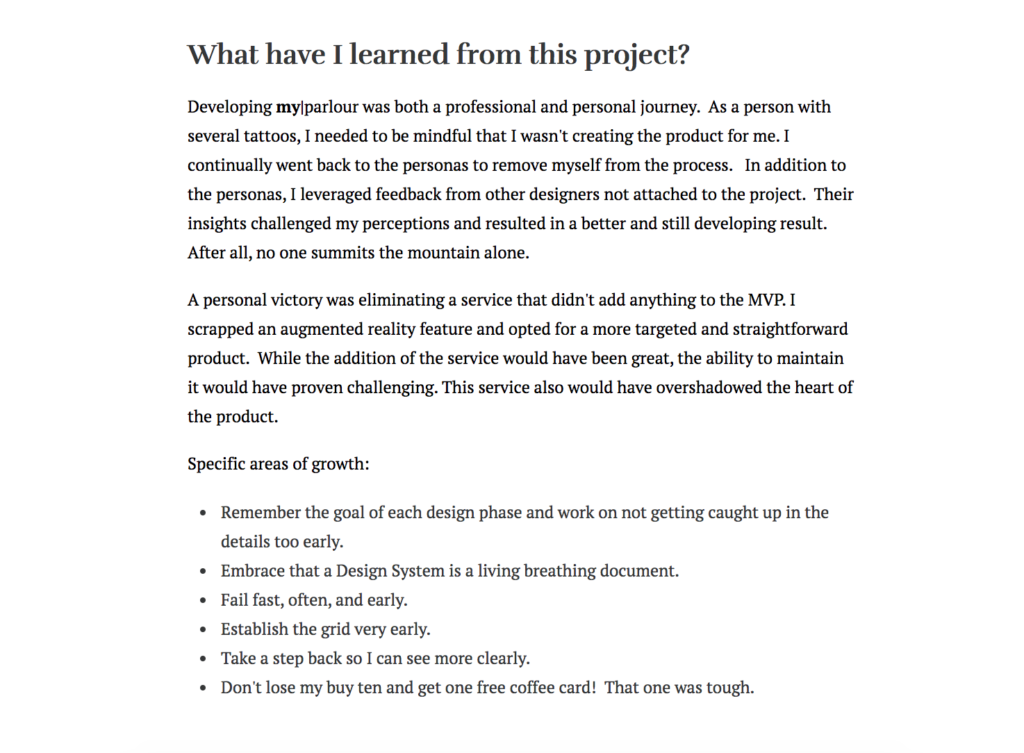 When summarizing his learnings, he writes about specific areas of growth. That shows his enthusiasm and thirst for knowledge. He closes the case study with a "gratitude and credit" section for the people who contributed to the project's success.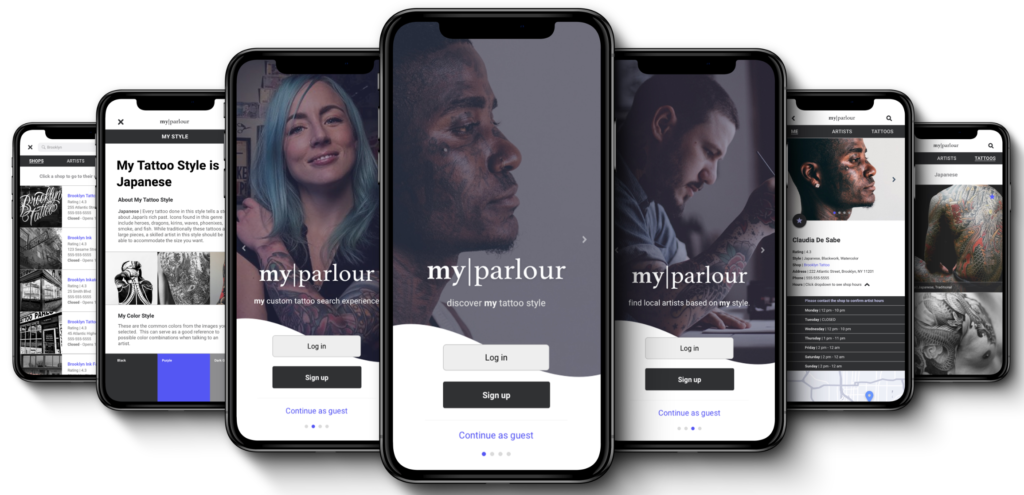 Not taking all the credit just for yourself in your portfolio shows your part as a great team player. The same applies when you present your team and the roles in it at the beginning of a case study.
5. "Lunar" case study by Marcela Díaz
Marcela explains the aim of the project right at the beginning with only a few words in the subtitle: "Chat with your doctor anytime, anywhere!". She starts the case study with a description of PMS (Pre-Menstrual Syndrome) and explaining the benefits of using a period tracker app.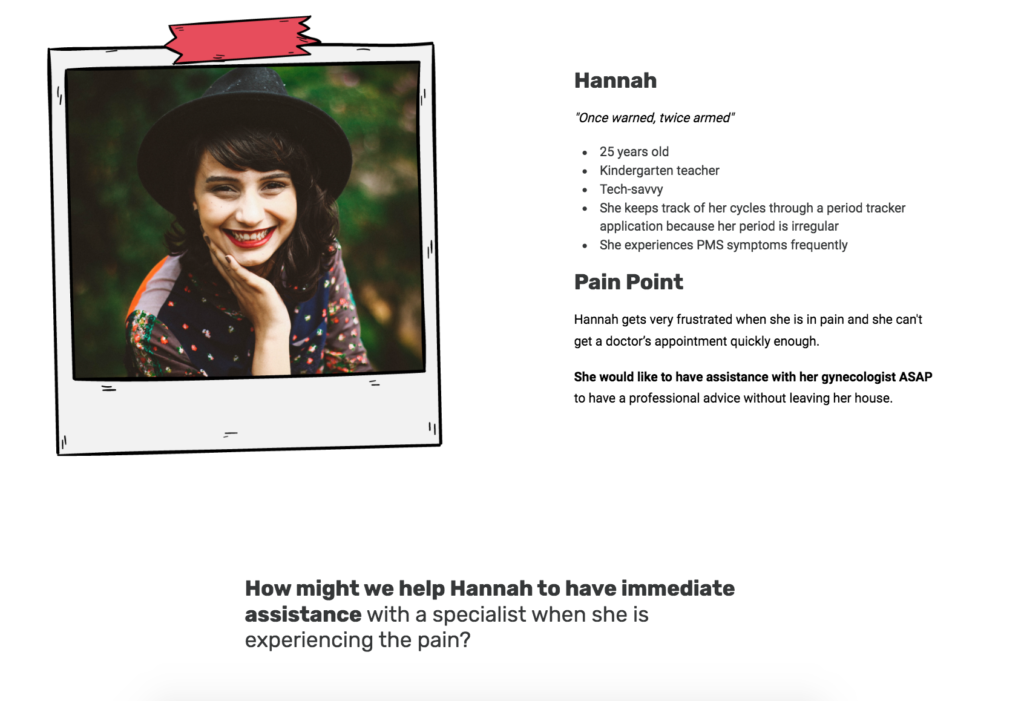 Then she explains her design process. After many surveys, she highlights this with some statistics. She also added the questions from the interviews she'd done. Then she analyzes the discovery phase. After creating personas and highlighting their pain points, she adds some of her sketches and introduces the UI design.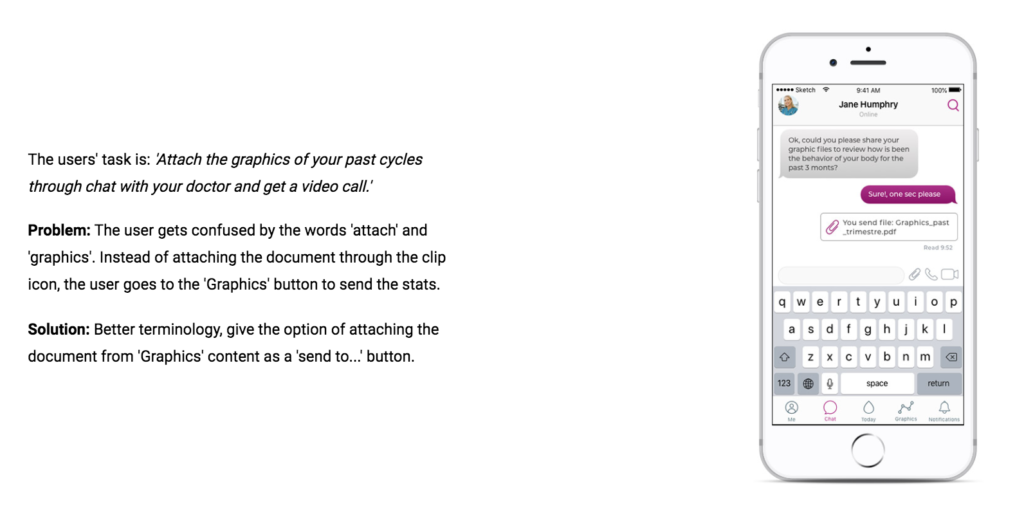 Next comes an embedded prototype which makes it easy to understand the user testing. Really cool thing: You can easily interact with it without leaving the case study. After the tests, she iterated the product. She explains the iterations by writing problem-solution pairs, a great way to explain design decisions.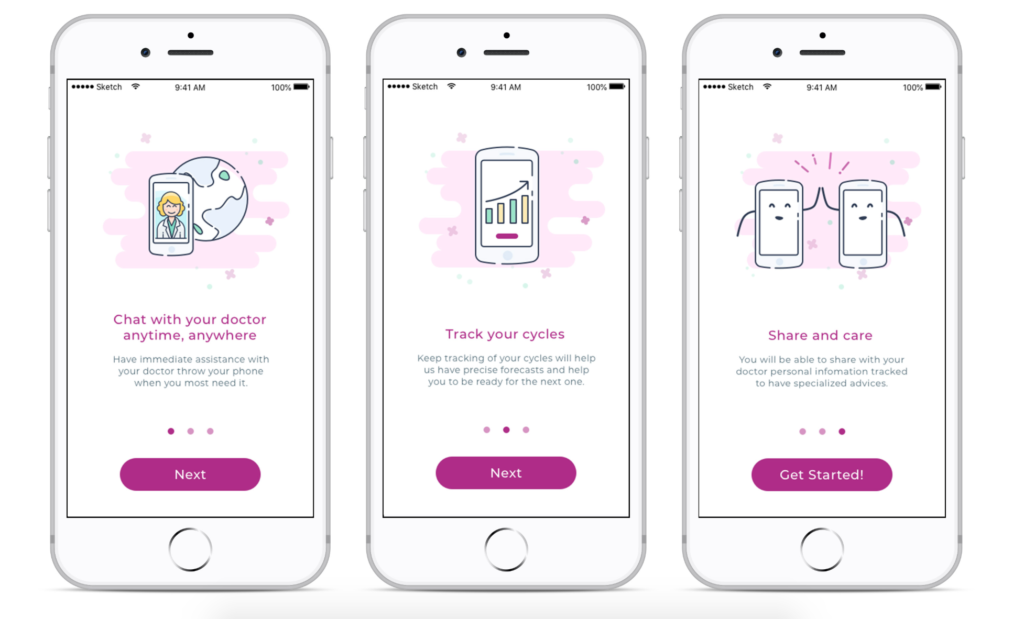 She ends the project with some learnings where she even highlights what she really loves to do. This might provide future employers valuable information.
6. "Uprise" case study by Elissa Santamaria
Elissa made sure to present the project, her role, the problem and the team for quick scanning. She split the project and her process into two phases and presented them one after the other. She starts with competitor analysis and creates personas. Then she talks about the ideation workshop they held to sketch up some ideas based on their three objectives. She even added some photos made on this workshop.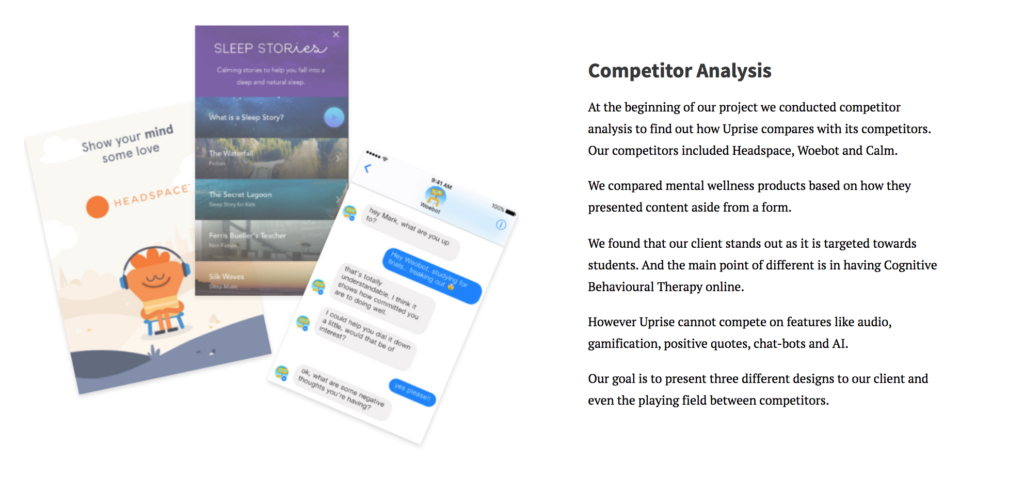 Then, she explains the solution to the challenges, shares some sketches and prototypes and explains the concept behind them. She came up with three different concepts and explains them all one by one.

Later on, they did user tests and she shares the top five insights she got from them. She also presented it to the stakeholders and immediately implemented some ideas.
In the second phase, she explains how she'd change the current website to achieve the objectives agreed upon with the stakeholders. She talks about all four objectives and possible solutions. The illustrations added here makes it really understandable, especially where she places the old and the new versions next to each other.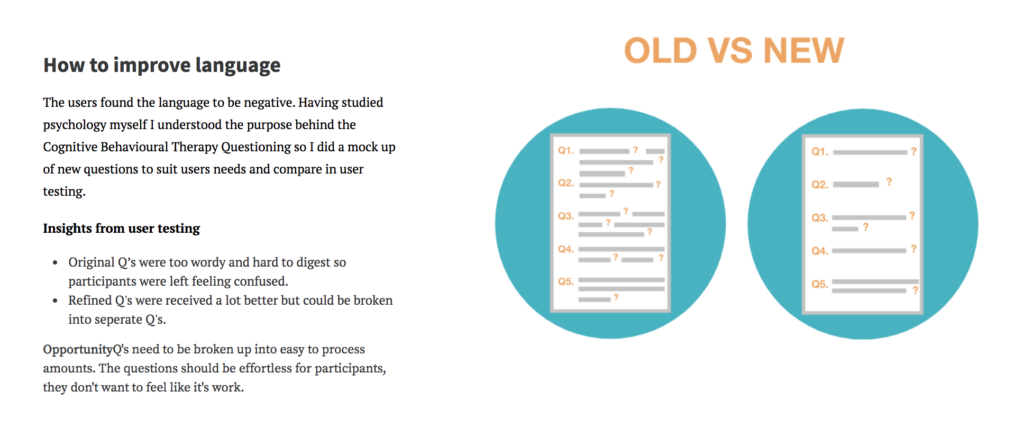 She shares some learnings and some photos taken at the final presentation. She doesn't showcase any final UIs, but still explains the whole design process. Including this even without showcasing any UI design, she manages to perfectly present the process and sets a good example.
She closes the case study with a really powerful quote from a product manager.
7. "99app.com" case study by Beto Lima

Beto starts his case study by describing the company, his role and the challenge. He goes on to his design process. This includes interviews, personas, card sorting, site map, mind map, wireframes and the UI design. He added photos to all the steps he talks about, making it really transparent. He even highlights some parts such as the UI design with big, whole-screen images.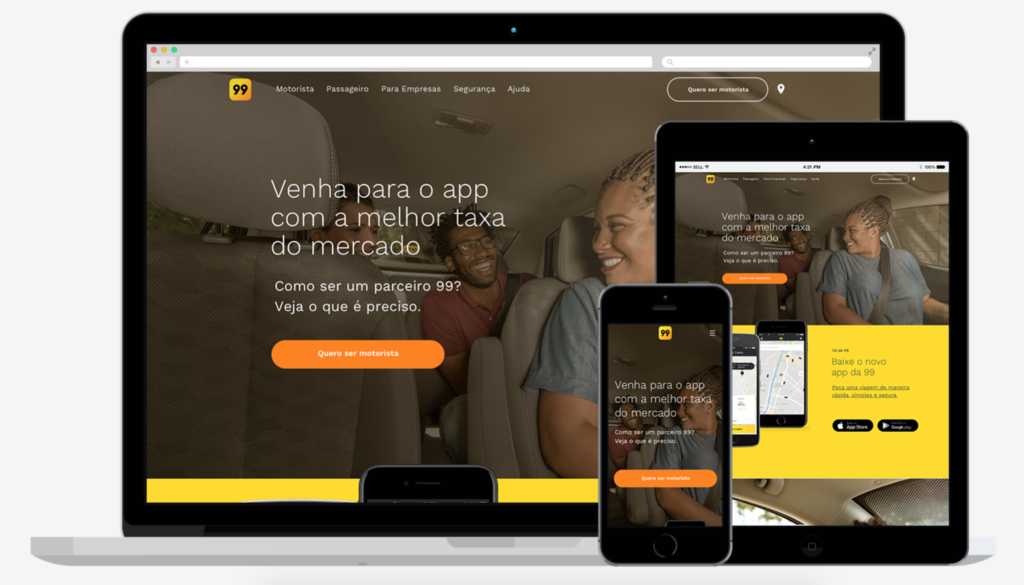 At the end, he summarizes his learnings. Also, he explains how the design system improved thanks to this project. The statistics at the very end work powerfully, highlighting some KPI's that improved a lot.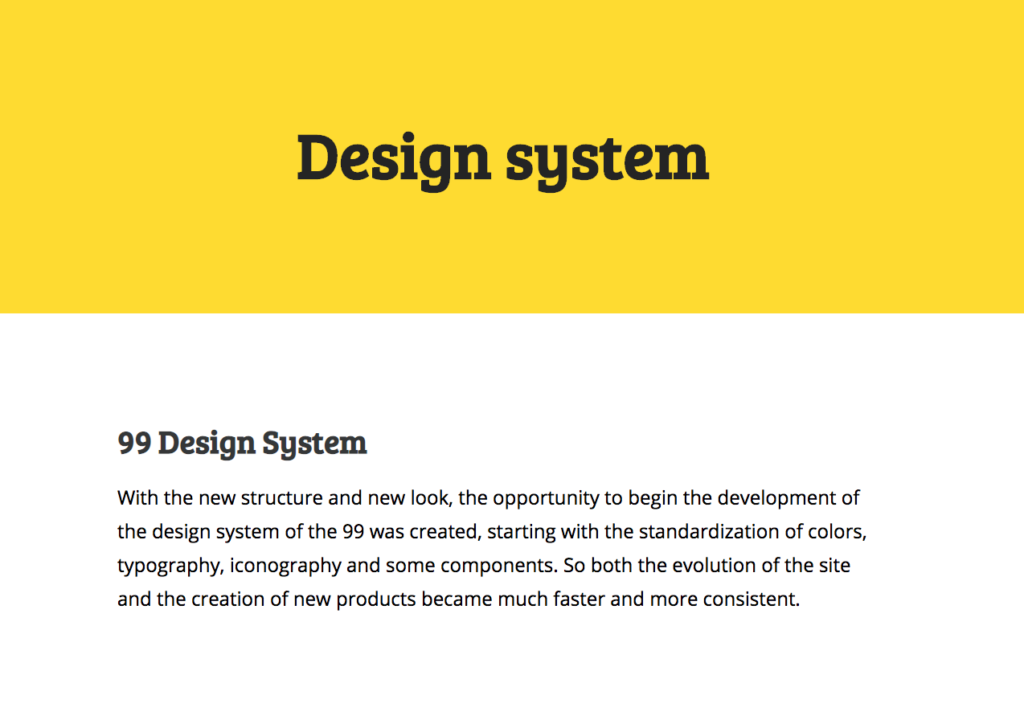 He also added a link to the final product, the website itself, so the readers can check it out.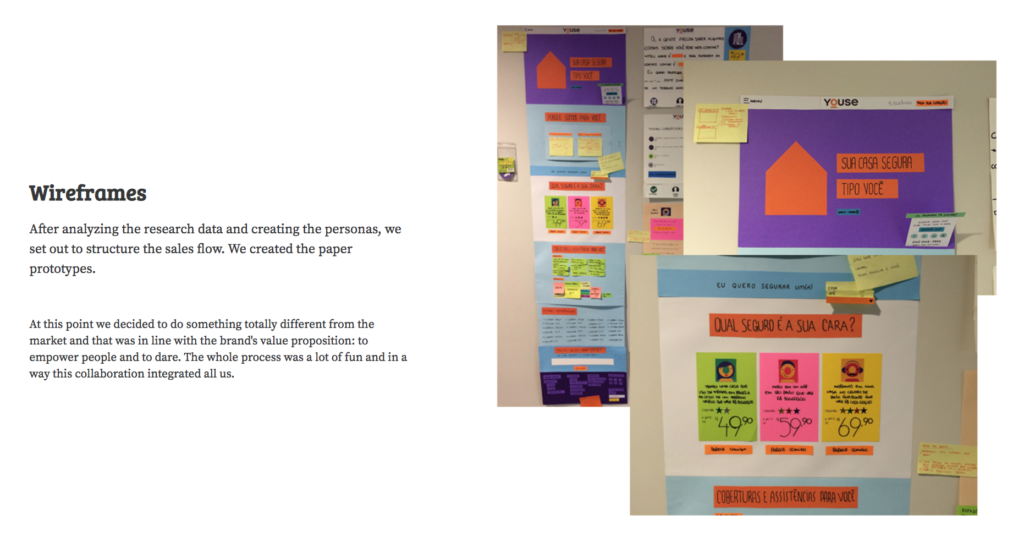 In this case study, Beto follows the same structure as in the previous one. After presenting the company, the team and his role, he shows his design process. It includes interviews, wireframes, personas and the UI of the sales flow. Despite creating the final UI in Portuguese, he's made it totally understandable by explaining it in his case study.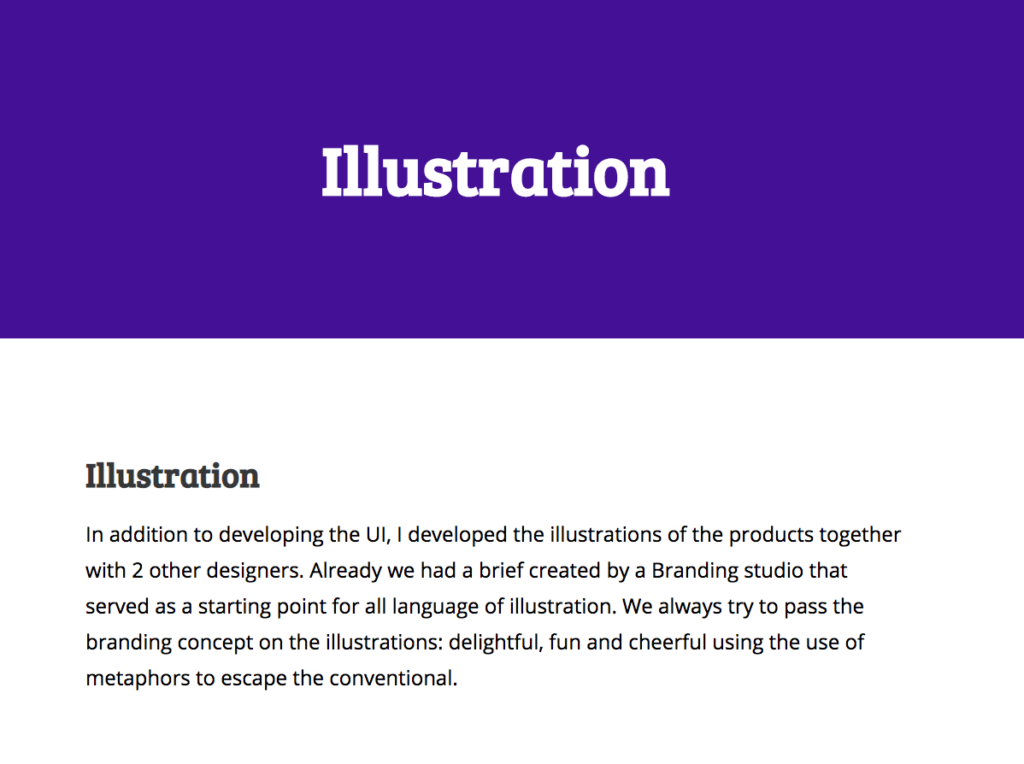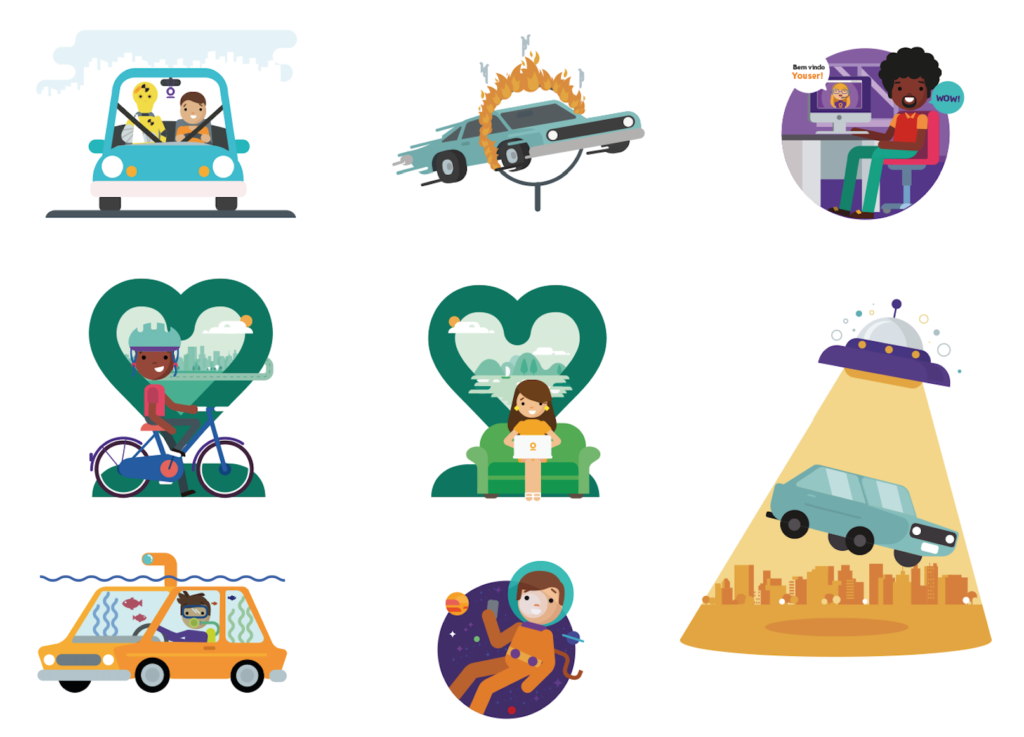 After sharing his learnings, he highlights the illustrations and the iconography. It sets a good example as you can highlight basically any part of the project you find interesting or important.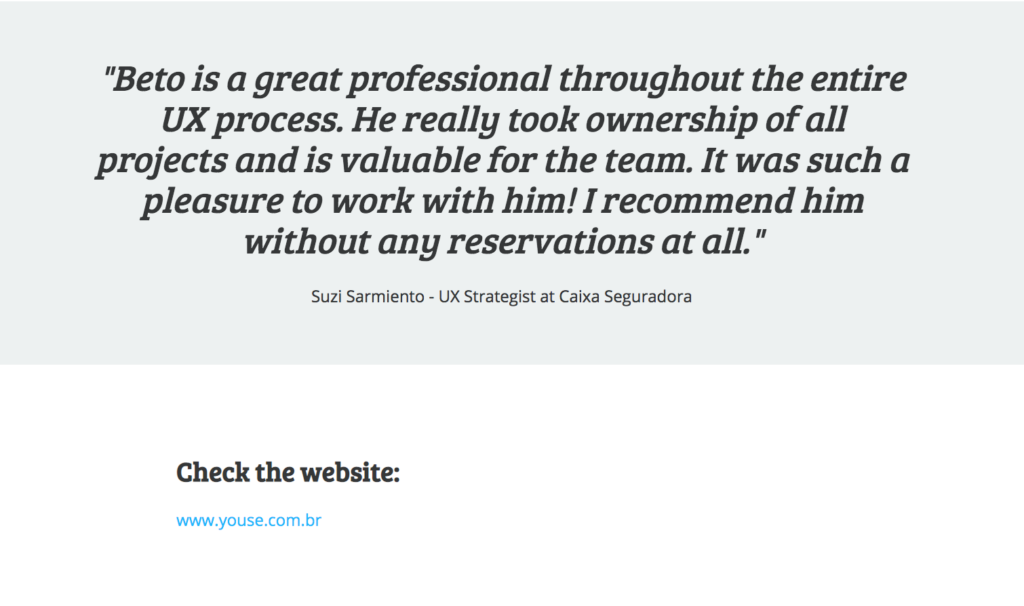 He ends the case study with a great quote and a link to the final website.
Rey highlights his team and roles right in the subtitle and of course, the project in the title (CX (Customer Experience) Strategy for the RMIT University).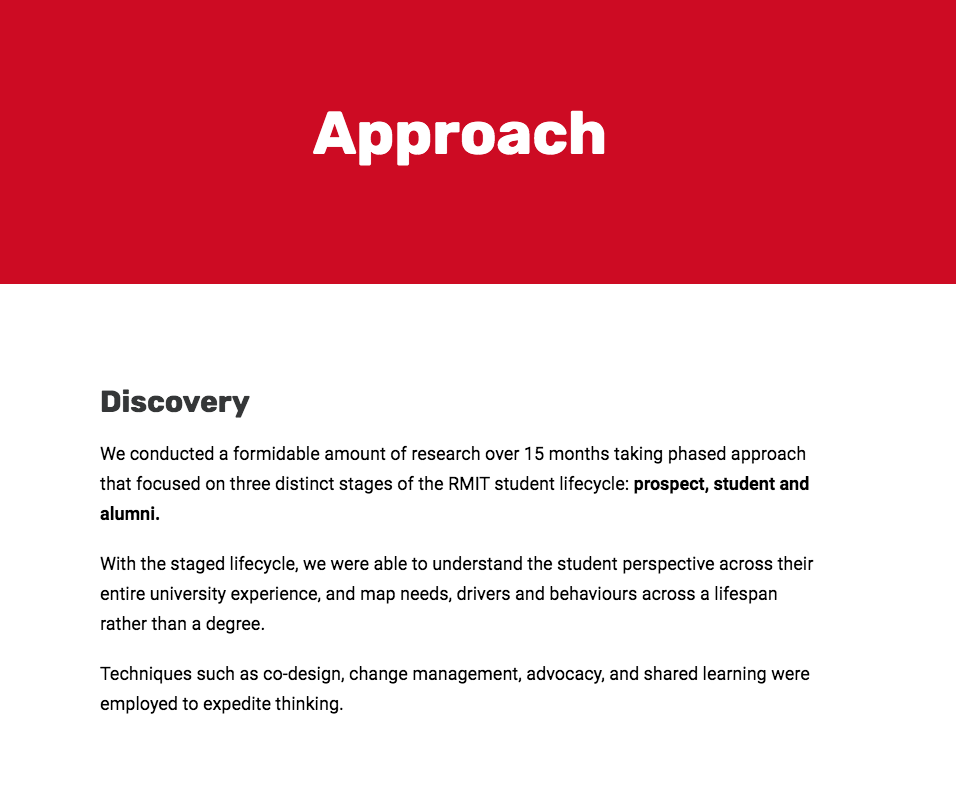 In the introduction he explains the context, the brief and his role in detail. Then he presents his process in detail. They had a heavy research section, which he explains the steps of. He even shares many statistics about the conducted research.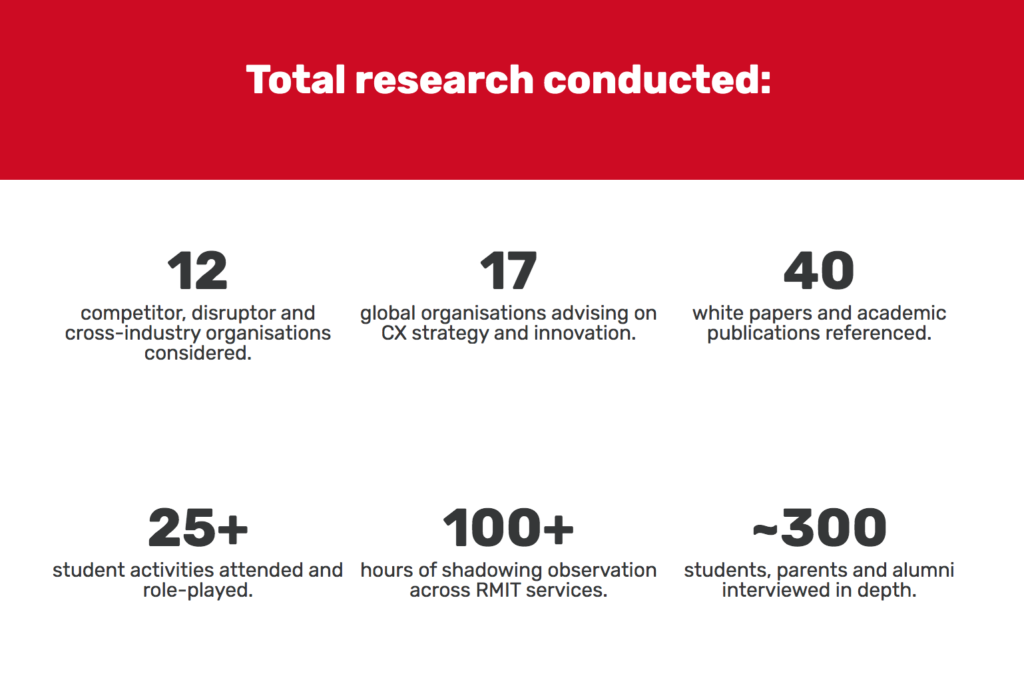 I especially like that he does not take all the credit. He explains all the different deliverables and outcomes the team delivered. He emphasizes the project status as a team effort. Still, as he served as the only designer in the team, he produced most of the visual elements and illustrations.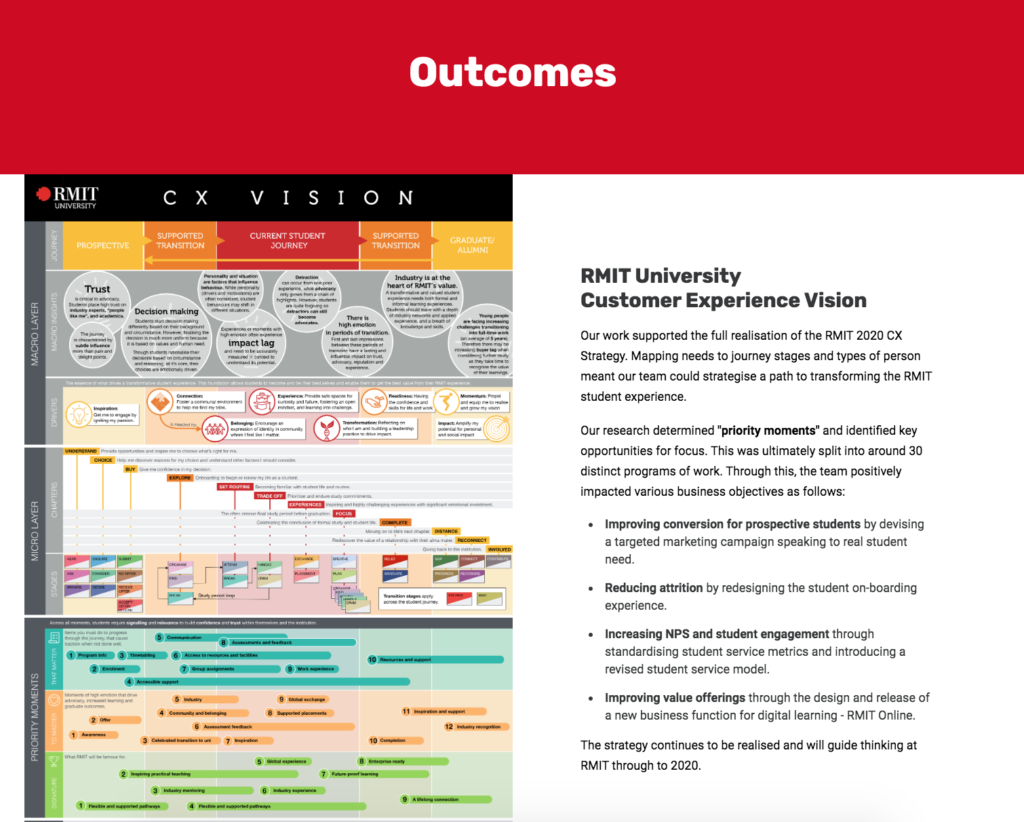 At the end, he added a really powerful quote from a member of his team which definitely gives him credibility.
10. "Pottery Barn" case study by Storm Sampson
Within one project, Storm introduces many challenges he had during this specific project. He follows the same logic while introducing every challenge, making it easy to understand. This creative method shows more of the project's challenges without overcomplicating it.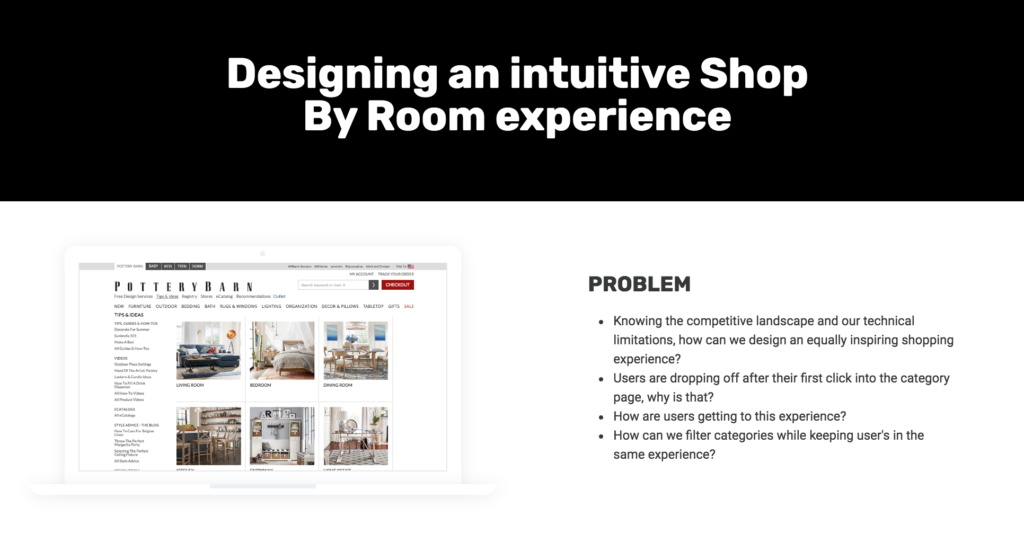 He always explains the challenge, his process and learnings and some statistics. Sometimes the next steps and a link to the existing site also feature.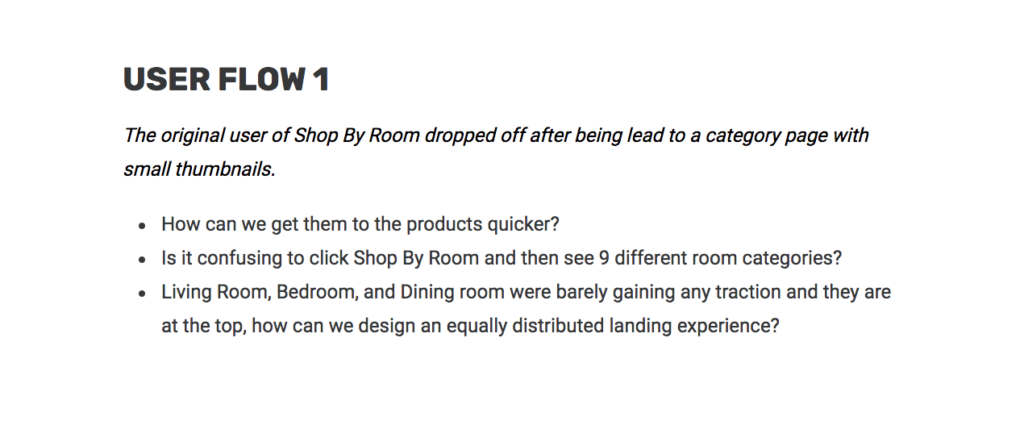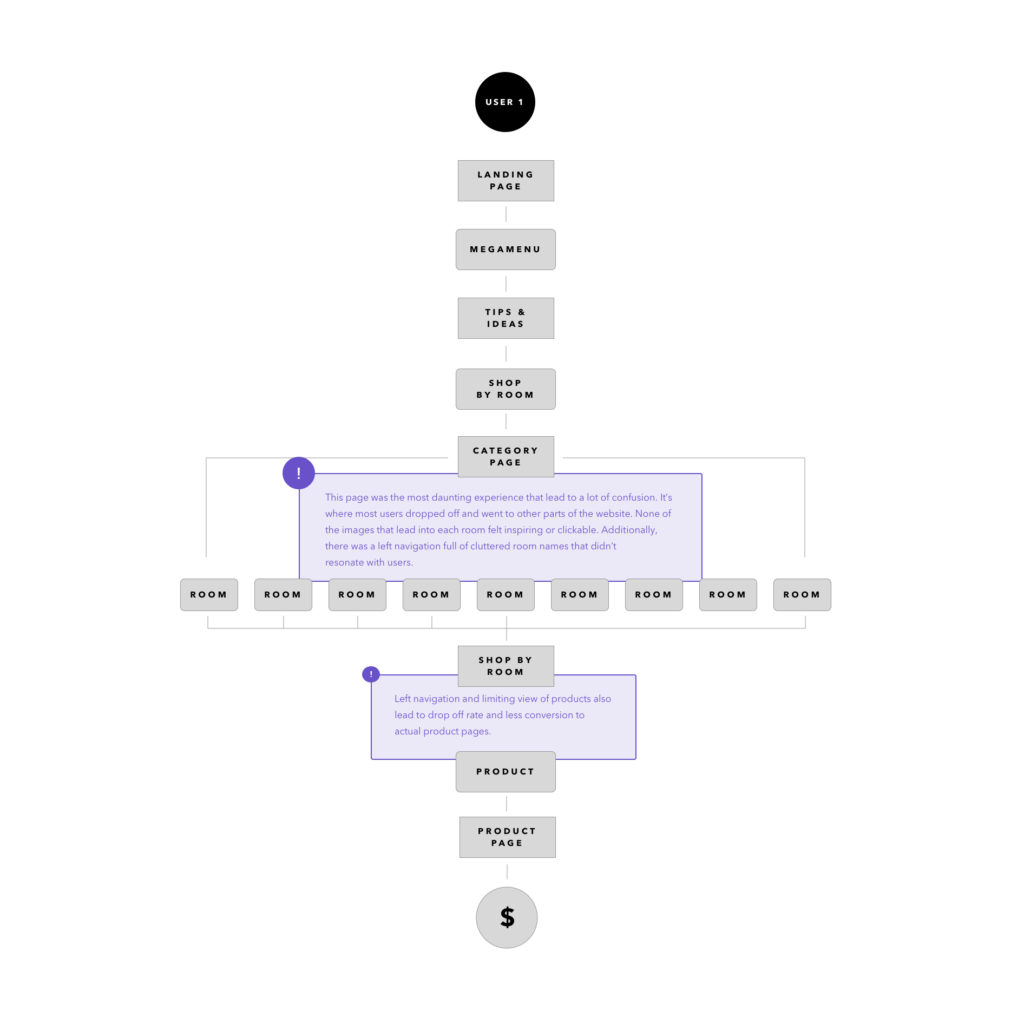 This lets him show the original and the new versions of the user flow. It also provides a great way to show the differences implemented as a result of his work.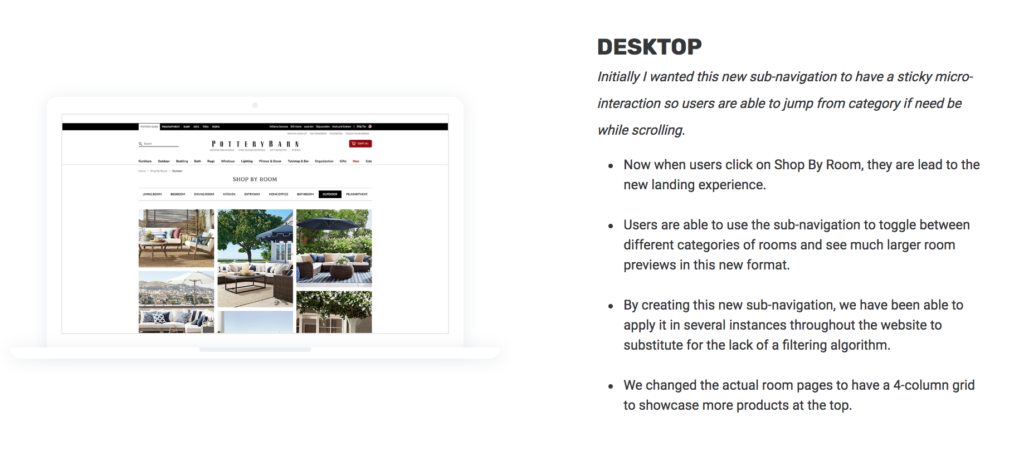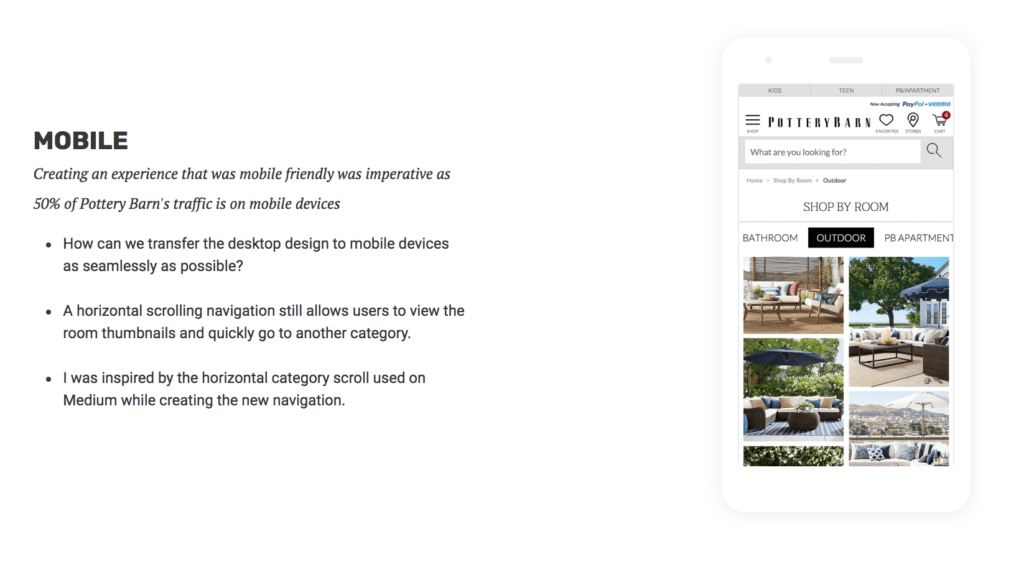 Additionally, he added scrollable mockups. They show the website right on the project's site so the reader doesn't need to navigate to the website and back to the case study. Still, he even added a link to the final site to offer the option to check it if someone wants to.
Summary to create a powerful UX portfolio
As you have just seen, all the portfolios followed more or less the same logic: the UX leads' and recruiters' way of thinking.

With a great portfolio structure, you can easily create a concise, well-structured and meaningful UX portfolio.

Let's summarize the main parts to include to achieve this.

Stunning front page with the most important information:
Name
Profile photo
Job title
Short description
Social links
CV / Resume
3 to 5 UX case studies of your best works:
Header image with a great title
The biggest challenge you faced
The team and your role
Your design process: Present your design process step by step, present the methods you used and the decisions you took and explain why you did it that way.
Results
Your learnings
Follow this great recipe and you'll create a powerful UX portfolio.

And in case you need a tool to help build your portfolio quickly and easily, we made a great one, UXfol.io. The UXers created all the examples above in UXfol.io, so you know you can actually do everything you saw.

We created it specifically for UX professionals, so we packed in a lot of features to help you in the portfolio building process. They include copywriting help, prototype embedding, scrollable mockups, gallery section, statistics section and many, many more. You can even ask for the UXfol.io community or by senior UX experts to review your case study.

If you want to give it a try, sign up here and try it out for free.