To speak brutally honestly with you, I've always hated writing resumes. I found putting my first UX designer resume together such a pain in the ass. I still remember staring at the blank document for loooong minutes. The reason? I just didn't know what they expected from me. What does a great UX designer CV look like? What should I put in, what should I leave out? So many questions!
Now that I lead a 30-person design team and have had the luck to discuss this topic with many world famous design leaders such as Jake Knapp, Jared Spool or Josh Brewer, I have a crystal clear picture of what an excellent UX resume looks like.
I've seen a few thousand UI/UX designer resumes during the past five years, and in this article, I teach you how to create a great one. I'm doing this because during the last year, my team and I started building a UX portfolio platform. So now I'm not just hiring designers any more, but also helping them get hired. And as you can see, I've positioned myself pretty well to set you up for success because I have spent a lot of time on the other side.
So today we aim to create a UX design resume hiring managers can't refuse.
A UX Designer's Resume
Usually a short one-page document, a UX designer resume lists the skills, education and experience a designer has acquired. It helps the hiring manager decide if the candidate would bring the right skill set and experience to make a good fit for a position.
Hiring managers usually don't care much about the tools you know and how long you've been using them. They need to see relevant skills such as prototyping, copywriting, research, user testing, coding, visual design and so on.
Of course, your UX designer portfolio makes up the most important part of your application. As a design manager, I spend 90% of my time with an applicant's portfolio. But still, most companies ask for a CV as well, so you will need one.

What do hiring managers want to see in your UX designer CV?
You know the first thing to do when designing an app, right? Understand your users and figure out how this new app will make their lives better. So for a quick experiment, let's do the same with your CV. So the question goes: How will your future boss use your CV?
As I said, I have spent enough time on the other side, so I can answer this question for you. Usually a minimum of 30 applications come in for an open position. Better positions in famous companies draw hundreds.
An HR assistant might filter out the irrelevant applications, but the rest will land on the desk of your future manager, usually a design lead in the company. They receive dozens of applications, and they check each one.
Of course it would take too much time to examine all of them in detail, so first they filter for candidates who might "reach the bar". They check the experience level and look for specific skills the designer needs.
In this setup, your UX designer resume must make gathering this information as easy as possible.
What to include in your UX designer resume?
The structured information has key importance in your resume. Some basic and essential types of information should also never go missing!
1. Contact details
I mean the following:
Full name

Contact info: email and phone number. It usually doesn't need your address, although recruiters in countries where you'll need visa sponsorship will.

Portfolio sites like

UXfol.io

, any kind of personal website, blogs, social media accounts, etc.
2. Self-intro
Write a concise, brief introduction of yourself. In it, emphasize your attitude towards UX design and hint about your expertise and skill set!
3. Work experience
Take care to depict them in a structured, easy-to-understand way! Build up one section (like one workplace) the same way as the others. Maybe display them in a reversed timeline, so the hiring manager can see the last and most relevant one first. The below can guide you in which info to highlight:
The name of company or project

Your role in the company or project

Duration of project or time at company

Achievements
4. Education
Beginners should emphasize this section more in their UX resume.
Suggestion: Do not limit the education to only uni and college. Include UX institutions. Also show achievements and knowledge gained, like in form of a certificate.
5. Skills
Skills don't need explanation. Tools and software can explain themselves. However, displaying them in a logical order holds the key! Let's see the options:
Lists

Tables

Organized based on the strength of expertise

In a sidebar-like page setup
Let me show you a few examples.
Personally, this visual solution has become my favorite – simple, clear and well-structured:

The next ones have a different arrangement, but similar logic: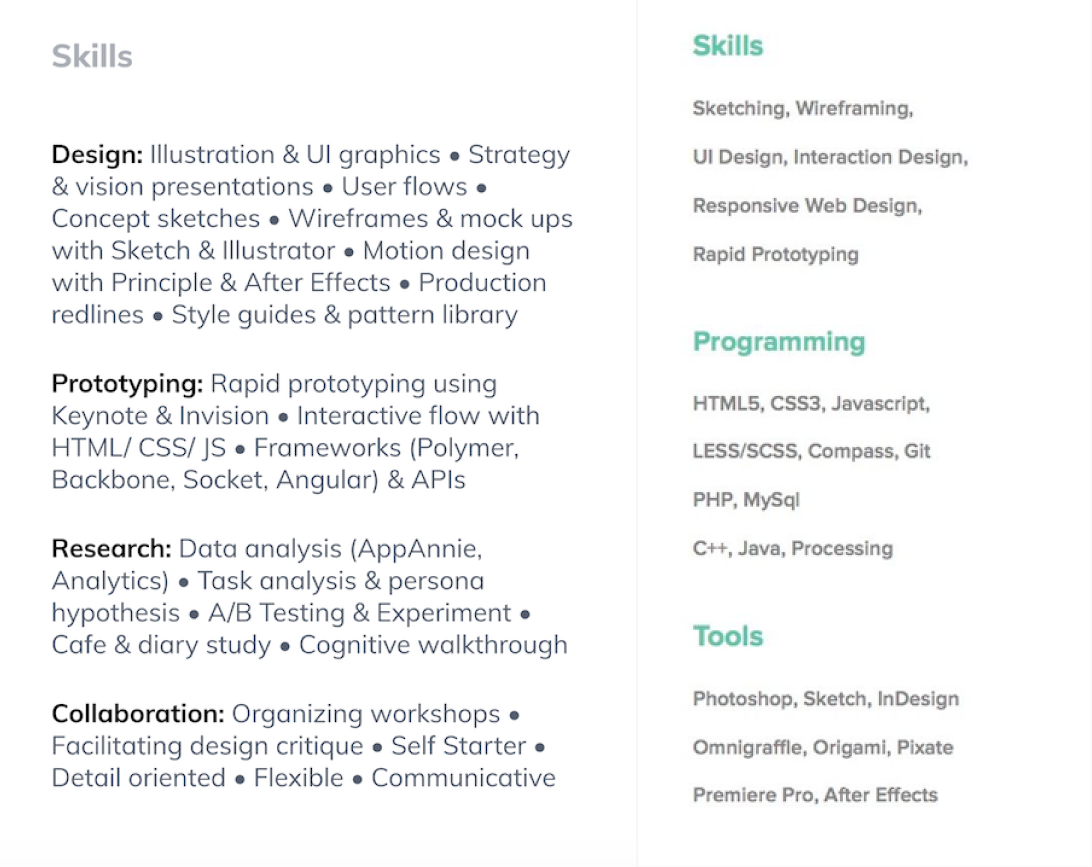 6. Awards and recognition
These explain themselves. They also prove how busy you get generating a footprint and leaving a personal mark on the professional world.
What skills do you need to write about and how?
Detail and structure skills in different ways, as you can read above. Highlight relevant skills in a UX designer CV such as:
Visual

Interaction

Software

Coding

UX methods you've practiced so far

Languages

Hands-on practice

Tools
What do the best UX resumes look like?
1. Keep it short
Trim your resume down to one page. Hiring managers haven't got lots of time, so they won't spend more than couple minutes going through CVs. If a UX designer resume takes longer to scan, recruiters get lost in content. That just wastes their time.
2. Space comes at a premium
–
don't waste it!
A resume has limited space, so use it wisely. Read below several techniques to do so:
Write specifically to the role you're applying for

Delete all irrelevant info

Pronouns mean extra words, so remove

them

Every recruiter expects references upon request, so leave them out. This easily frees up space for essential information!
3. Color scheme
Keep it clean and simple. Use two colors at most, or a more common method: different shades of gray.
4. Whitespace
This lets recruiters scan quickly to better understand the content.
5. Typography
Emphasize key points with semibold, bold or italic. But please DO NOT USE Times New Roman, Comic Sans or other fancy fonts.
UX resume examples
Let's take a look at some great UX resume examples. Hopefully, these will give you some inspiration to create your own one.
Sanat Rath's CV is simple and well-structured. He included all the important details while paying attention to good readability. It is a good example of a compact and clear UX resume.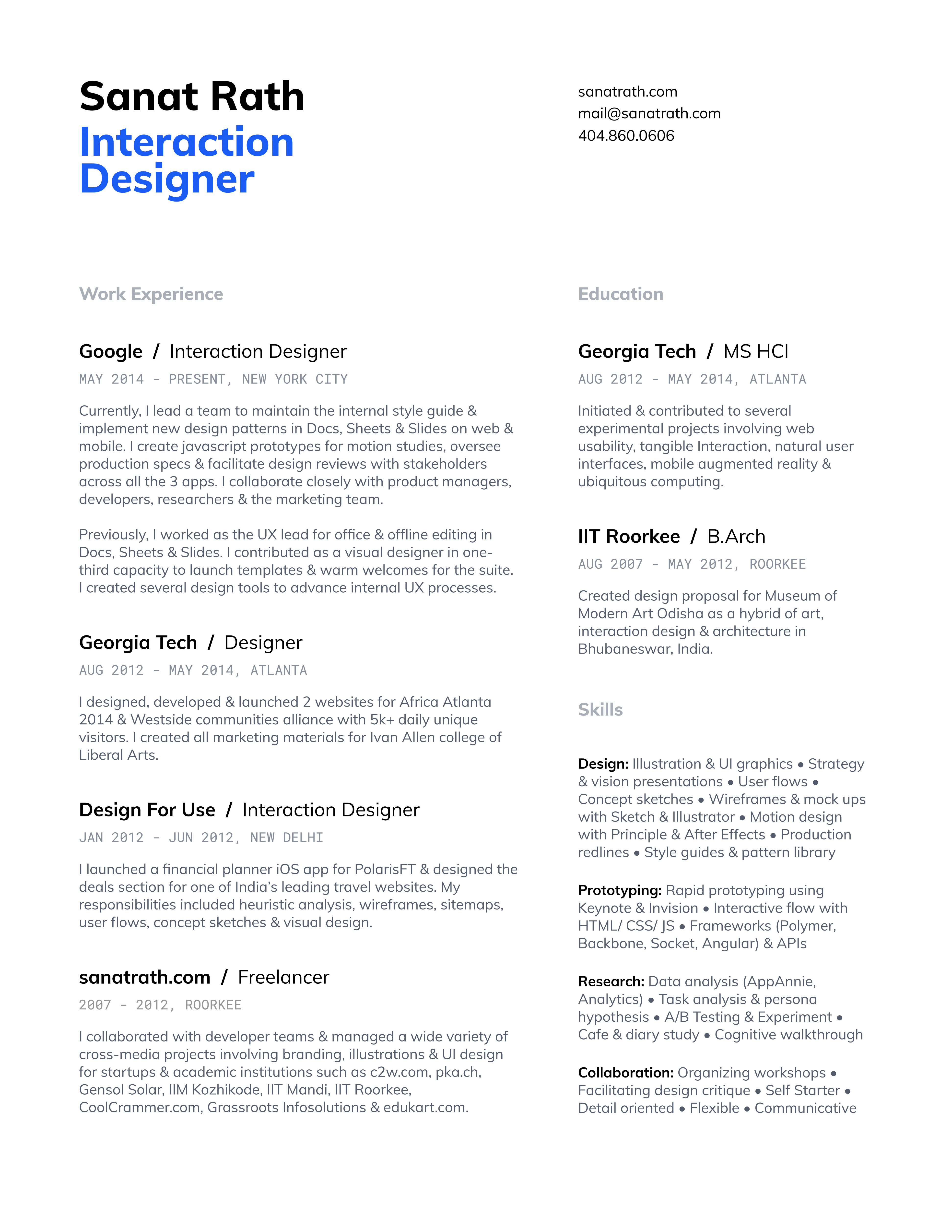 There are some things I especially like in Aaron Brako's resume. He added a short introduction of himself and organized the content in an easy-to-understand way. Also, the details of the projects he added at the bottom of his CV can be checked on his website.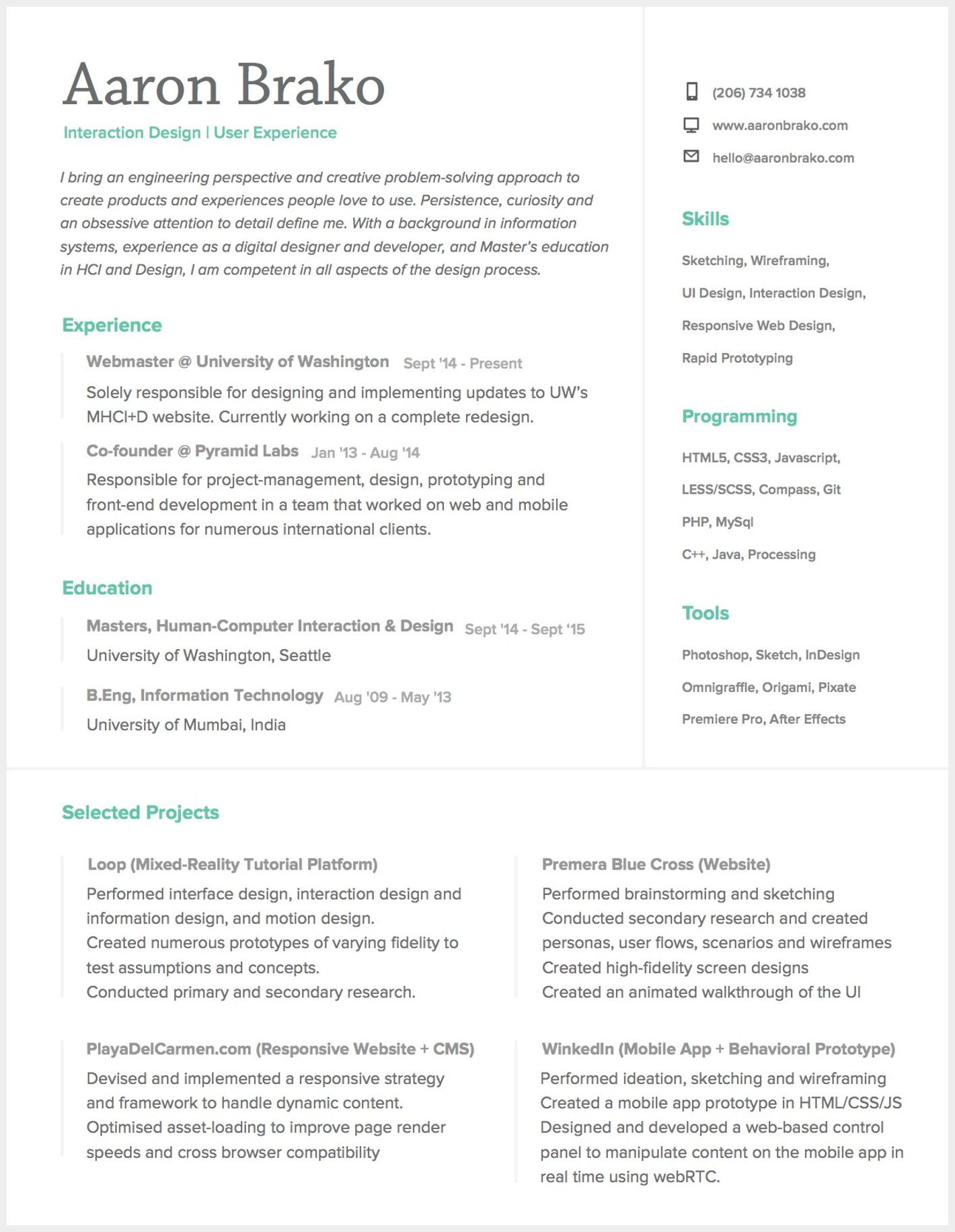 Priscilla Mok's resume is a great example of including some sections that can draw the reader's attention. She added some honors, awards she achieved, some skills she has, including foreign-language knowledge and some activities that she likes to do in her free time.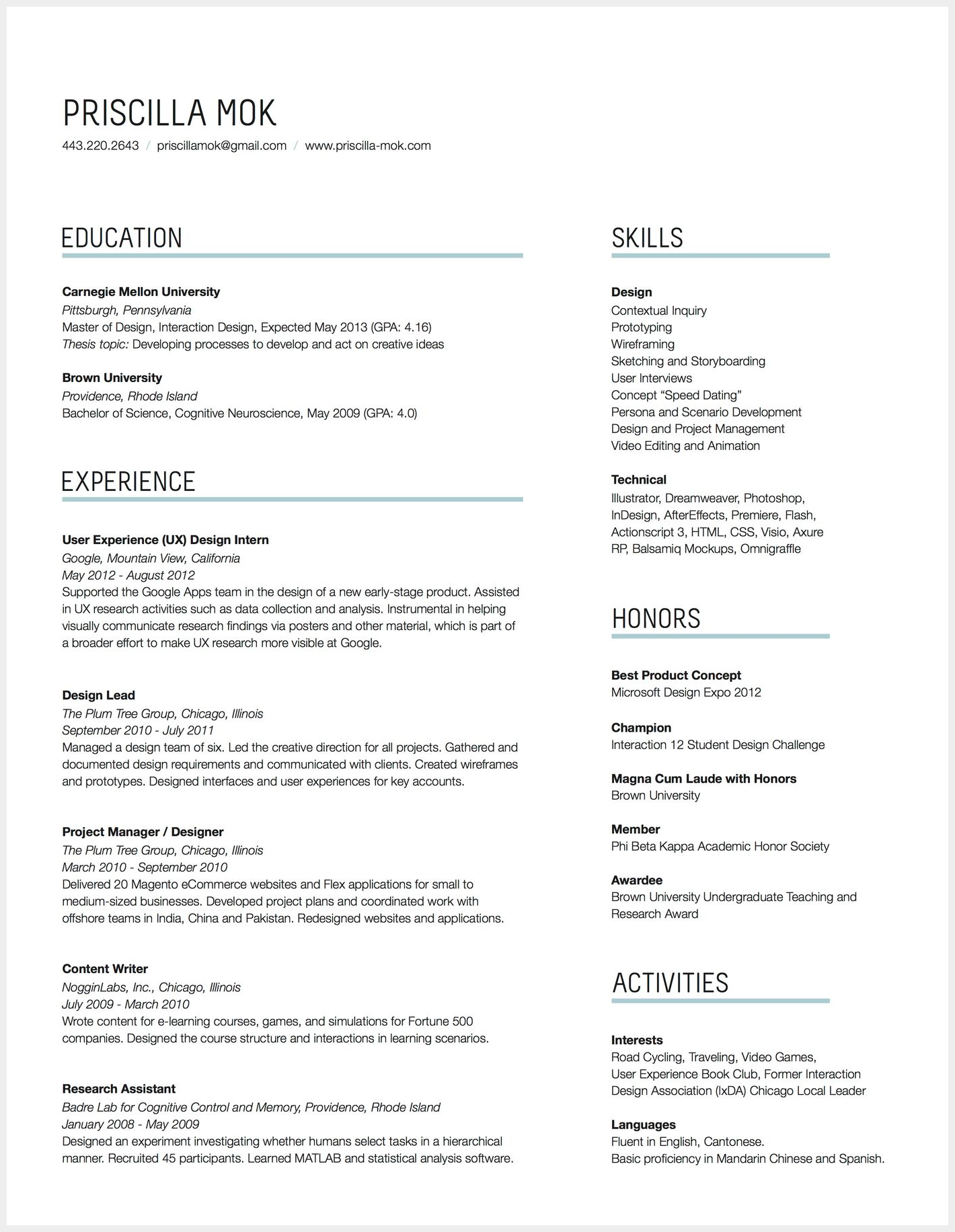 Rachel Schmitz made sure to highlight the important things in her CV: she added a reversed timeline of her experience and she mentioned only her relevant studies. Also, she wrote not only about her skills but her biggest achievements.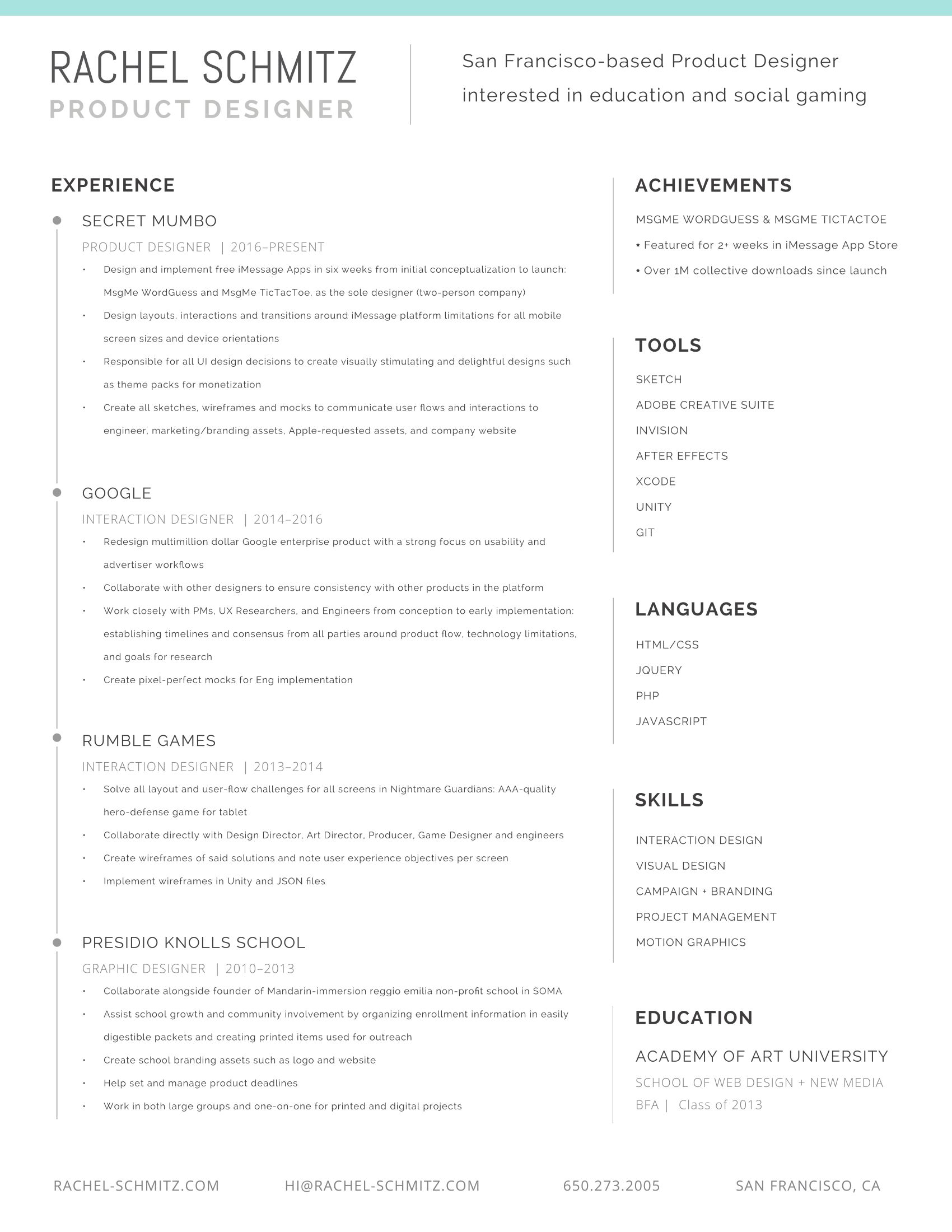 Yannick Zanfack's resume follows the same logic as Rachel's, he mentioned his most relevant education, experiences and skills. It is well-structured and his honors section is quite eye-catching.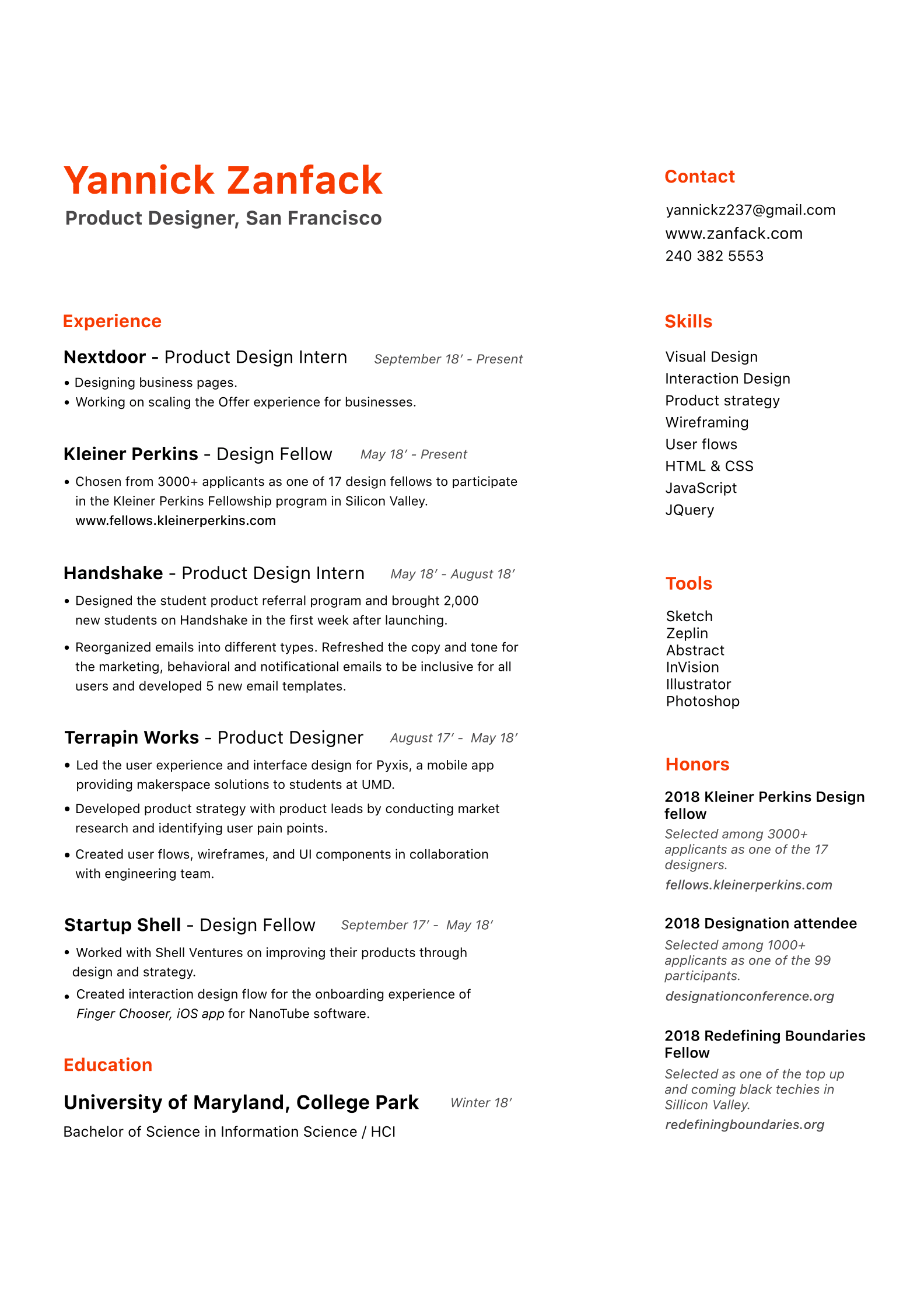 The most common mistakes in UX/UI resumes
Now that I've shown you some great portfolios, I'll list the most common mistakes in UX designer resumes. Hiring managers usually skip portfolios that contain these mistakes. Make sure yours doesn't.
Overlong resume

–

Keep it to one page. Prioritize.

Overlong plain text paragraphs

–

In a CV, we want to see the most important information listed, not an essay.

No visual hierarchy

–

This tells more about you as a designer than the writing. Use a clear hierarchy and highlight the important information (and only the important information).

Bad typefaces

–

Choose a great font, my designer friend.

Highlighted skills and experience which don't match the requirements

–

Check the job description, and highlight the relevant skills and experience in your CV.

No link to your online portfolio.

Portfolio squeezed into a CV pdf – It leads to a big file that downloads slow. Don't. Put in a huge link to your online portfolio instead.
Bad spelling or poor grammar.
Check your portfolio repeatedly. Show it to friends before you send it in. They can help find mistakes. It will also give you feedback about how it looks to others.
Adjust your CV to every application. Do a bit of a background research on the position's requirements. Re-reading the job post can help, as can talking to people in the organization. Get a clear picture about what kind of people they are looking for. This will help you decide if you fit the position. It will also help you choose what to mention in your resume.
UX designer resume template to download
Several useful sites can provide comprehensive help when it comes to selecting templates or just collecting hints about the structure and content. Check the following couple and their offered services.
ResumeGenius
If you are looking for a more generic, but full-service and comprehensive guide, ResumeGenius can support you the best! Here you can:
Build resumes

Reach different industry- and field-specific samples

Download distinctive kind of templates

Get help building your cover letter

Learn more from the resources.
Mockplus
This prototyping tool lets you prototype your resume and iterate on it based on testing.
Let's see a curated list from its best functions:
Fast interaction

A simple drag-and-drop that lets you build interactive prototypes effortlessly

Pre-designed components

Testing on native devices instantly by using the generated QR codes

Cloud-publishing your resume and a shareable web link helping recruiters find it

No coding, for simpler onboarding and learning curves.
Template.net
Select file format (Illustrator, InDesign, Keynote, Publisher HTML5 and many more) for more than 25,000 ready-made templates (my favorite feature!)
More cool stuff:
Search filter with autocomplete function with keyword suggestions

Theme-based templates

Cover letter templates

Easy sign-up flow with four different options

Blog for browsing through resources
Pinterest
Probably you've already heard about one of the best-known visual discovery, collection and storage tool sites, Pinterest. Besides collecting your pins and adding them to theme-based boards, you can explore different pins from users, boards and topics followed with keyword suggestions or with visual search.
Etsy
Etsy functions as a marketplace where sellers can offer their extraordinary items or even unique handcrafted, vintage or custom pieces. Browse through different resume templates by recentness, relevancy and price.
How do junior and senior UX designer resumes differ?
Junior's guide
Rule number one: Do not say you're the master of anything! Don't brag about your skills, even though some seem to rate higher than those of your peers.
If you completely lack the experience, start learning techniques, using tools, and designing in your free time. It also creates a good impression to let hiring managers know that you train yourself and have the motivation for professional improvement.
Also, if you don't have any work experience, you can showcase the design works in your designer portfolio that you've done in your free time, for example pro bono work. Putting those in your UX portfolio will help you to start up your UX career.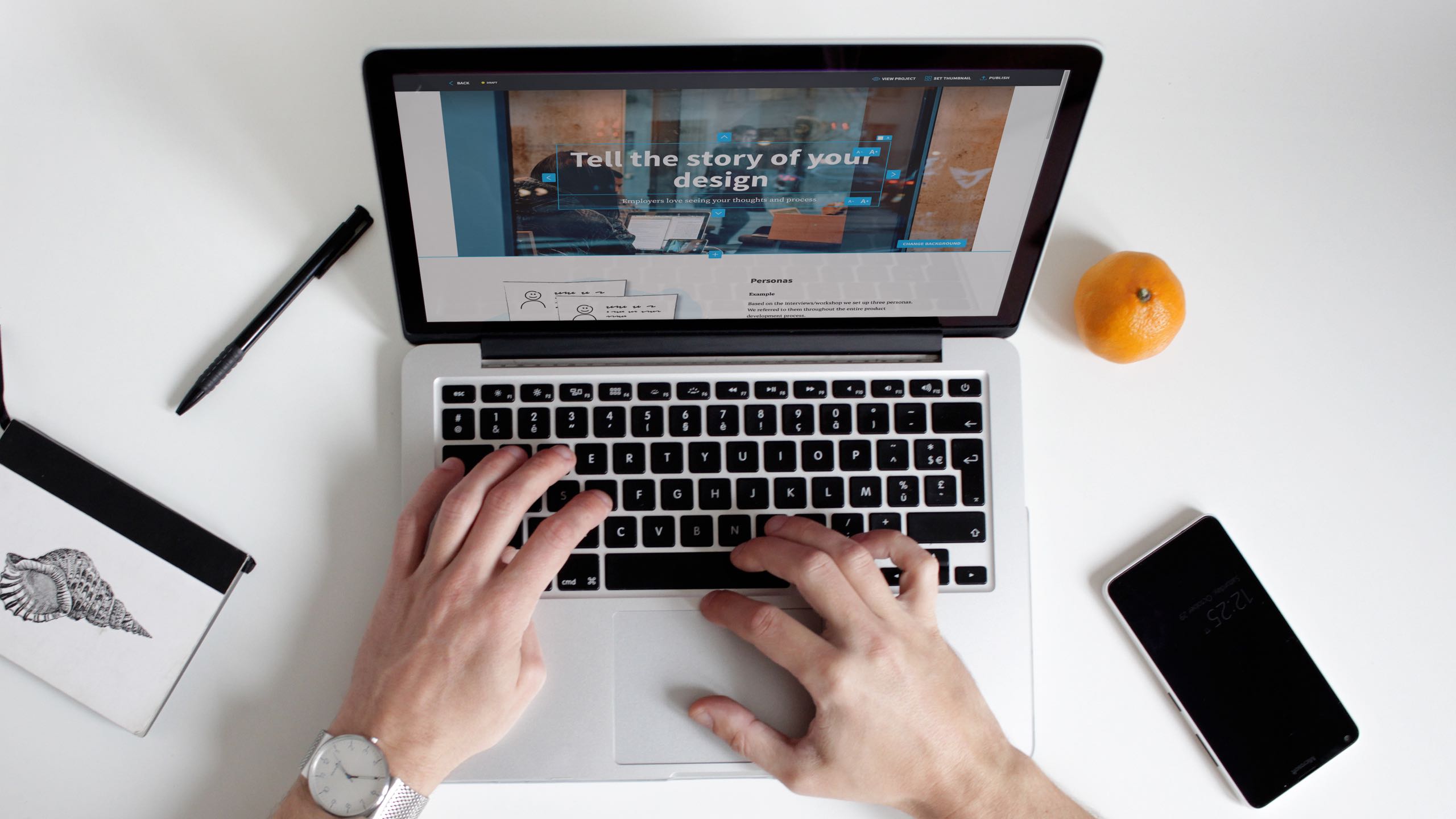 Display your education and your degree in your CV. Any kind of marketing or design degree from a famous university improves your chances for capturing a good internship option. You can easily start online UX classes, so don't forget to name your certificates in the resume!
Senior's guide
Usually, recruiters select UX designer candidates for the right UI design skills and enthusiasm. If they can see the potential of the right approach, UX mindset, process-thinking and knowledge, the portfolio just takes the next step.
Also keep in mind the army of designers out there with stunning visual competence with even UX research skill sets as an extra added value. This makes it difficult to stand out from the competition. Show your difference and draft a colorful UX designer resume. As a start, don't hide your early projects. Let different design projects display your rich experience. At the same time, focus on the most relevant activities, duties and competencies, not every detail.
Check out a well-defined list about what skills differentiates a senior UX designer portfolio in our previous blog post.
Just to shortlist very basic ones:
Facilitating workshops

Evangelizing design within your team

Convincing people to use better UX methods

Communicating design decisions to people in different roles

Forming the product strategy.
Reasons to reject & basic mistakes
Resumes face a high rejection rate, which may go up to a shocking 85%. Have a look at examples of reasons for that below:
Not including generic interests
Interests/hobbies surely add unique value to your candidate profile. They count as unique personality traits. After all, applying for a job doesn't only involve fitness for the role, but for the company culture too. It makes for a good start if you add a unique value to the team so they would always favor you. Definitely mention unique and special traits which enrich the social factor. Don't mention addictions like binge-watching Netflix or playing video games, or more common things everybody likes, such as listening to music.
Mistakes which increase the chance of rejection
Consider your UX designer resume a test. Mistakes can easily lead to a negative score. Let's shortlist the ones which might seem trivial, but still have a negative impact:
Poor grammar

Typos

Inconsistent structure

Sloppy design

Poorly designed portfolio website

Overlong CV

Same description for every job

Broken links

and plenty more…
Step-by-step guide on writing a UI/UX designer resume
Give your contact and personal info
Add an engaging self-intro
Display your work experience with a short and relevant summary
Do the same with educational background
Highlight your skills
Awards and certificates
Now that you know the recipe, start building your own awesome UX designer resume. And don't forget about your UX portfolio. These two go hand in hand. Take a look at our UX portfolio template to get started with your portfolio.
If you want to build a great portfolio quickly and easily, give UXfol.io a try. It is a UX portfolio builder platform designed specifically for UX professionals – with many specific features that will save you tons of time.