When we started working on our portfolio creator product a few months ago, we interviewed not only designers, but people from the other side, too. As a portfolio primarily convinces people of our abilities, we asked UX leads and recruiters for their opinions. We wanted to know what they need or look for when reviewing an application, as well as the typical mistakes applicants make.
Every company approaches UX differently, so one challenge lies in making a portfolio that meets everyone's needs, but we found some patterns that seem immutable. So, here comes a bulletproof UX portfolio template that targets your audience's needs.
Our UX portfolio template structure
We believe the case study format provides the best way to present your work in a UX portfolio, and our interviews bear it out as well.
"I want to see the challenges the applicant faced."
"I want them to provide context."
"We are looking for problem solvers."
Almost everyone mentioned that they expect an applicant to explain the thinking behind their work, and a case study serves this purpose best. Among other benefits, the case study allows for UX storytelling, a massively powerful tool in presenting your work.
Our UX portfolio template follows the structure of good UX case studies: It has a beginning, middle and end, each serving different purpose. Let's look at them.

The beginning
This has two main objectives: draw attention and give context. The UX portfolio template starts with a title and subtitle with a big header image behind them. It does not require a background image, so if you don't have any cool photos to use, just fill it in with a solid color. However, a nice background illustration adds prominence to your project. They first see this when opening your project, so make a good impression.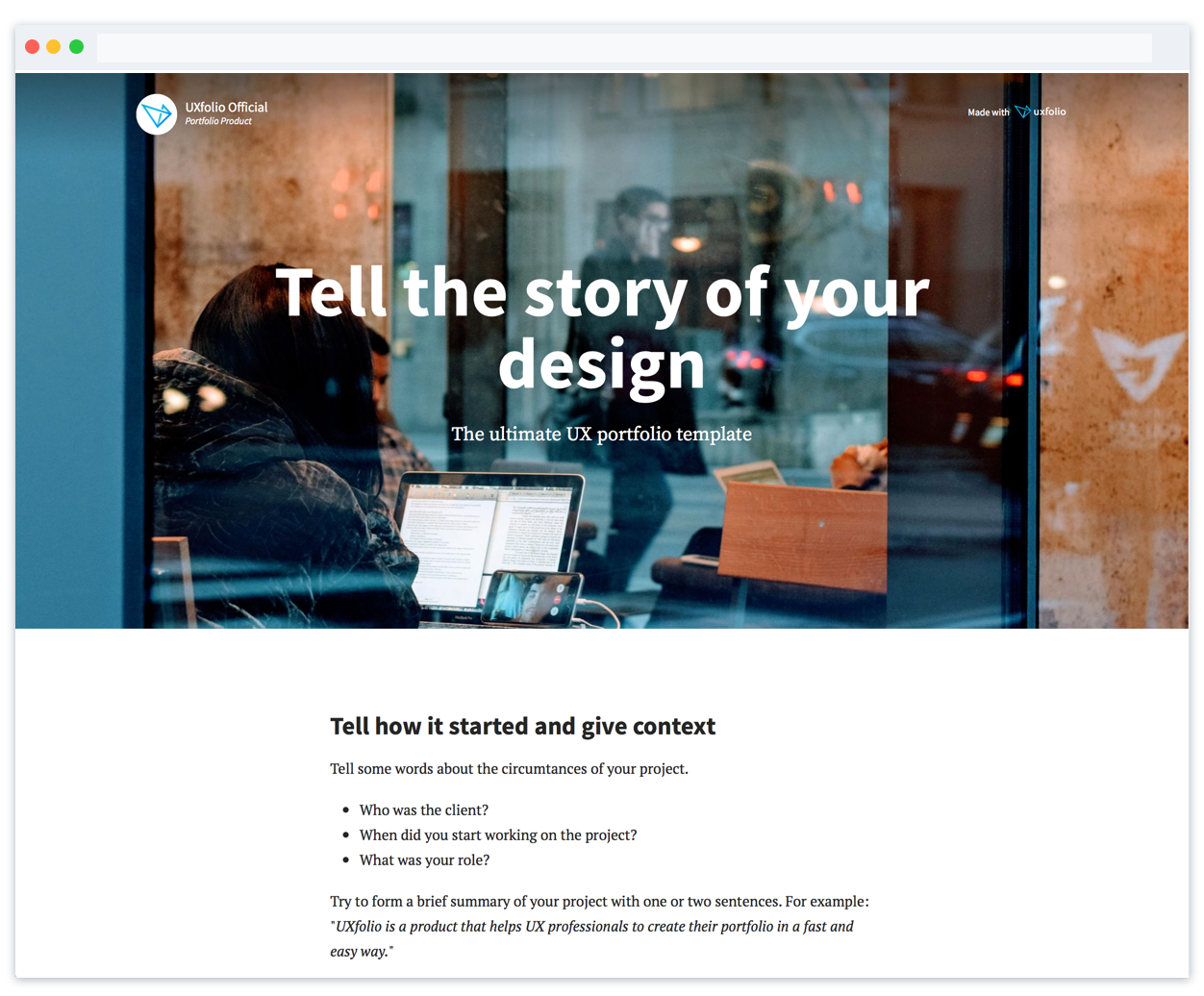 The same goes for the title itself. People read the title the most, and usually first. It defines the case study. Take care not to write overlong titles, and try to avoid unnecessary words. The subtitle provides explanations or additional context.
At the beginning, provide context so the reader can understand the circumstances you did the project under. Explain it briefly and your involvement. Who made up the team and what role did you play? How long did you work on it and what main challenge did you face?
The middle
Explain your process here, by far the most difficult part to write. Our UX portfolio template tries to address this problem as well. The text ideas tool provides leading questions and example sentences based on topics. Answer the questions and take a step closer to a great middle, and with it, a great case study.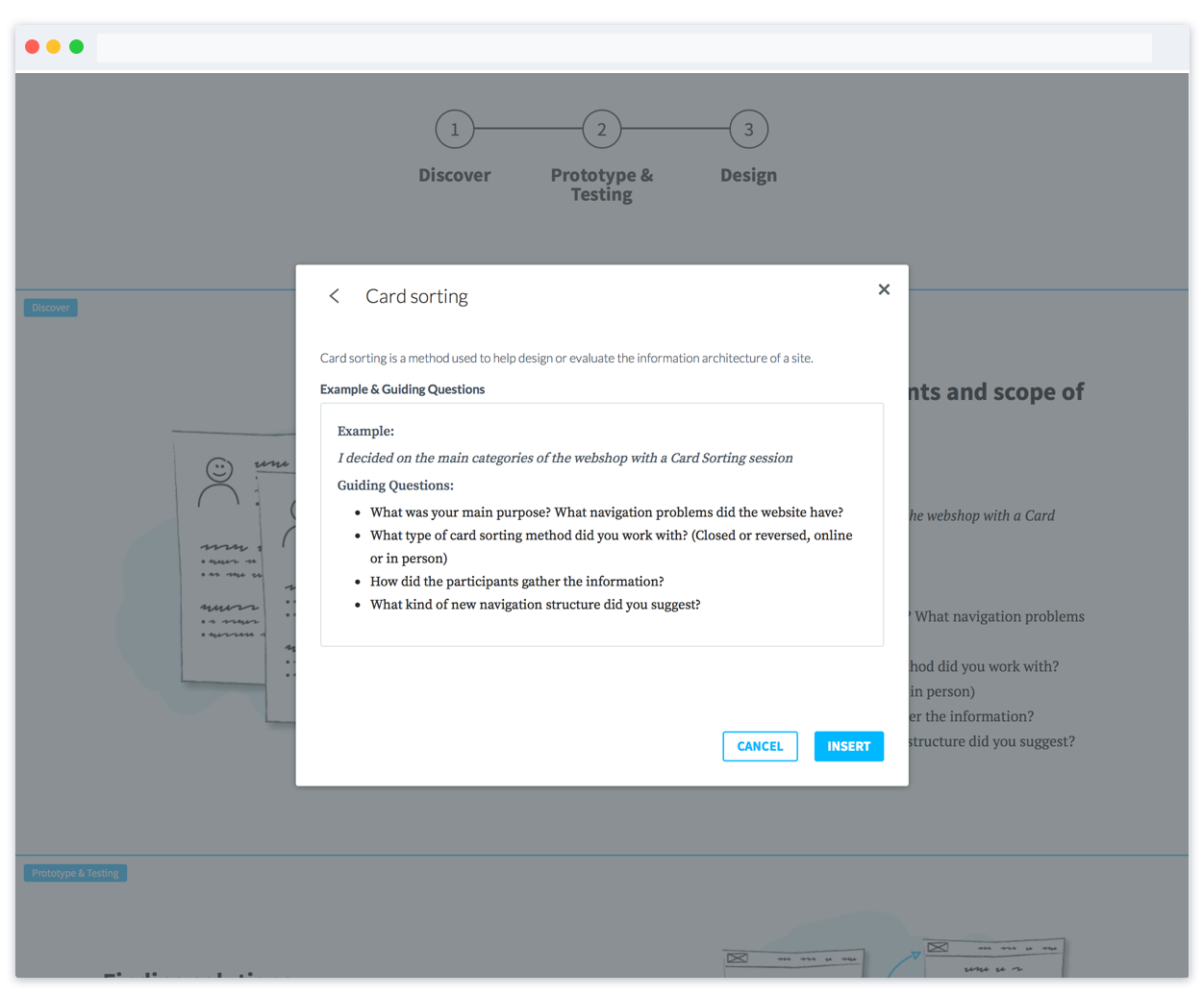 The main argument against the case study format in a UX designer portfolio: It requires more energy than just a row of nice images for your reader to follow. While possibly true, you can also structure content so the audience can digest it easier. A logical hierarchy keeps them reading.
Separate thoughts and topics with headings. These allow readers to quickly scan text and decide whether to read your case study. Therefore, headings should attract attention and cover the content below. Besides the usual headings, we also provide section headers in our UX portfolio template. This separates bigger topics and adds a level in content hierarchy.
The template also provides an experimental feature we call The Process. With it, connect coherent thoughts into numbered steps. These steps will stay on a sticky header indicating what the reader is seeing at the moment. This shows the bigger picture while scrolling through. As the name suggests, this perfectly presents step-by-step processes such as sketching, wireframing and usability testing.
The end
Show the result and takeaways at the end. Simple text might do, but our template provides an additional section which shows and emphasizes your most important achievements in numbers. This also provides clean structure. Maybe they won't read your whole case study, but big, impressive numbers will definitely catch their eye. Leave them with the feeling you actually achieved something as a real problem-solver.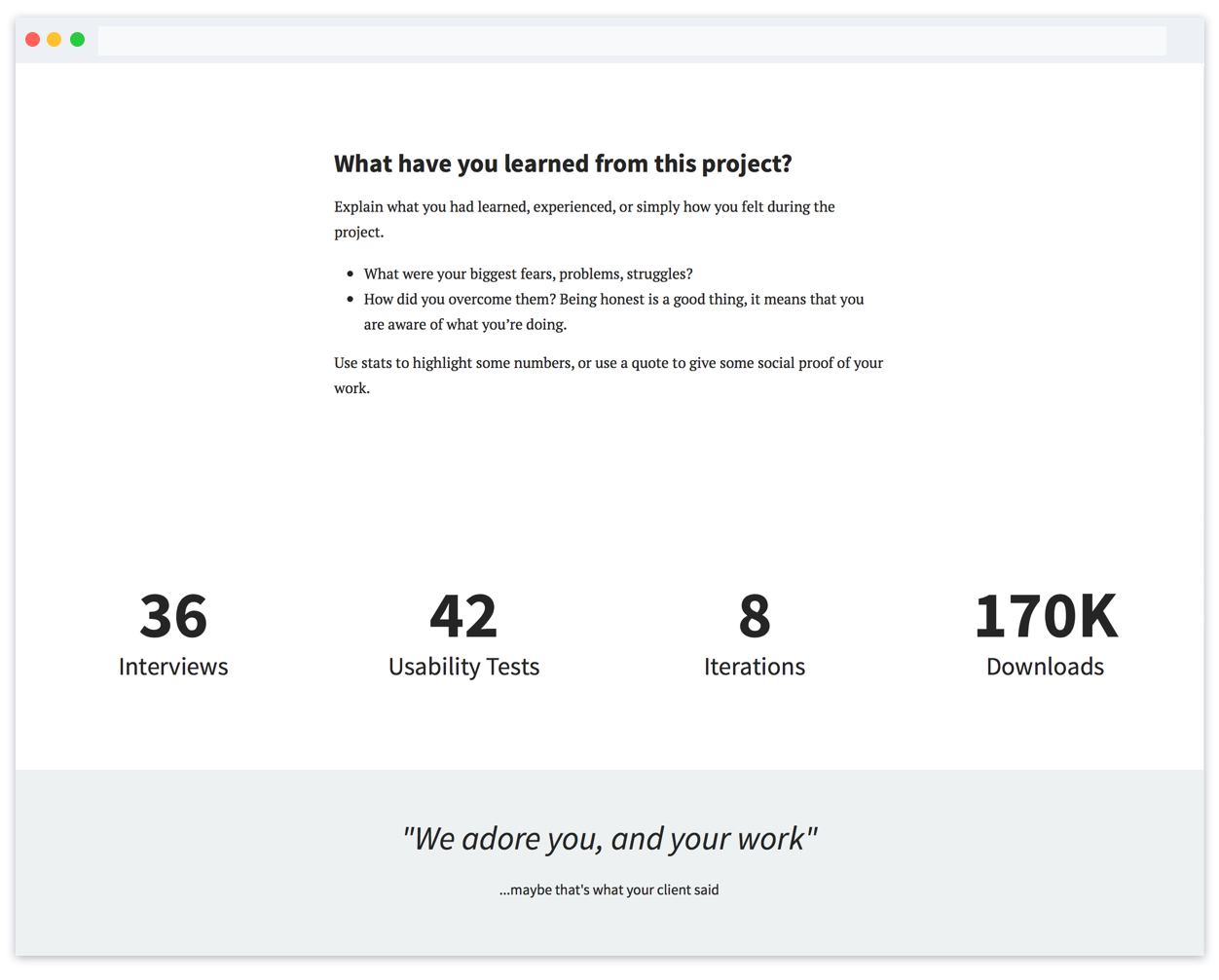 +1 tip for a better UX portfolio
As mentioned in the introduction, the UX field has quite some clutter at the moment. Every company has unique needs when looking for a UX professional. Some need more of a strategist and others, someone for research or with strong UI skills. The combinations never end. You can do several things well at the same time, but an application more logically emphasizes those projects of greater relevance to that company. We answer this problem by letting you make several portfolios from your projects without writing a case study for every UX field. Imagine it like albums in Google Photos: Collect projects into albums with a unique link. That way, future employers will only see the projects you want them to.
Call it a template for a landing page. Both genres have the same purpose: provide information and sell. Sell yourself! We hope our UX portfolio template helps you get your dream job.
You can check out our full template here.
Click here to sign up and start building your UX portfolio with UXfol.io!