I just checked our HR spreadsheets. Over the last few years more than 2000 people applied to work with us at UX studio. We are a 27-person product design team, full of great, enthusiastic designers. As the CEO, I reviewed exactly 573 UX portfolios.
I never thought I'd spend so much time with UX designer portfolios, so I decided to collect some advice for you guys.
It's not a magazine illustrator position, so you can't convince me with unique visuals and decoration.
I love working with designers because they are creative and they always want to add some extra to what they do. I'm a huge fan of this mentality. But some of them, unfortunately, misunderstands what a portfolio is for.
These designers think, "I'll create a unique-looking portfolio to grab their attention". That way of thinking doesn't work. So wrong on so many levels. Let me explain why.
First: We never ever hire anyone for their unique portfolio. We hire people for the right UI design skills and enthusiasm, a good process, a great UX mindset and knowledge, etc. Not because they made a unique portfolio.
Second: Even when I want to check the UI/visual design skills, I only check the actual screens presented in the portfolio, not its decoration. Content first as they say, so work on the designs you present in the portfolio, not the portfolio itself.
Third: So many designers out there doing phenomenal visual design makes it almost impossible to stand out with just UI design skills.
Fourth: You want a job where people take you seriously and you can have a word in important decisions as a designer. If they hire you for your ability to draw pretty things, they will never ever let you close to the important stuff. They will just pass you some things with a note to "make that look cool", and no more. We, UX people and real product designers, want to have a much more important role, so our portfolio should represent that.
So what should you do?

You can't stand out with visual design skills anymore. It's time to highlight design stories instead.
Instead of using your portfolio only to present your visual design skills, like an old-school, offline, print designer would do, act like a cool UX designer and showcase your work's UX side.
What are we looking for?
Design process: Present how you went from A to B and your workflow. Presented with a challenging new task or design problem to solve, how will you tackle it? Tell me the story of your projects, how they happened, and you have bought me.
UX methods you use: It can take many different forms, from crafting personas to doing usability tests or running workshops or design sprints. My heart starts beating faster when I see a customer journey map in a portfolio. Many UX methods and tools abound out there; just show me what you used.
Insights about your users: Only one way proves you really, deeply care about the people you design for. Sharing insights you learned about these people. Have you talked with them? Have you discovered something weird about their behavior in the usage statistics? Have you observed them using your design? Share what you have learned. OK, you may think it matters little, but please, for God's sake, share user insights in your UX designer portfolio.
Design decisions: My favorite design quote reads "Design is exploration". Our first ideas rarely survive up to the final product release, and that's a great thing. While we design, we improve the user experience in every iteration. In many cases we have to choose between different solutions. These design decisions make the designer. I can't wait to see those you made in your UX portfolio. I want to see the different ones, to read the pros and cons of each, and the reason why you chose the winner.

Psst, wanna hear a secret? I rarely judge people based on their design decisions. I simply don't have the time to understand your project deep enough for that. If I see you considered many options before making a conscious, well thought-out decision, I will just think you might make a great designer. So present these decisions in your portfolio. Remember: options, pros and cons, final decision. Easy peasy.
The challenge-methods-results triumph: When presenting a project in your UX designer portfolio, talk about these three things. The challenge lies in the task received. When introducing the challenge, talk about the business and user objectives. An example: Increase user engagement during the onboarding and make our product easier to understand for the target group. After stating a clear goal, tell the methods used to achieve it. At the end, refer to the results. Pro tip: Share numbers or quotes when you present results. They will lend you the credibility you strive for.
Here lie the not-so-secret ingredients. I rarely see portfolios that include three of these five. I can't wait for you to surprise me. 😉
Before I share how these pieces come together, understand what goes on in employers' minds while they look through your portfolio. This represents what we UX designers do anyway, so understand how our target group (in this case your future boss) thinks and behaves. Luckily, you have found someone letting you inside his brain.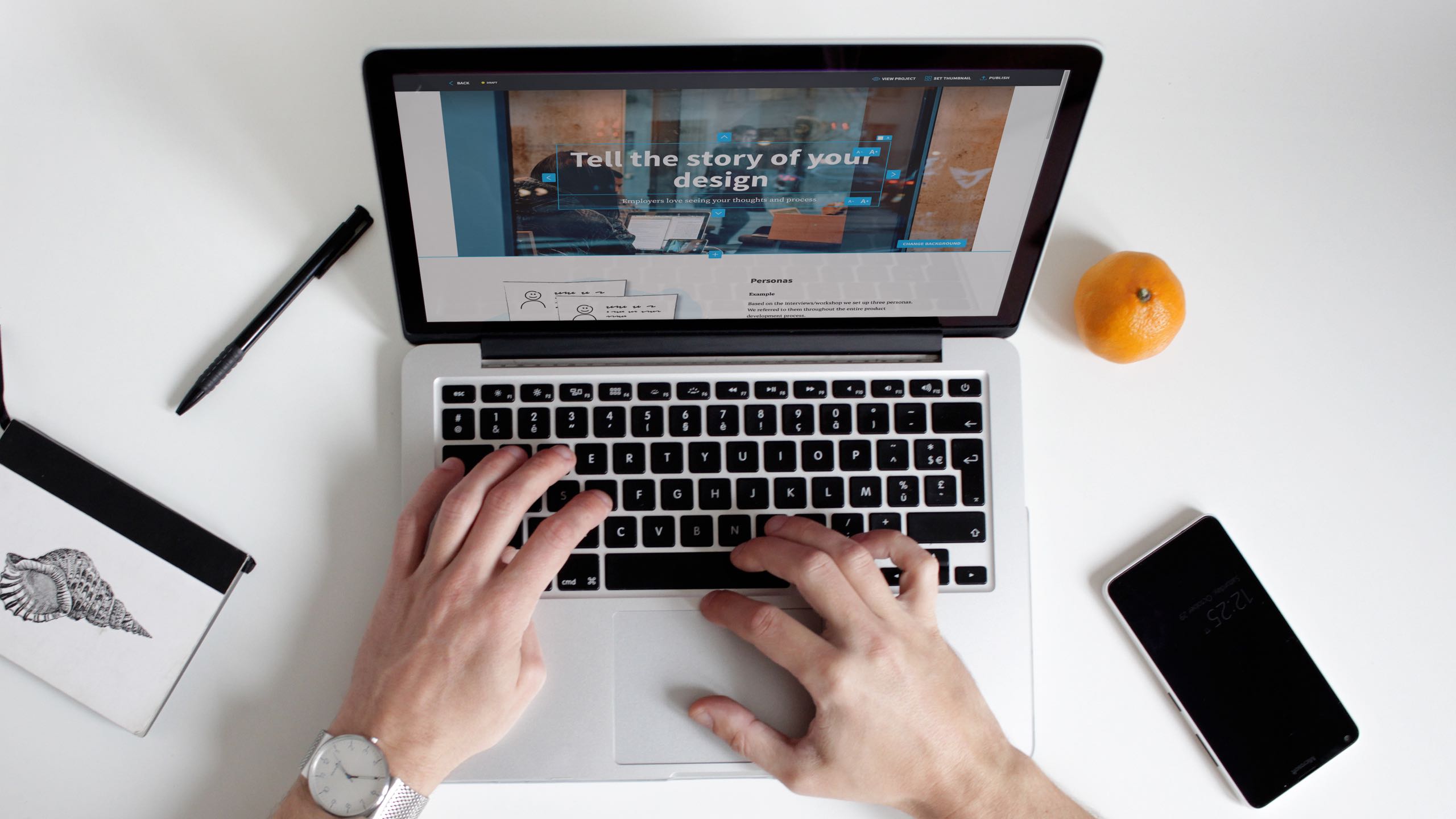 What goes on in my mind when I review your portfolio?
Let's say we are recruiting now for a standard UX/UI or product designer position.
When I have some applications, I first scroll through their portfolios. I don't really care about CVs, as I respect results and work more than schools and cool previous company brands.
When I open a portfolio, I just scroll from the top to the bottom very quickly in two seconds to see if the candidate fits the really basic criteria.
First, I want to see a real UX designer, if I can see digital interfaces in their portfolio, no print or other materials. Then I want to see if the visual quality hits a certain bar, showing the candidate has got beyond the beginner stage in that sense. To clarify: I'm not looking for outstanding visual quality here. When I have the feeling the candidate can work on our level of visual quality, that suffices.
This first look helps me decide if I spend any more time here. If I don't like a portfolio I just put it away; if I like it, I go deeper and read some part.
In the portfolios I like from the first impression, I search for the things listed above: process, methods, user insights, design decisions and the challenge-methods-results triumph. When I see someone with that, I invite them to an interview immediately.
How to structure your UX designer portfolio to get you invited to an interview?
As you see the main goal of your UX portfolio is to get you invited to an interview. If your portfolio supports the reviewer to easily check their criterias you will get a higher chance to get invited. So the design question here: how can you create a portfolio that helps me in the process I wrote down above?
First, your portfolio has to be online, so I can easily open it on a new tab, and don't have to download pdfs and then clean them up from my computer. And you are a UX designer, so it just looks good to have an online portfolio, even if you did it with a portfolio builder tool. (No, I don't want you to code your portfolio.)
The first page of your portfolio should give me a right first impression: I want to see a few screens you designed to check the visual quality and the medium (are these digital/web/mobile projects or not?). This is what exactly our tool UXfol.io does: it shows images of your projects on the front page.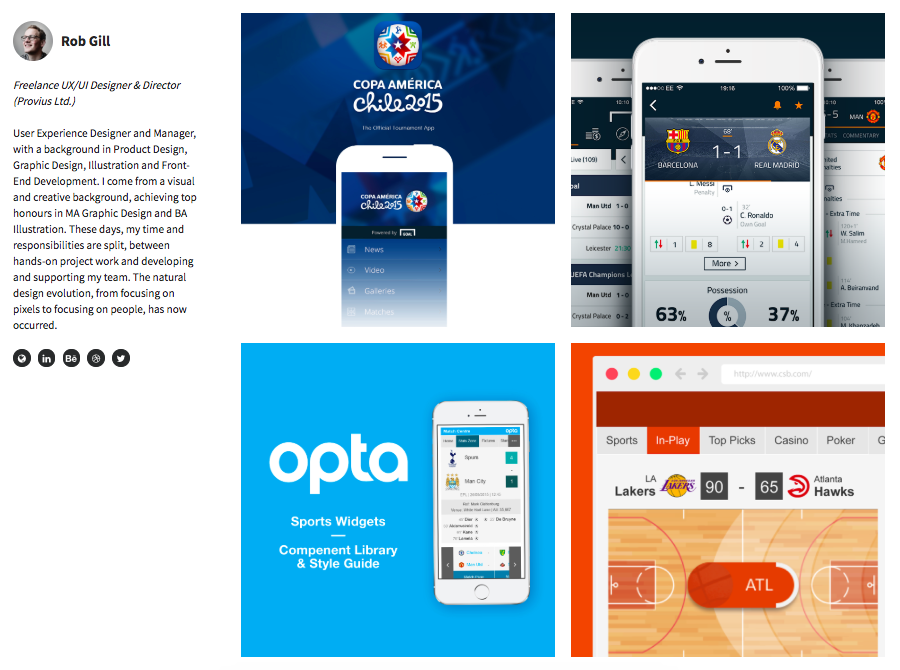 If I like what I see, I can click on a project and dig deeper. On a project page, I want to see process, methods, user insights, design decisions, and the triumph of challenge-methods-results.
I won't read everything there, just some parts that look interesting. I wouldn't expect to find literature in these texts, or scientific reasoning. Just plain explanation of what you did and why. I'm pretty easily sold. When I see info about the process, methods, user insights, design decisions….. (OK, I won't list them again in this article, you should know them by heart.)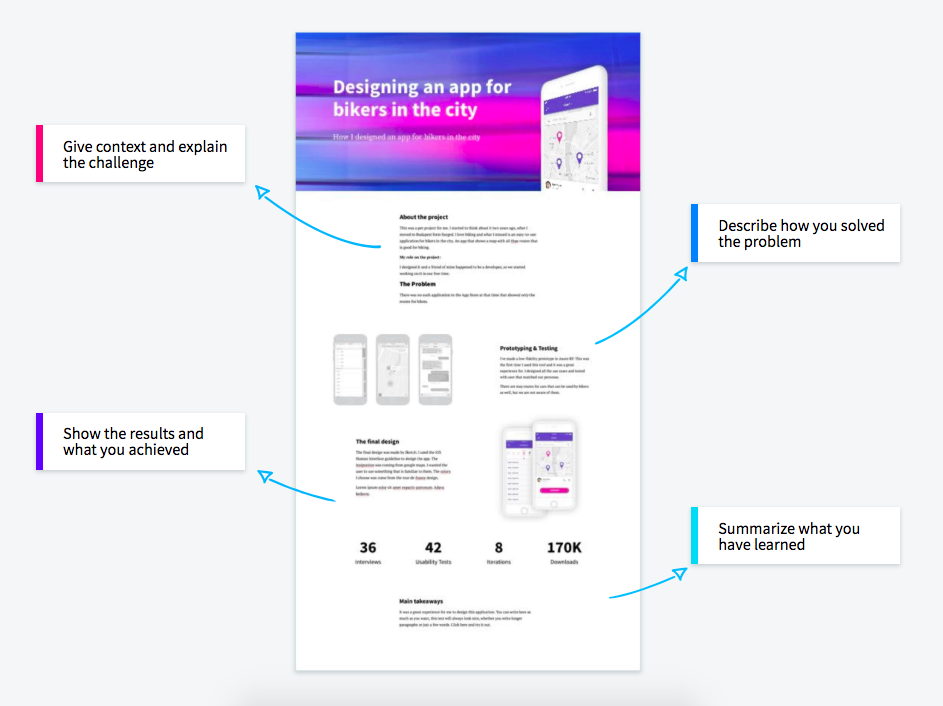 And just one more thing: I won't have time to check many projects of yours. List the three to five best works in your portfolio. No more, no less.
Summary: How your UX designer portfolio should look?
So to summarize how to build your UX designer portfolio, the main takeaways of this article:
Have an online portfolio.

On the front page list the 3-5 best projects of yours with nice project thumbnails of screen designs to show off your UI skills. List UX/UI projects only (no print, no branding, etc.).

Create a case-study page for each project you list.

The UX case studies should contain your design process, the methods you used, the user insights you found and the design decisions you made. The best is to put all these in a challenge-methods-results format.
That should do for today, I hope it will help you to get started.
We created our product, UXfol.io to support you guys with portfolio building. We made it ridiculously easy to create a product design portfolio like this with UXfol.io. It creates you your portfolio website (no coding, no hassle with hosting), it generates a nice front page, and it allows you to put together nice project case studies in minutes. It also helps you do the copywriting part with great examples and guiding questions.
I think I can talk in the name of many design team leaders worldwide when I say, if you follow these pieces of advice you will make our life so much easier and exciting. And you will also help to get more recognition for our profession and yourself too.
So don't hesitate, just start building your awesome portfolio. And if you liked what you read here, give UXfol.io a try.