So what purpose does your UX portfolio even follow? You might want a memory book for yourself to remember all the nice things you create over your UX career. But let's get honest, most of the time you want to send it out as a job application. When targeting UX recruiters and UX leads, your UX case study structure should follow their logic and way of thinking. Let's see how you can do it easily.
We at UX studio put together a project as an example to explain the main parts of the UX case study structure showcasing on this project: Sport360fit Case Study – How We Designed An Arabic Lifestyle Magazine.
It's important to mention that it's just a specific example for a specific UX case study structure. Try not to stick to it. Just understand the logic behind. Then, use the parts you find useful. Change or skip the parts you think are unimportant. And add the ones that are essential for your specific UX case study.
So let's get started!
UX case study cover
First impressions really count when it comes to UX designer portfolios. It starts with your portfolio page project thumbnails. Your readers click if they want to know what lies behind. Then, they next see the cover photo and title of your UX case study.
Don't overcomplicate it. Make it as clear as possible. Name the product and the work you did. Make the cover photo contrast with the title for better readability.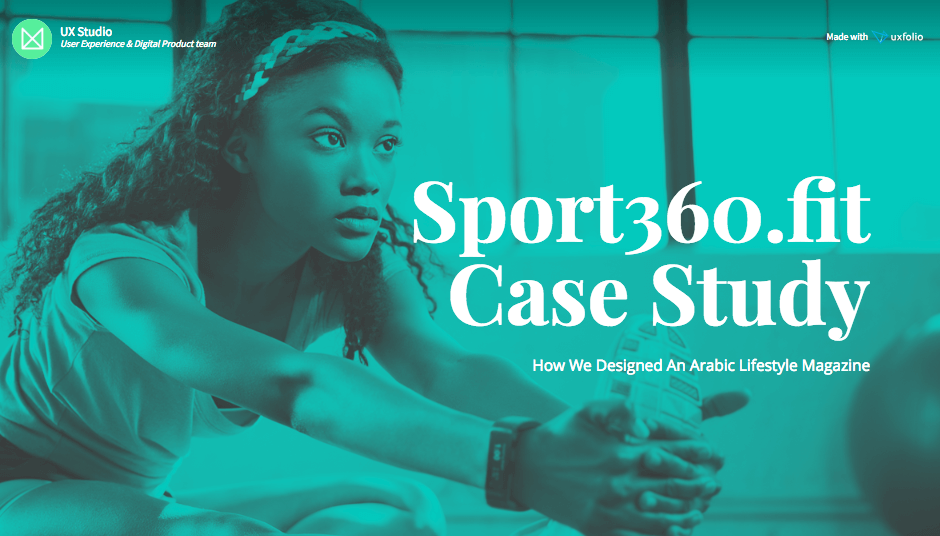 Project description
Introduce the project first. Your readers probably haven't heard about it yet. Include the most important general information here. Highlighting the product name and the job you did can help readers process the most important points. Use this technique through the whole case study.

Team and roles
Next, introduce the team and the roles within it. If others also worked on this project, don't forget to share the glory, as it shows your quality as a good team player.
After the overall introduction, remember what happened during the project. A logical UX case study structure should follow the same train of thought that your project followed.


Discovery
Describe your actions in the discovery phase. How did you map out the project scope? Did you do any market research? Did you have a kick-off? If yes, what type of tools did you use?
Add a photo of the team or the working process to personalize it and to break up the text. They shouldn't weigh heavy on the page anyway, so use lists whenever you can.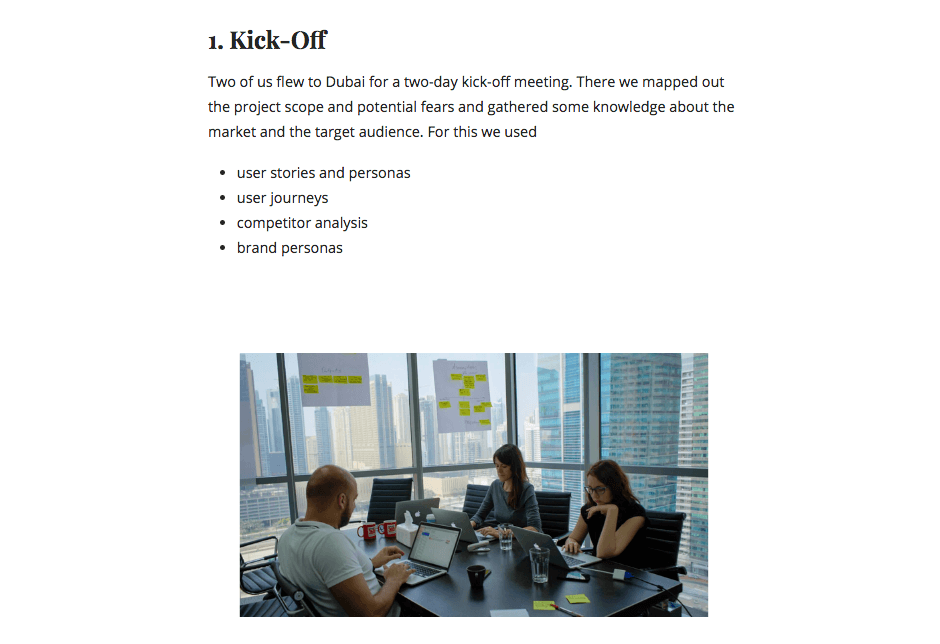 Add any other part you think important to mention in this discovery phase. For example, if you made an information architecture diagram, add one to let your readers see the big picture.
Whatever you choose to add, make sure to describe it in a few sentences to make it easy to understand. This description should say why you decided to add that specific part to your case study. Include no unimportant details, as recruiters will not have time to read an overly long case study. Focus on the truly important details.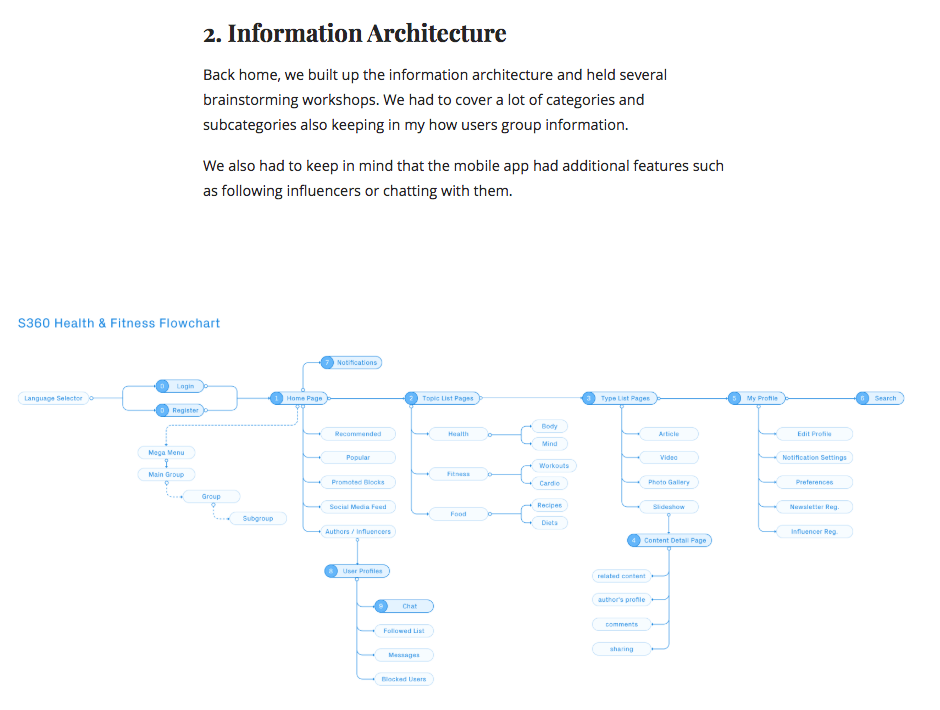 Prototyping and testing
Problem-solution pairs
Design involves problem solving. Why not present the users' problems you solved?
What problems did you face and what solutions did you come up with for them?
Describe two to five problem-solution pairs. You can present more but don't make it too complex to read and understand. UX recruiters don't spend much time processing all the information. Make it understandable. Tell the important details but don't get lost in them.
Adding some UI works better as they can actually see and understand faster what you are talking about.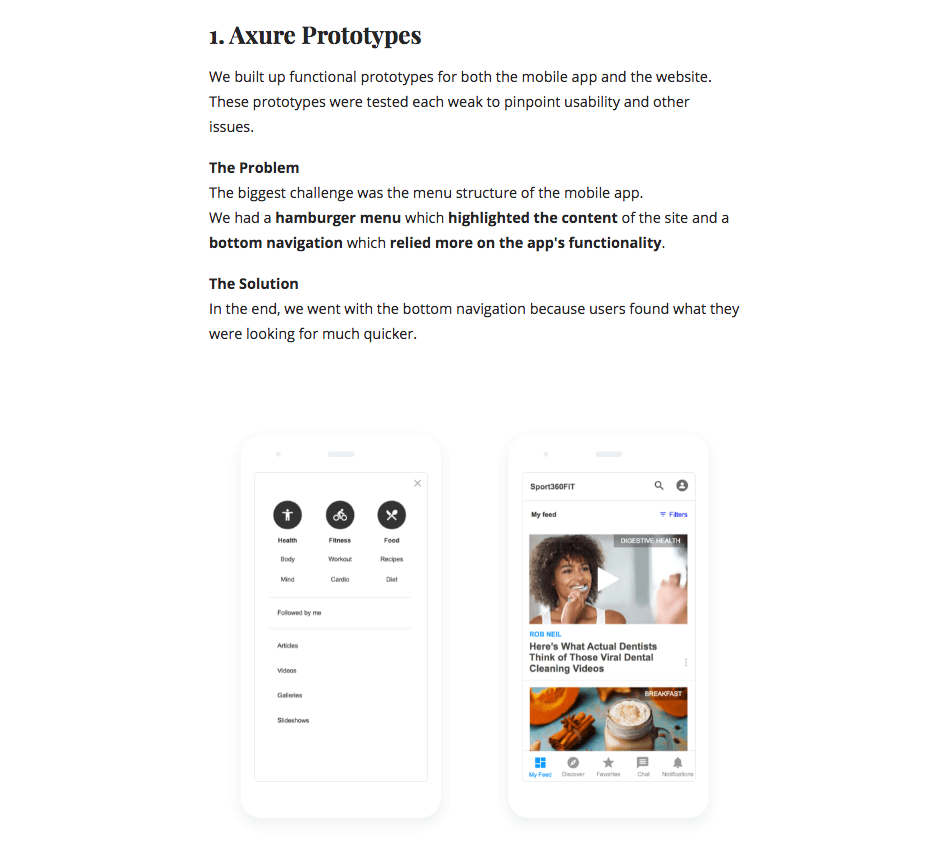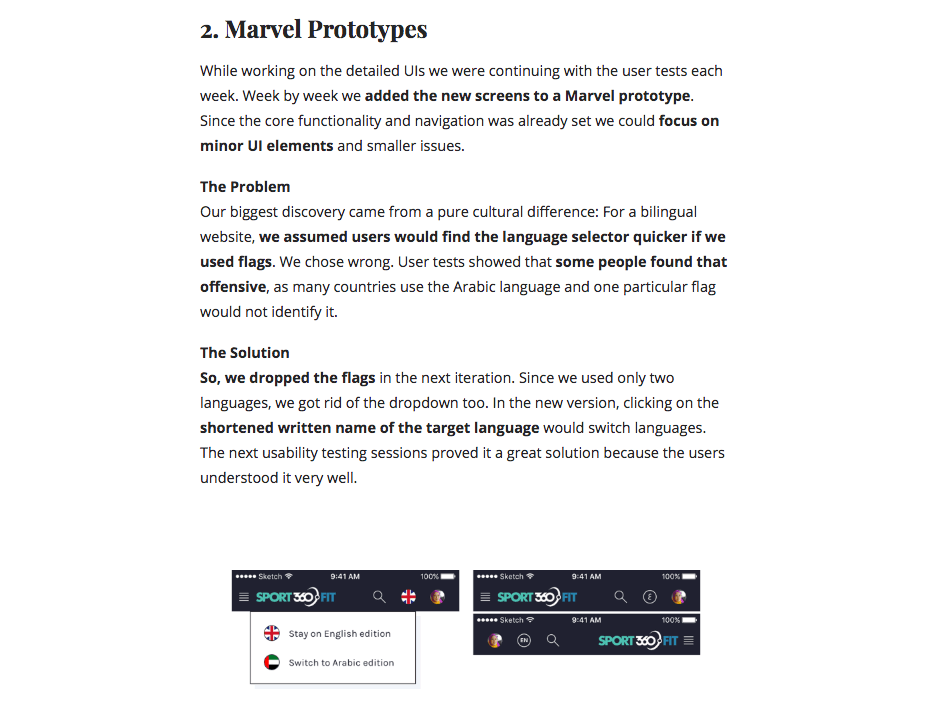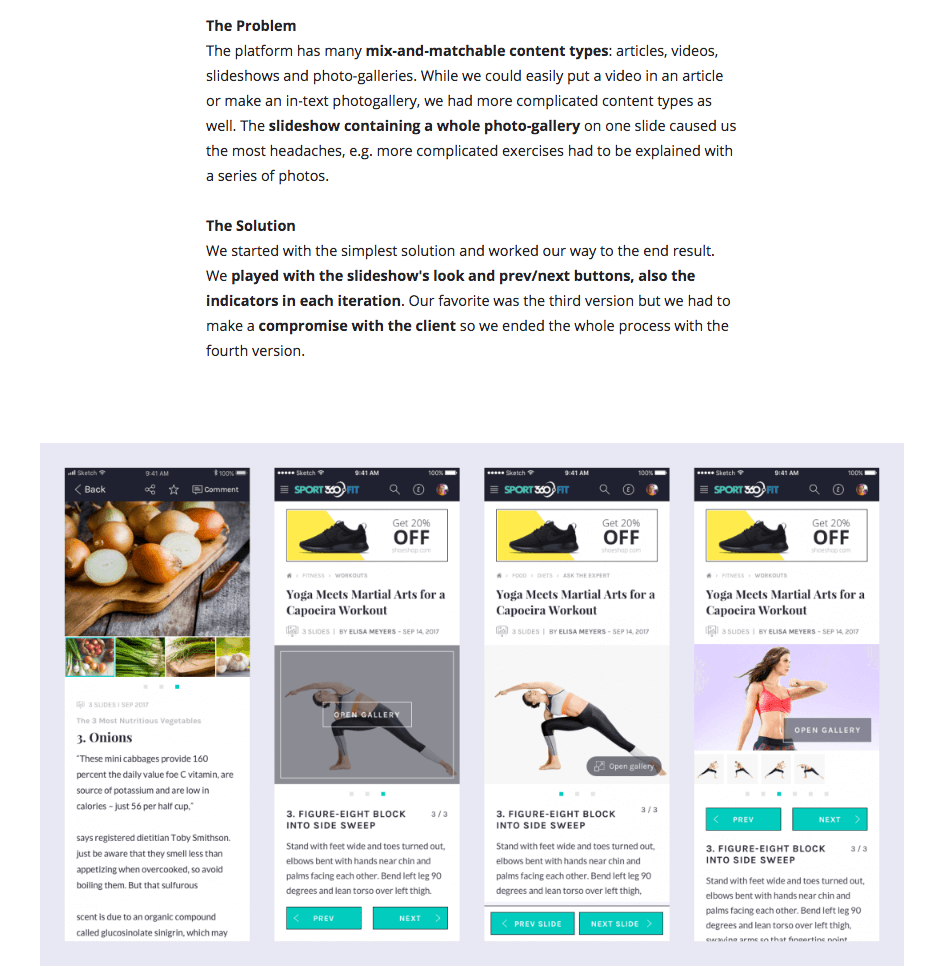 Detailed design
Look and feel
While focusing on the story behind the design, don't leave out the specific UI parts, either. If you can, show some different look and feel UIs, and different versions and iterations of your design work.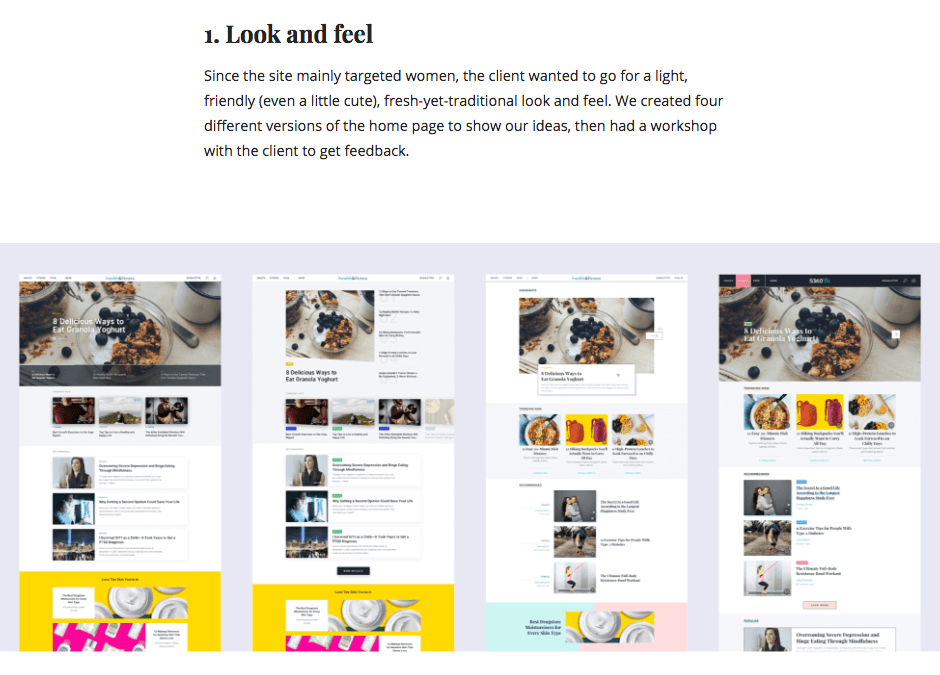 Detailed UI screens
Include the final detailed UI screens if you have them. Put them on a board to show more without taking up a lot of space and making readers scroll too much.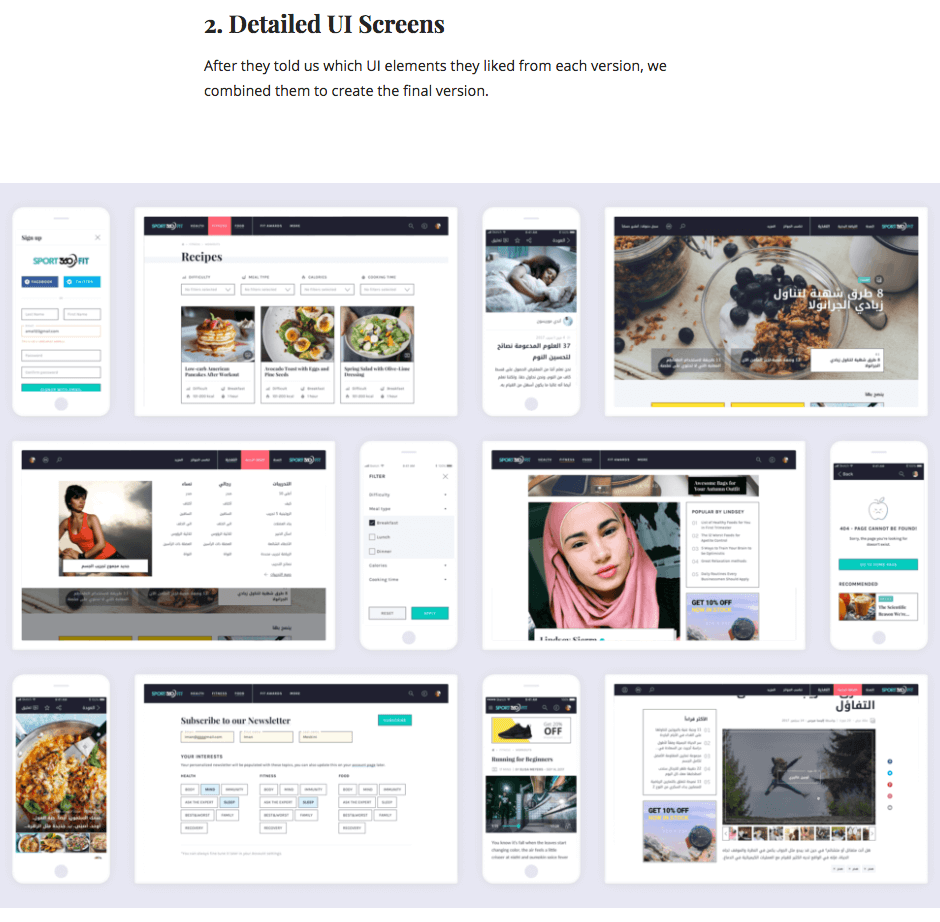 Any of your favorite little details, e.g. Illustrations
Add any little detail you are proud of. In our example project, we added some illustrations, highlighting our intentions in the design phase.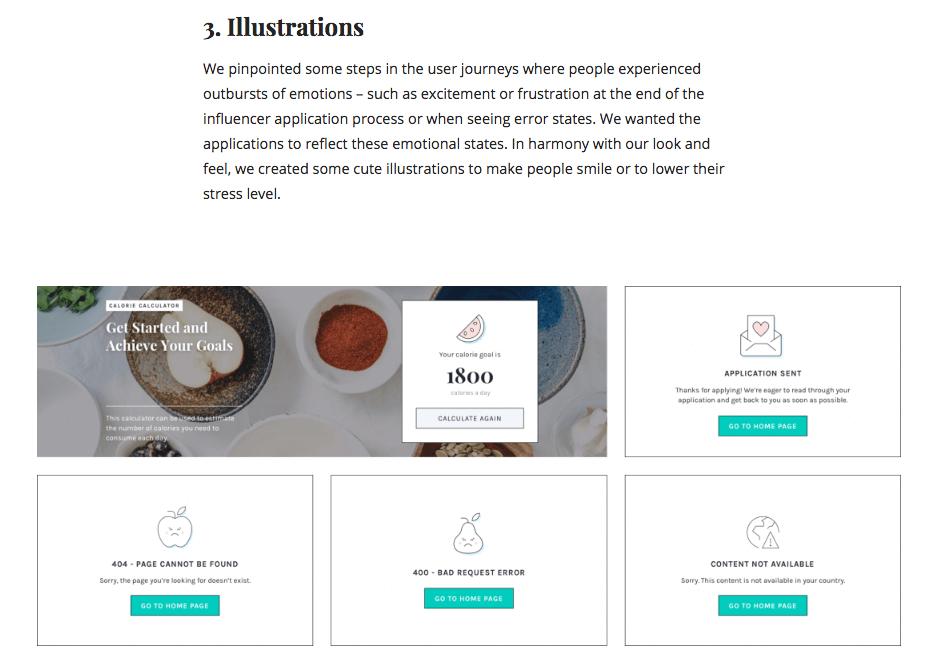 Takeaways
Once you have gotten everything ready, don't forget to close the project.
Add any statistics available to present the success of the project. After that, most importantly, talk about your learnings.
Designing makes up a never-ending, exciting learning process. You probably faced some unexpected challenges during your project and learned something new.
UX recruiters and UX leads search for problem solvers motivated to explore and learn new things. So don't hide your thirst for knowledge. On the contrary, highlight it!
And one more thing: Share not only your successes but your failures, too. We all make mistakes. Learn from them, improve some of your UX designer skills and do it better next time. Recruiters appreciate those with the courage to communicate honestly.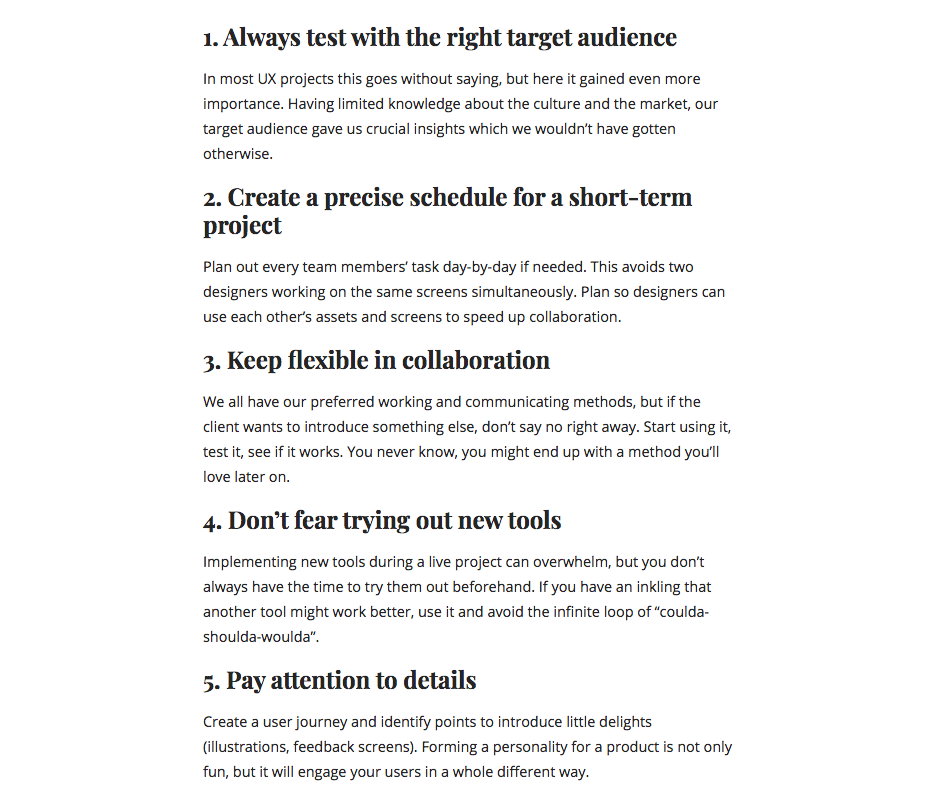 Create your own UX case study structure!
The purpose of this post was only to show one specific example for a UX case study structure. So don't feel the need to stick to it, feel free to do it on your own way.
Now, let's put the knowledge you gained into practice!
What do you think? Sounds easy? Or hard? Maybe you think you don't have time for it? Creating a similar case study doesn't take much.
We created our tool, UXfol.io, to help you create a meaningful UX portfolio quickly and easily. It generates a UX portfolio page and you can put your UX case studies together in just minutes.
If you liked what you read here, give UXfol.io a try.