Before showcasing your UX design process in your UX portfolio, you have to find the right tools and right processes that fit right into your workflow.

Who wouldn't like to save time and energy by using a good UX tool that just fits their professional needs? As years go by, we UXers collect more and more tools to choose from at our convenience.

While we have yet to find the Swiss Army–type tool that fits all our needs, there is still an abundance of tools designed specifically for UX Designers and Researchers.

Find the right UX design or research tool for your challenge
Why do you need to find the right tool for the right challenge? The right tool for the right time can help maximize output without increasing effort and automate tedious steps. Most importantly, it should leave you more time to use harness your creative energy.

In this article, we'll guide you through the whole process and recommend top-notch tools for every step in designing a product.
Wireframing & prototyping tools
A no-brainer. Every UX designer needs a wireframing tool and prototyping tool. Besides the good old pen and paper, many available tools serve this purpose. Each has its own strength. Here, we don't want that pixel-perfect design and animations; we just need to build and test assumptions quickly and effectively.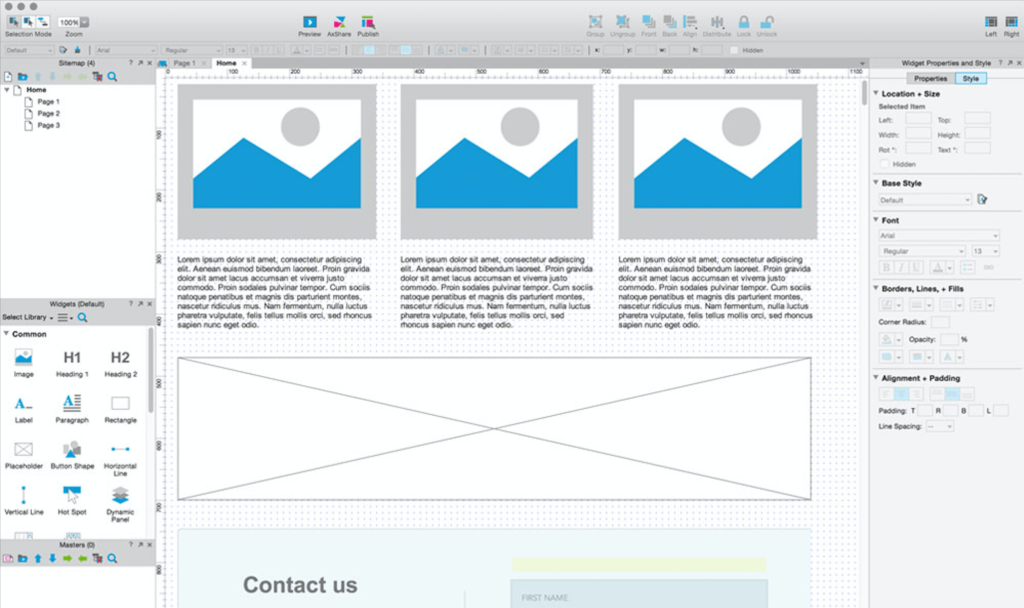 If you want a high level of complexity built into your prototype, pick Axure. It provides dynamic content, mimicked real data and conditional flows. This lets your user interact with a fairly realistic prototype of an app or a website.

When do we recommend it? When you have to deal with input data and a more complicated flow.
Price: $29 / user / month or $495 for a one-seat licence.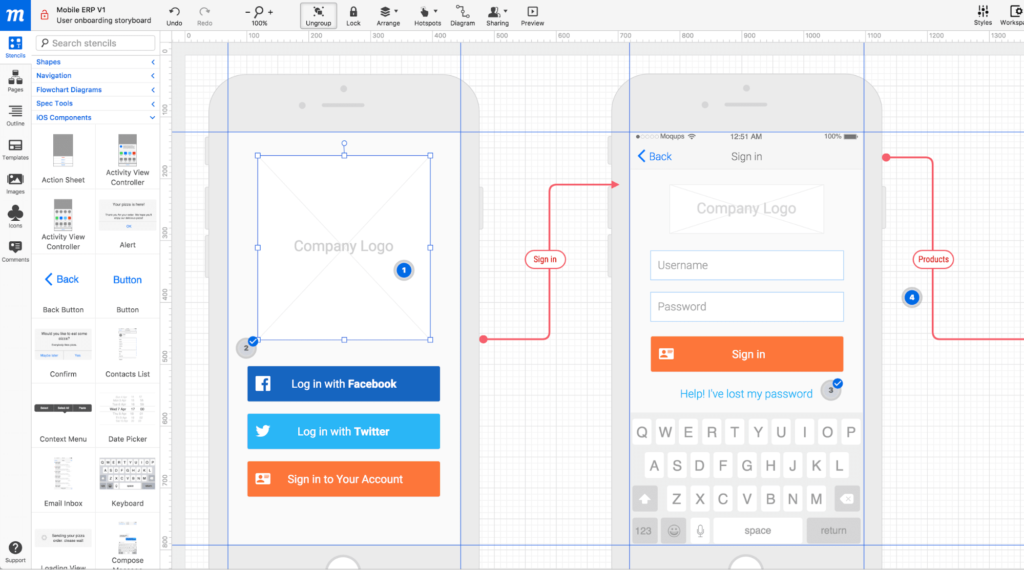 Choose from many pre-existing elements to effortlessly build up wireframes and prototypes so you can put your ideas to test the earliest possible. It has a steep learning curve and good collaboration features.

When do we recommend it? When you are setting out to build a simple prototype fast, and if you work with novice designers or non-designers (including yourself). Getting started with this tool comes so easy.
Price: From €13 / month / user.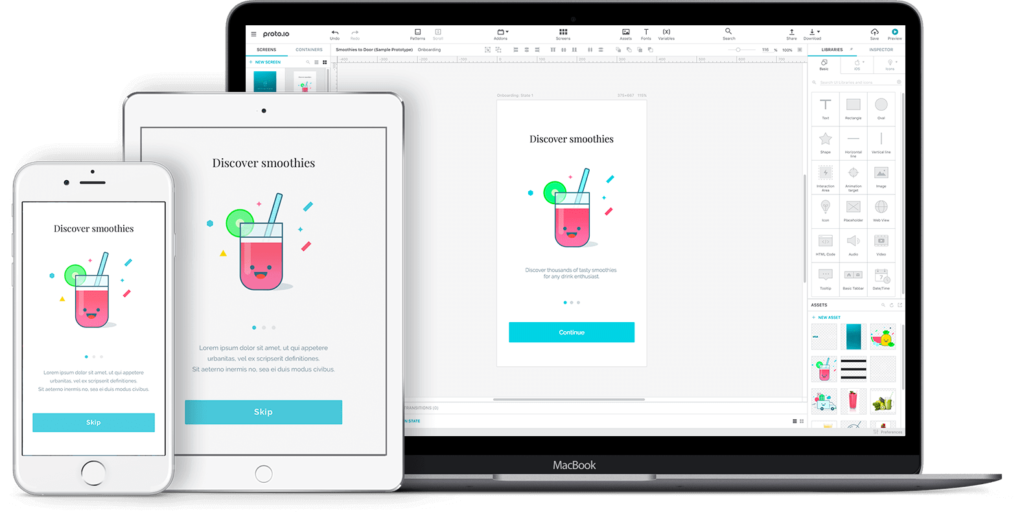 If you're looking for a wide array of interactive features, you might want this tool. You can both design and create a high-fidelity prototype with it collaboratively with others.

When do we recommend it? When you know you want to make your design realistic by adding a lot of interactive features in the same tool collaboratively.
Price: From $24 / user / month.
U
HotGloo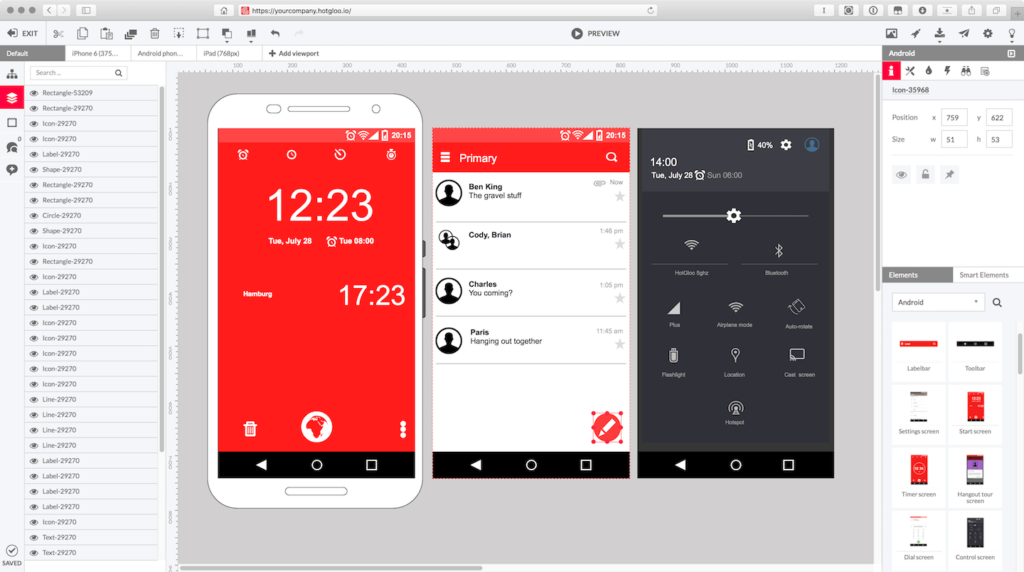 HotGloo is a UX, wireframe and prototyping tool out in the market. It's designed to build wireframes for web, mobile, and wearables. It helps visualize planning processes, build and test drive interactions. You can create and share your interactive prototypes with your team or clients, 1 license can include up to 100 team members. Their UI element library is definitely one of the most comprehensive ones out there. Also, you can edit, review and test your work on any mobile device.
When do we recommend it? If you need a tool with a really low learning curve, tutorials, detailed documentation and great support.
Price: starts at $12 per month.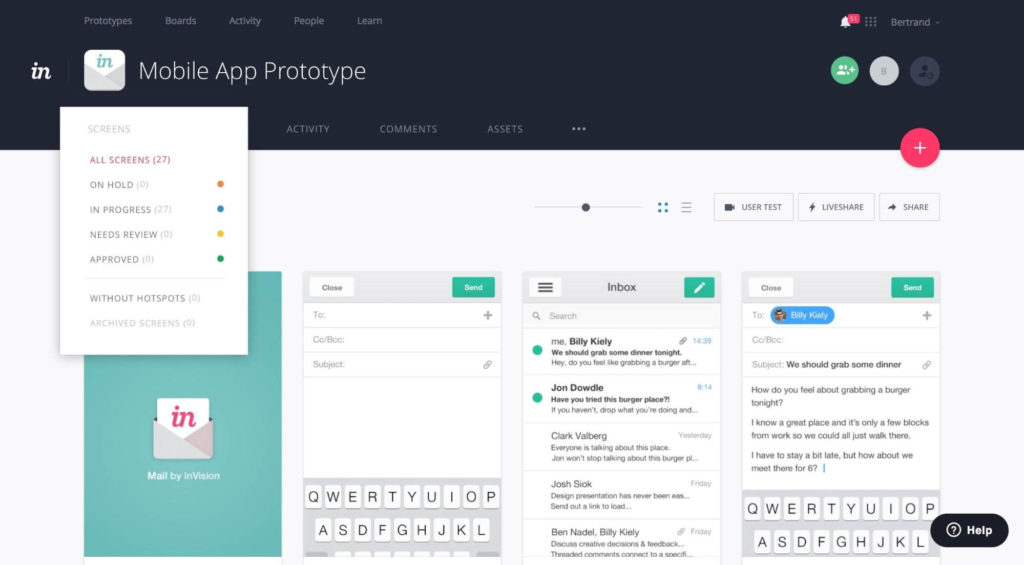 InVision definitely developed a tool with collaboration, creativity and successful communication features in mind. Besides powerful prototyping abilities, InVision's main strength, it helps with the whole design workflow.

When do we recommend it? When you already have the designs and need a powerful prototyping tool in which you can also present your project and interact with the workflow on a single platform.
Price: Get started for free with one prototype, unlimited ones for $25 / month.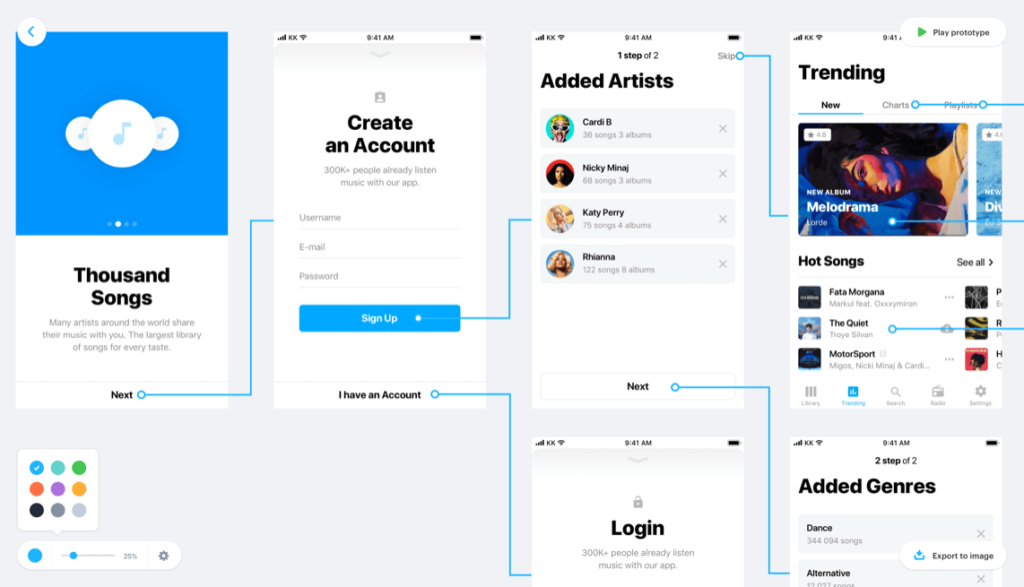 Design and prototype from and for any device with Marvel. We also love how you can use it for user testing, as well as how quickly you can make a prototype out of paper sketches. With the code generated for the prototypes, you can also use Marvel for design handoffs and communicating your process to stakeholders.

When do we recommend it? When you have already done your design in some other tool but want to make it realistic by adding complex interactions. Also, for when you want to bring your sketches to life as a half-digital prototype.
Price: From $24 / user / month.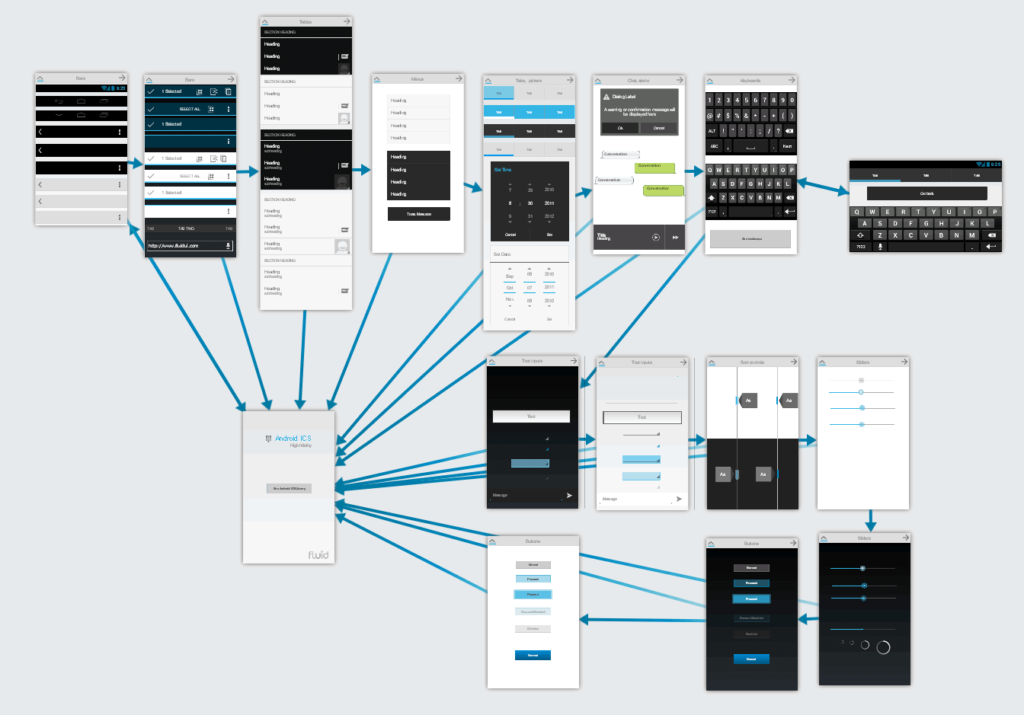 Share ideas instantly in Fluid UI. It includes an impressive array of features for a prototyping tool, like live team collaboration, device previews, video presentations and pre-built component libraries for Android, iOS and wireframing. It'll get you up and running quickly.

When do we recommend it? It offers a good choice for founders looking to translate the ideas in their head onto a screen or mobile. The easy-to-learn nature of Fluid UI makes it especially suitable for early-stage entrepreneurs, product managers and other product visionaries.
Price: From $15 / user / month.
UI design tools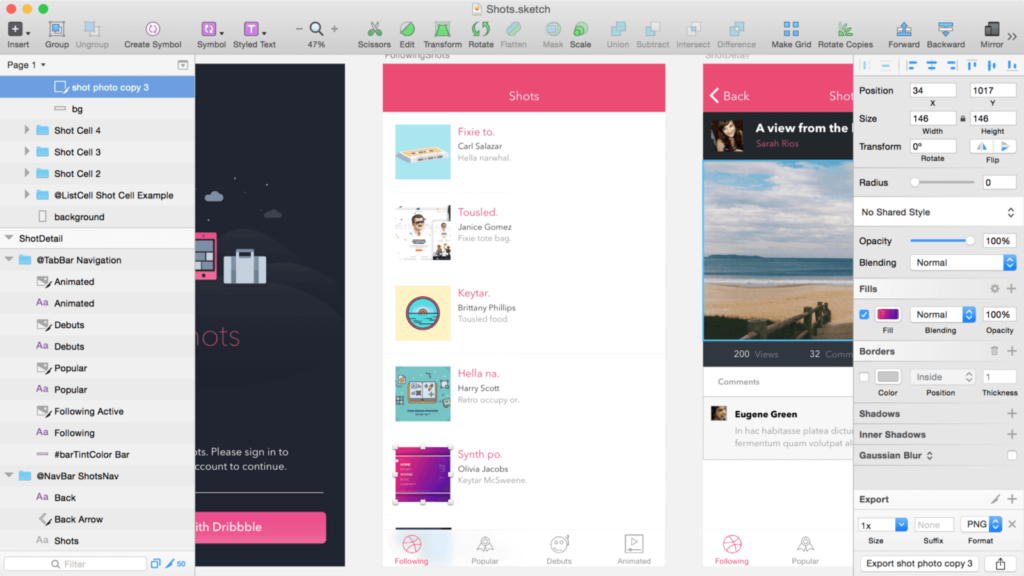 The ultimate savior after Photoshop times. Many have made Sketch their go-to product for UI design. Sketch has everything you need when you want to make the pixel-perfect design for your website, app or any digital product. Its plugins and integrations make it even more powerful.

When do we recommend it? You want all the capabilities that exist for a detailed and UI design to the last pixel. When you want to build up design systems with the help of symbols.
Price: $99 per person per year. Runs only on macOS in the Sketch app.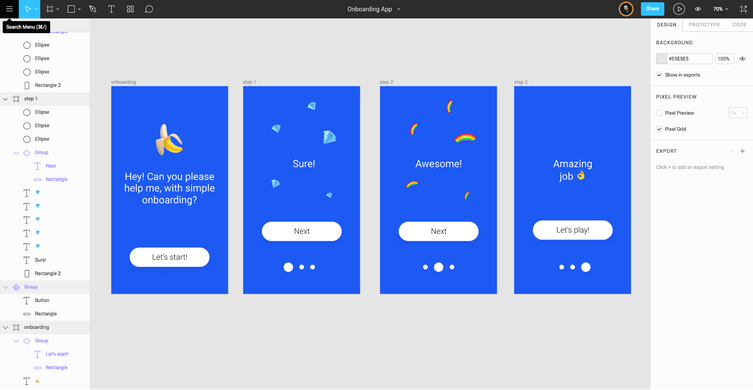 Figma proves so flexible when it comes to the devices and environment you want to use it in, running in the browser as a desktop app on both macOS and Windows. One of its main strengths comes in the seamless real-time collaboration the platform allows between designer, stakeholders and developers. Figma's team features gets everyone on the same page.

When do we recommend it? When you work with other designers and want to collaborate in real time. Also great when you want to make a prototype in your design tool and to involve the stakeholders into the design process.
Price: Get started for free with three projects and two members. Unlimited ones for $12 / user / month.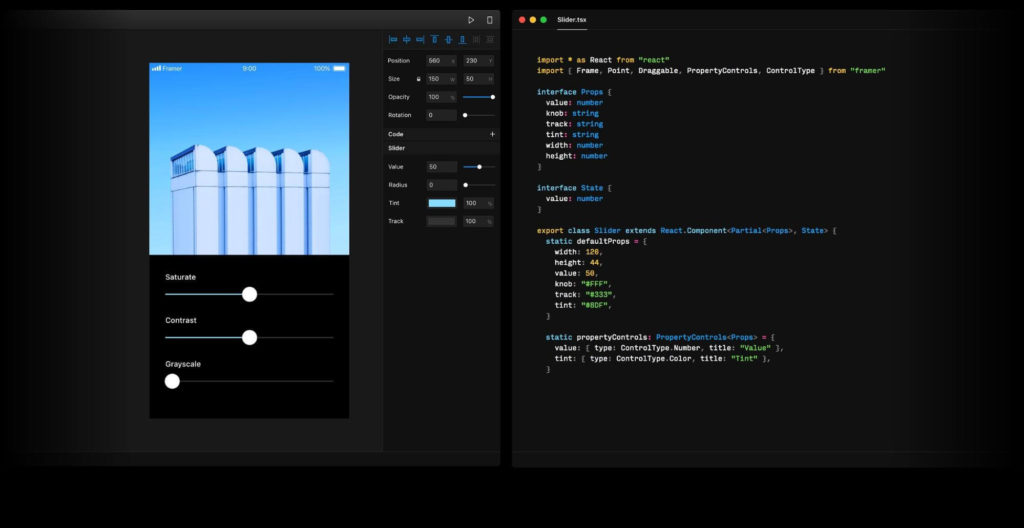 Fresh and new, Framer X brings all a designer might need: strong design capabilities paired with powerful prototyping features. Moreover, you can turn design into code, and code into design with Framer X.

When do we recommend it? When you want to include a lot of animations in the product and collaborate closely with developers.
Price: From $12 / user / month with unlimited projects.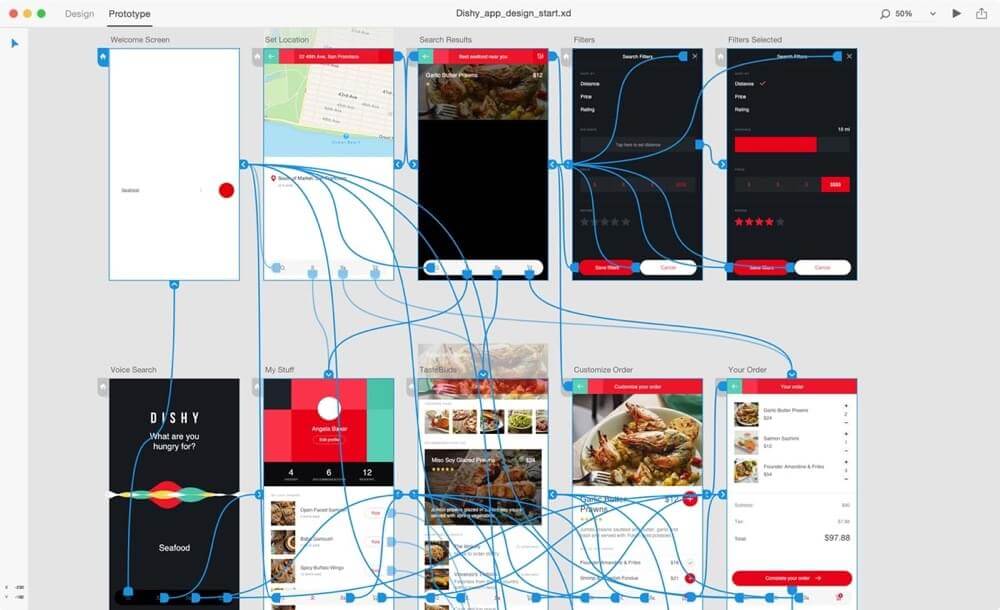 Adobe realized that Photoshop's time had passed for UX/UI designers. They needed a tool more specialized for this field. Adobe XD answers this need. Build wireframes and detailed UI design, and turn them into an interactive prototype.

When do we recommend it? When you need auto-animated functions or voice prototyping, look for no other tool. Also if you want design and prototype in one place and to connect with your Adobe cloud.
Price: Get started for free with one prototype, then as a stand-alone app from $9.99 / month.
User research tools
User research can take many forms as you walk through a product design process. All those steps bring in new questions which we UXers have to answer using different methods.
You might conduct interviews or field studies and need to record and analyze those at the beginning. Then you might need to run usability tests to find the weak and strong points of your proposed solutions. Also, you may want to combine your qualitative research with quantitative data, perhaps collected with surveys. Alternatively, sometimes you want to identify and double check the best information architecture or navigation structure for your project.
See? We've only listed a few possibilities and it has already revealed a lot of different techniques. And we haven't even mentioned recruitment yet, which you will have to do – and well – in order to deliver insightful research. Hence, it really makes sense to choose appropriate tools that can save you a lot of time and money.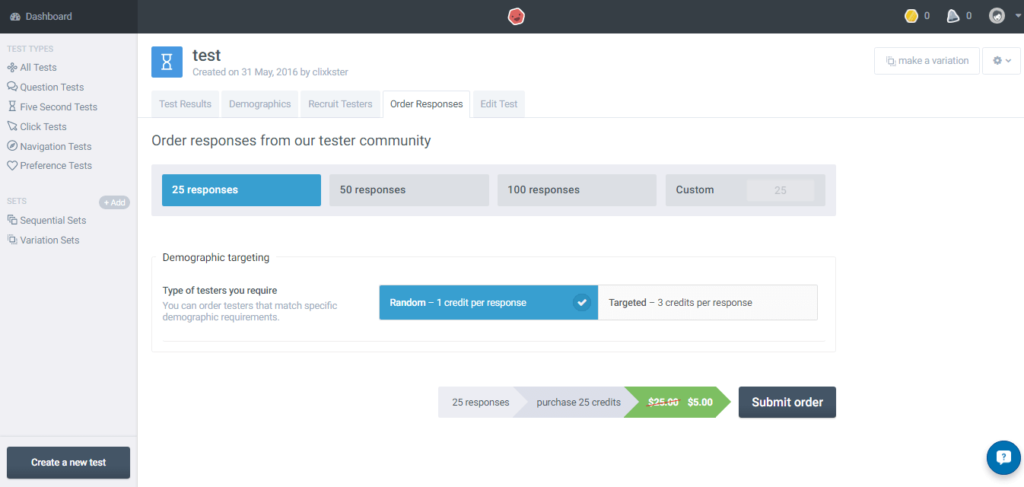 Choose from or combine the results of click tests, preference tests, five-second tests or surveys to gather more insights. Either rely on usability hub's participant pool or recruit yourself. Some built-in solutions make analysis easier for you.

When do we recommend it? When you want to test navigation, content hierarchy or need to offer evidence-based answers related to visuals and their effect on users.
Price: Limited test length available for free, unlimited test length and additional features from $199 / month / user.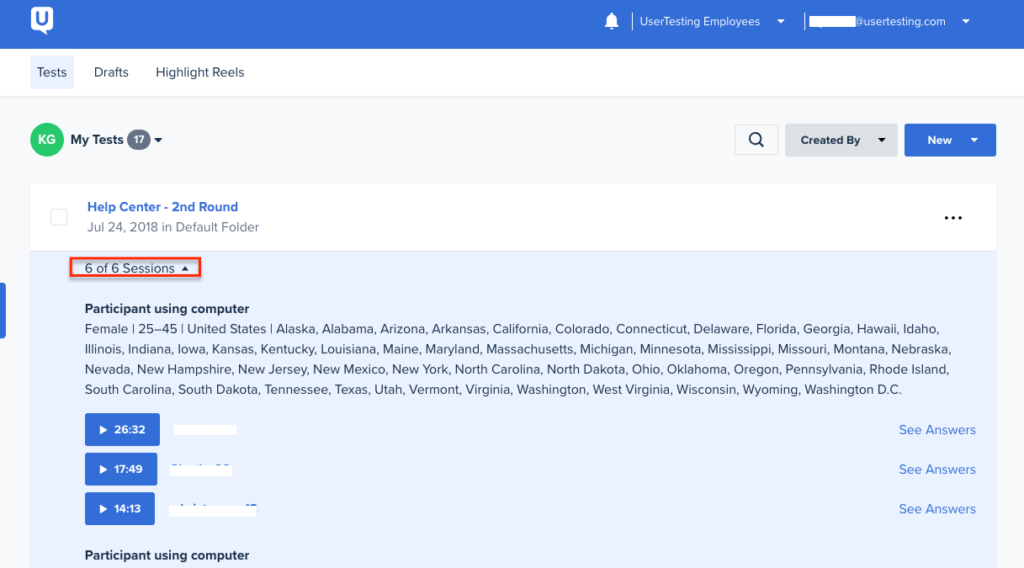 As one of the biggest players on the field, usertesting.com allows for testing prototypes, website or app designs and many more on a wide variety of devices – from desktop to Android tablet and iPhone. Thanks to its panel of testers, you get useful insights quickly. Also, they have a resource center with case studies and webinars to deepen your knowledge.

When do we recommend it? If you need quick answers or want to test solutions on many different devices.
Price: Individual or enterprise plans available with prices discussed upon contact.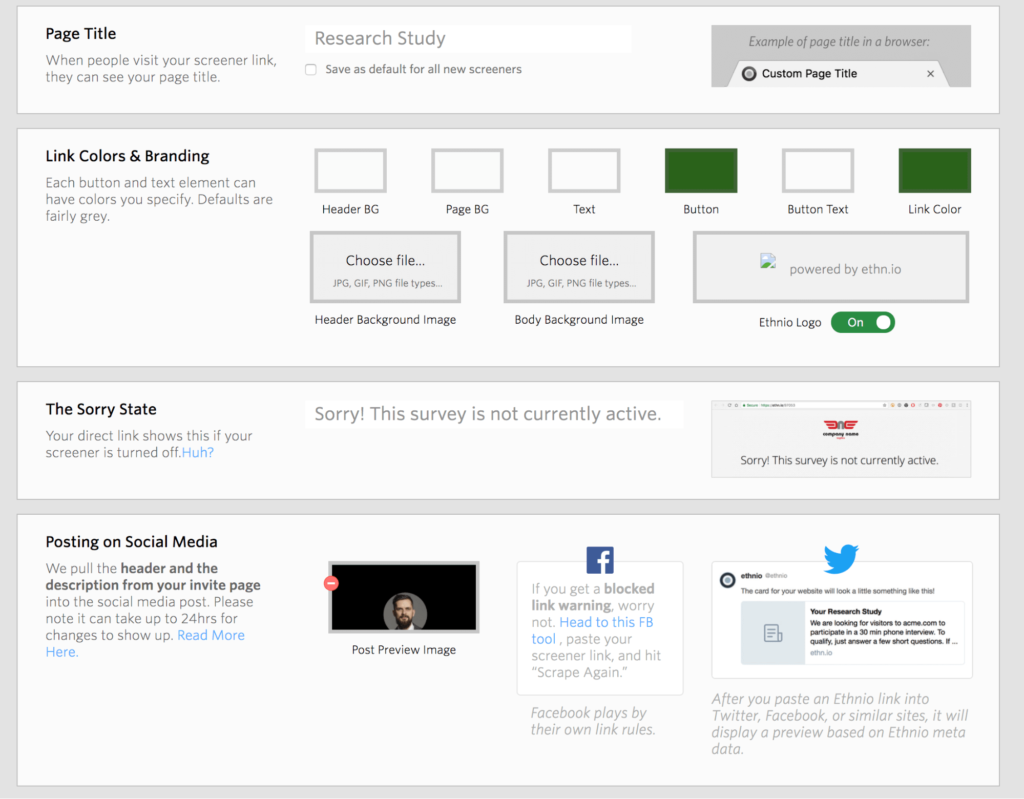 Ethnio helps you with your recruitment efforts by making your screeners available on your own website – with their JavaScript – or as paid ads all over the chosen sites. They have automated payment for after the sessions and various payment methods available.

When do we recommend it? Whenever recruitment causes pain.
Price: $79 / month for five screeners, 500 responses and one team member with bigger plans available.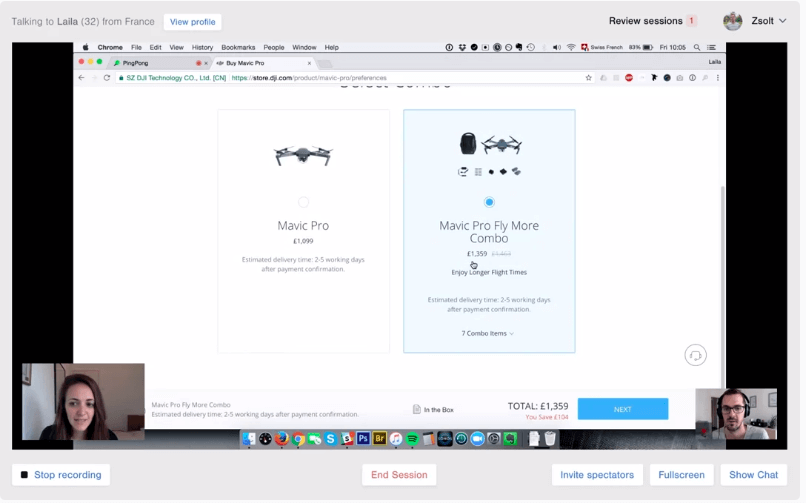 Assisting you during the less-fun parts of moderated user interviews, PingPong lets you focus on the core issue: gathering insights. Recruiting for niche target groups, scheduling and administration go smoothly with the app's help.

When do we recommend it? When you have to reach a specific target audience and your research plans require a moderated, discussion-focused environment. Also, if you dislike spending a lot of valuable time with administering incentives.
Price: €75 / credit where one credit covers a 30-minute interview.

This app helps you effortlessly conduct guerilla testing on Mac. With clear functionality, recording the facial expressions of your testers and offering useful video-editing options, Silverback can make your life a lot easier when juggling with other challenges of field research.

When do we recommend it? If you plan on leaving your office – or even the internet – in order to conduct research with people in their natural surroundings.
Price: Available for free, watermark can be removed upon registration for $39.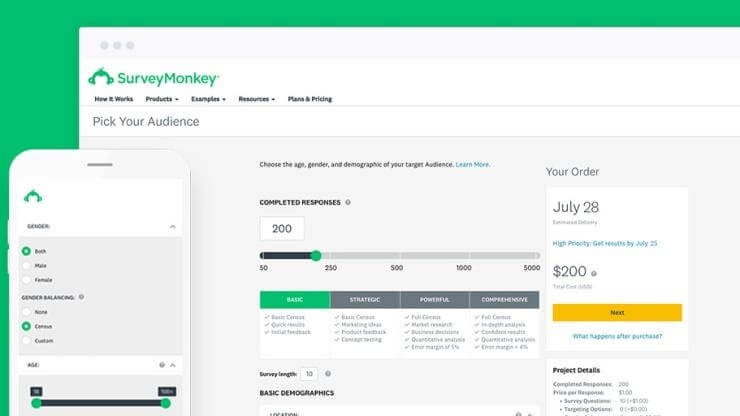 Customized surveys, clever analytics, reporting features and useful data export options. Different survey types and insightful resources help you prepare your survey. They also offer individual and team plans so you can really find what suits your needs best.

When do we recommend it? When you want to share your questions with a bigger pool of people and want to compare and analyze their answers easily.
Price: Basic plan for free, bigger individual and team plans also available.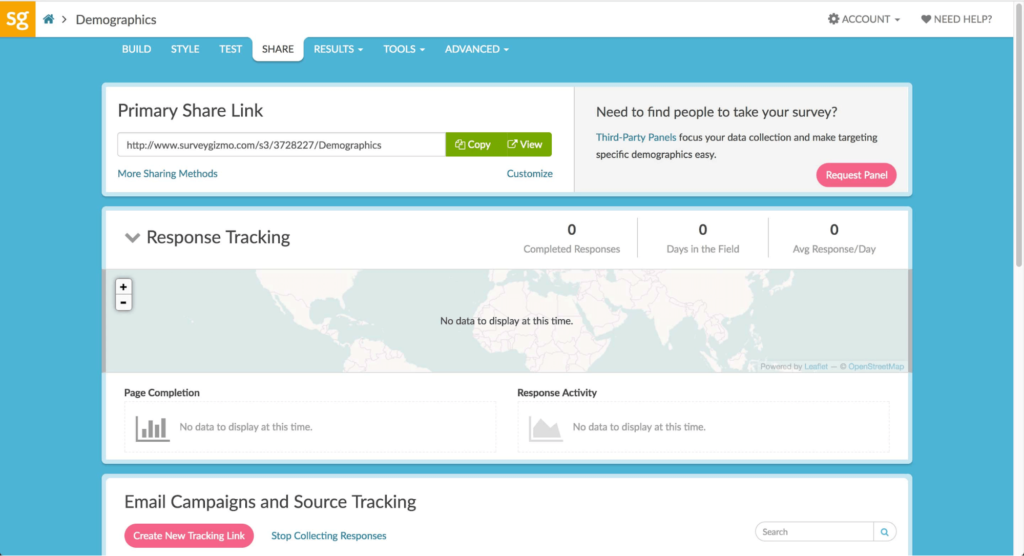 A comprehensive survey tool with many question types, reporting solutions and customization options. Integrations, various publishing forms and security make it a convenient choice.

When do we recommend it? When you base a decisive part of your insights on surveys or are about to create complex surveys.
Price: Upon request.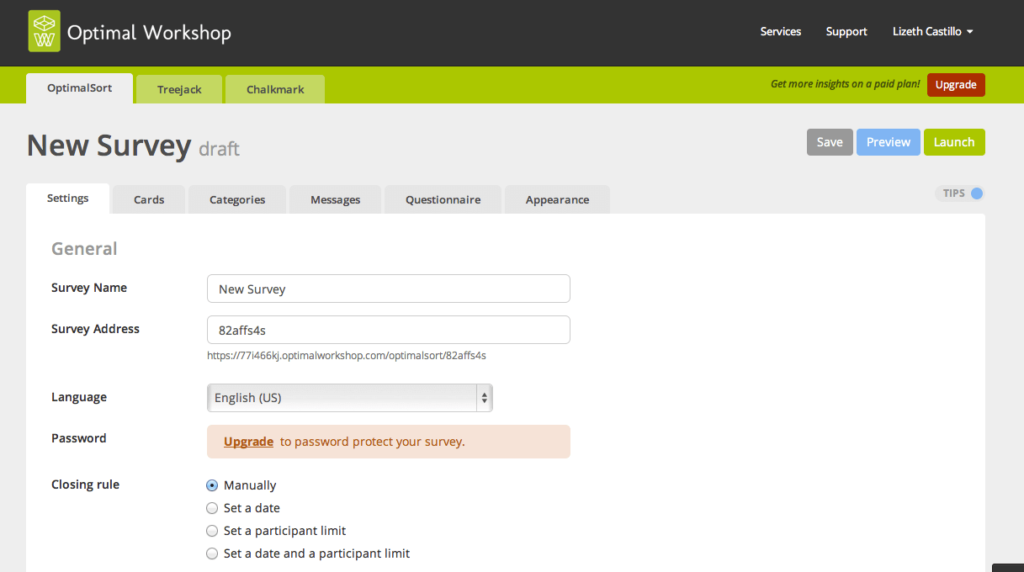 Research information architecture, labeling, menu structure and many more with online card sorting and tree test. Combined with questionnaires and built-in reporting, you can get many research types done smoothly. Additionally, qualitative research solution Reframer comes as part of some packages.

When do we recommend it? When you are looking for a solution which allows you to create, share and analyze various studies and test types.
Price: Available for free, unlimited studies and sessions come from $166 / month / user if billed annually.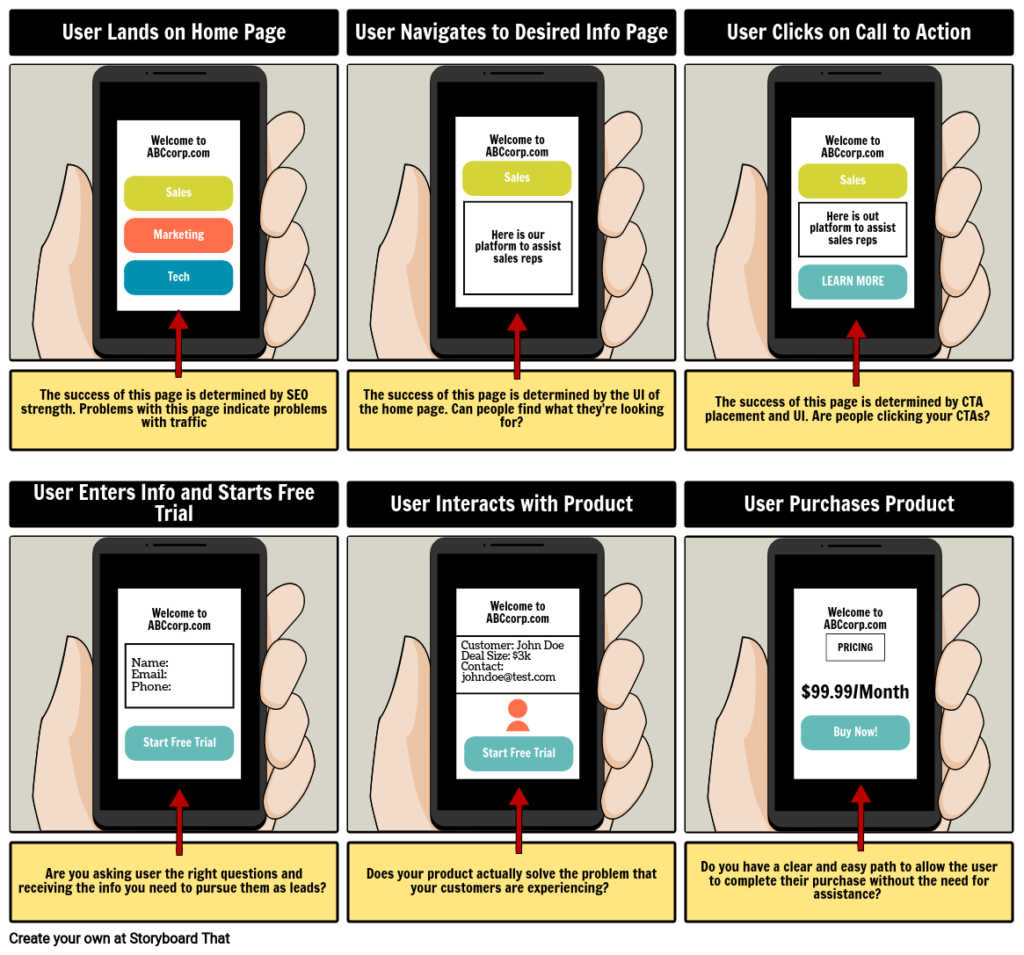 StoryboardThat allows users to create wireframes and UX story maps either from scratch or by using one of their hundreds of templates. They have a vast art library and easy drag-and-drop format and also allow users to upload their own images for total customization.
StoryboardThat offers different layout options and the ability to export as a PowerPoint, PDF, Hi Res image, or simply just share the URL with co-workers to collaborate on ideas.
When do we recommend it? At the beginning of projects, it often makes sense to create storyboards in order to illustrate the complete customer journey. This is when, instead of simply drawing, this tool can be useful.

UX analytics tools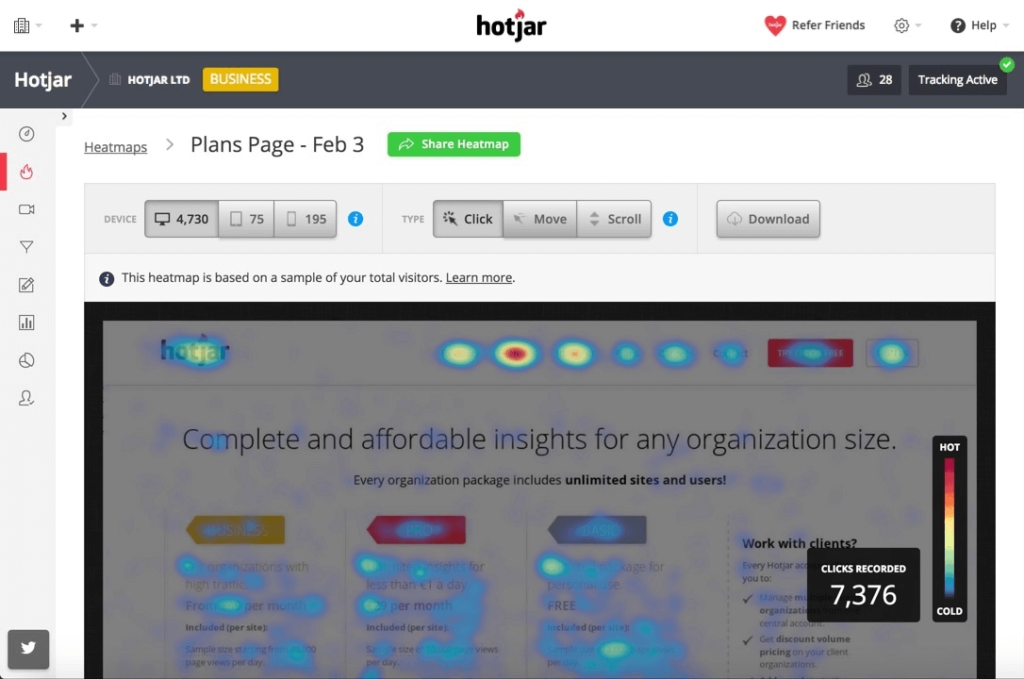 Heatmaps, recorded user sessions, surveys, feedback polls. Hotjar offers invaluable insights into the way people normally and naturally interact with your website. With clear data policy and dashboard, your results will be GDPR-compliant and easy to understand. Also, make sure to check out their blog for inspiration.

When do we recommend it? When you want to "check" your design's performance after release or without the interference of a test scenario. Also, if you want to prioritize the order of issues to be solved based on evidence.
Price: Personal plans for free or €29 / month, business plans based on pageviews, agency accounts according to your needs.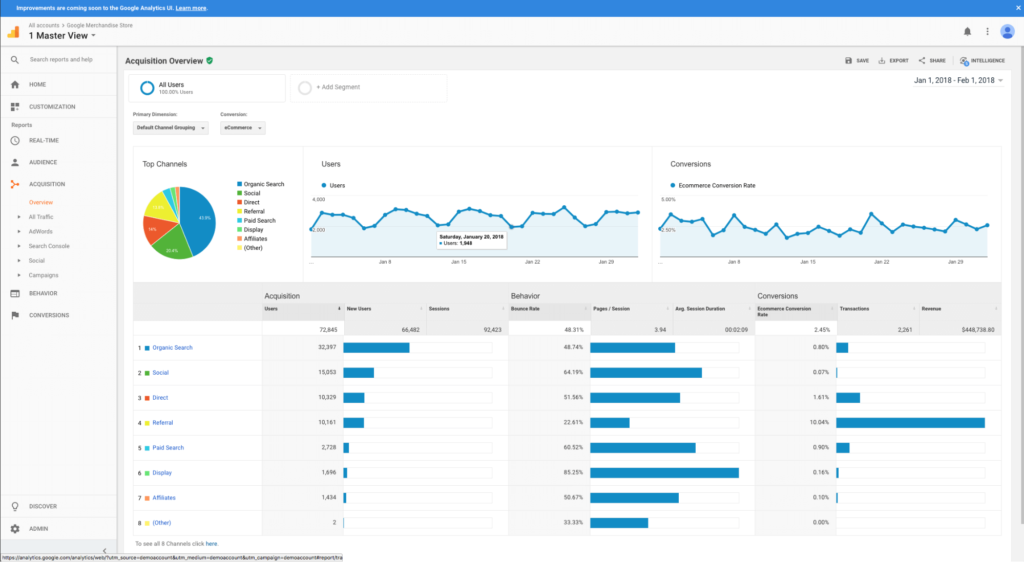 Observe user behavior, follow and understand funnels, measure the performance of your new design and improve your service based on actionable insights. Google Analytics, when set up well and monitored continuously, can become a key factor in making the most important changes in your product's flow.

When do we recommend it? Always.
Price: Free.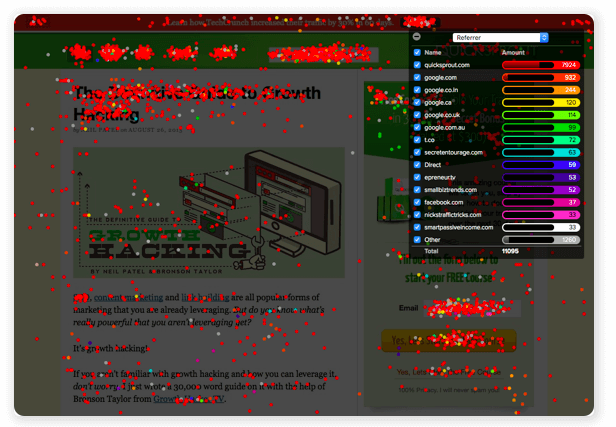 Combine insights from scrollmaps, heatmaps and click records with those from A/B testing without a long set-up. Data collected here can make a nice addition to what you see in Google Analytics as you can specifically filter by source or look into the behavior of audiences.

When do we recommend it? When you want to specify some segment of your analytical data further without a complicated implementation process.
Price: Basic plan for $24 / month and for 30000 tracked pageviews / month.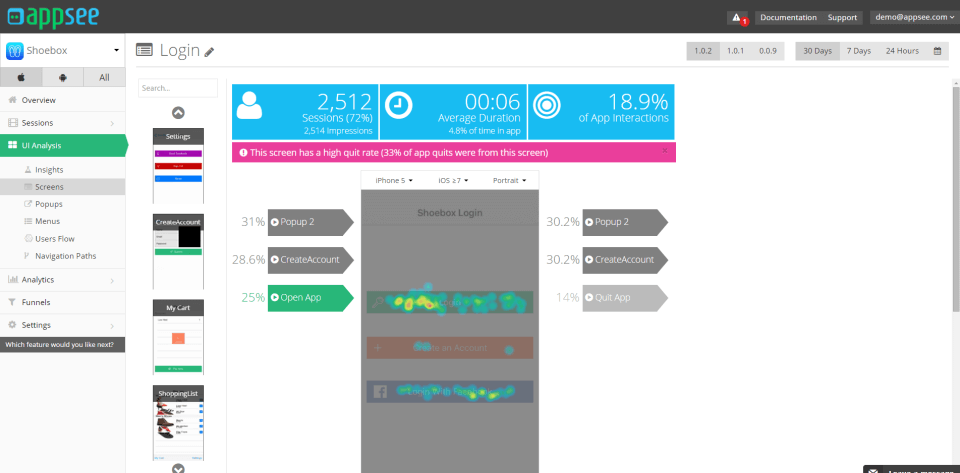 Concentrating on mobile apps, Appsee lets you observe users interactions with your app and pinpoint problematic elements in your design. Heatmaps and crash recordings help you follow how they use your app. It secures user privacy without hindering your app's performance and speed.

When do we recommend it? When you need to monitor the performance of mobile applications.
Price: Available upon request.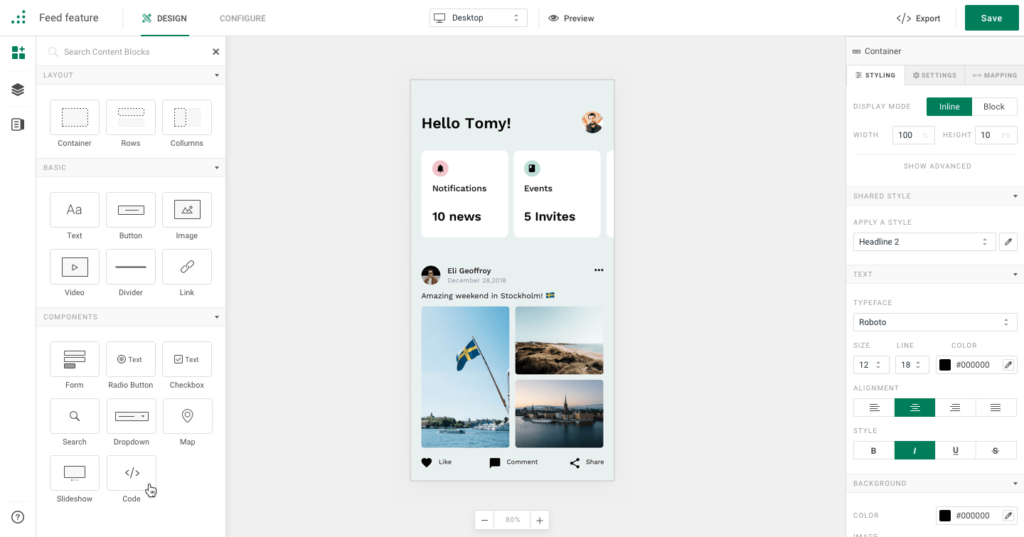 Every day, engineers around the world write the exact same front-end code, save for unique data and styling. Mason consolidates these fundamental web building blocks: users can make production-quality front-end software features that look and function as handwritten code.
Mason is a front-end-as-a-service platform that lets product teams build, design, and deploy live, functional, client-side software faster than the traditional software development cycle. Features live within the product team's existing codebase, alongside the rest of the application's code.

Why do we recommend it?
Lets teams build, design, and ship at speeds previously unheard of
Secure, built-upon software development best practices
Allows teams to make changes to front-end software fast, and push updates in real time
It lets front-end engineers move faster and solve more complex problems due to their expanded capacities
Price: Free to start, no team limits; monthly rates start at $75/month which gets you 5x times the API calls + hands-on support
Tools to boost creativity, enhance teamwork
Project management tools
You do awesome work easier and quicker collaborating with others. However, if you don't have the structure and tools to do that effectively, life just gets harder. So we decided to include our favorite project management tools, too.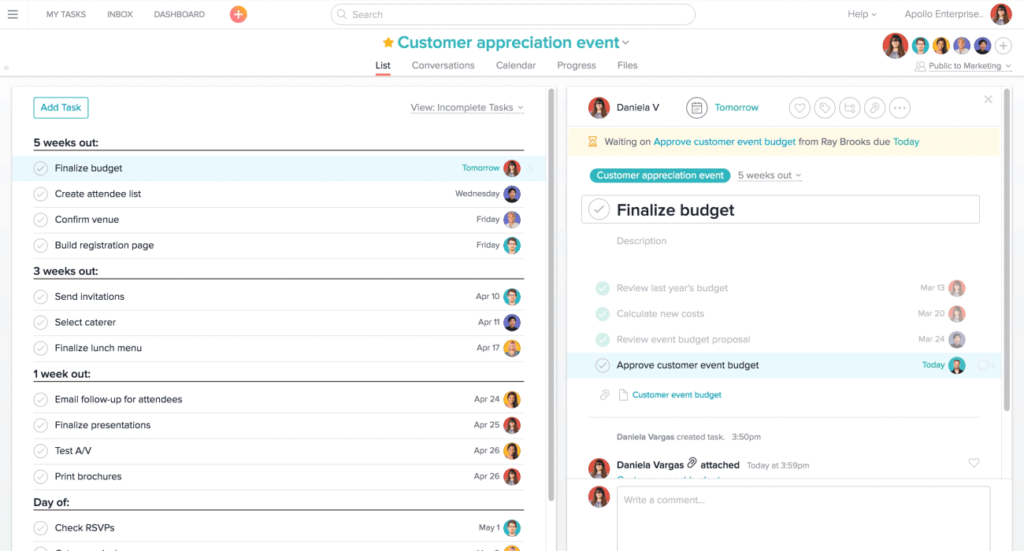 Monitor progress real-time and organize everyone's schedule so you definitely hit your goal on time. Follow and indicate changes on a clear and beautiful dashboard. Also, with more than 100 integrations, Asana lets your team oversee every important element and area of the project easily.

When do we recommend it? When you want to benefit from useful templates instead of building a complex dashboard so that you and your team can focus on getting tasks done.
Price: Free for up to 15 members, Premium from $9.99 user / month.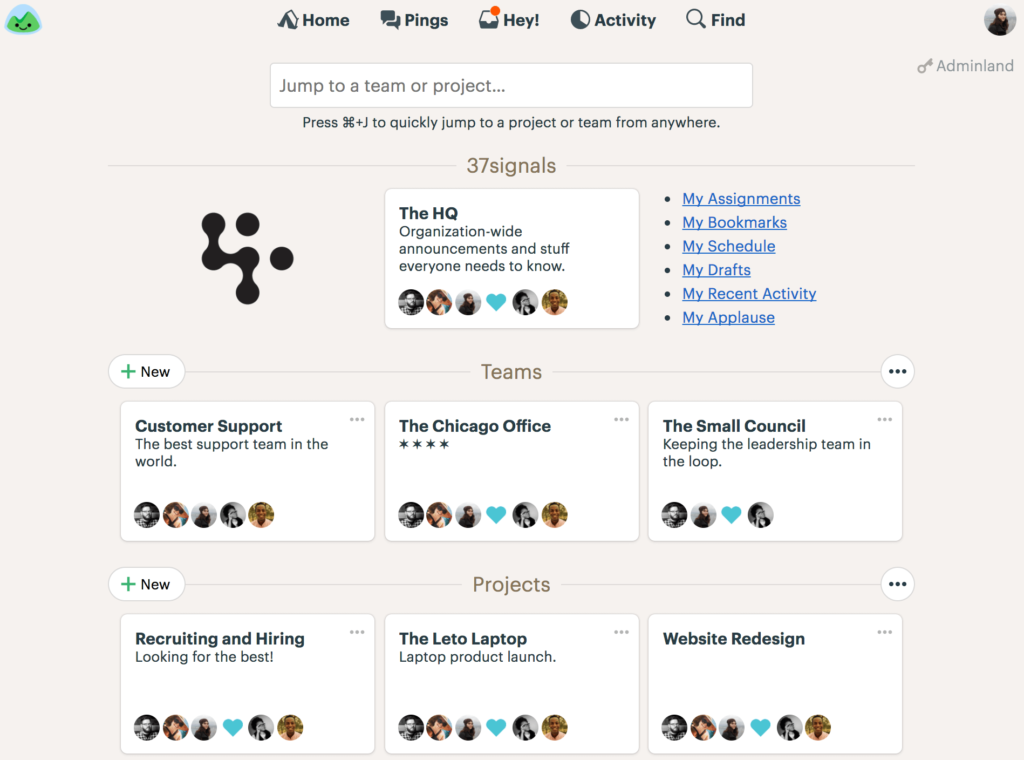 Message boards help you keep track of all important information without checking different channels and endless threads. It organizes task assignment, schedule management and details sharing with clients so you can really concentrate on getting things done.

When do we recommend it? When you wish to share your progress with clients effortlessly while maintaining ownership over what and when to present to them.
Price: $99 / month for unlimited users and projects.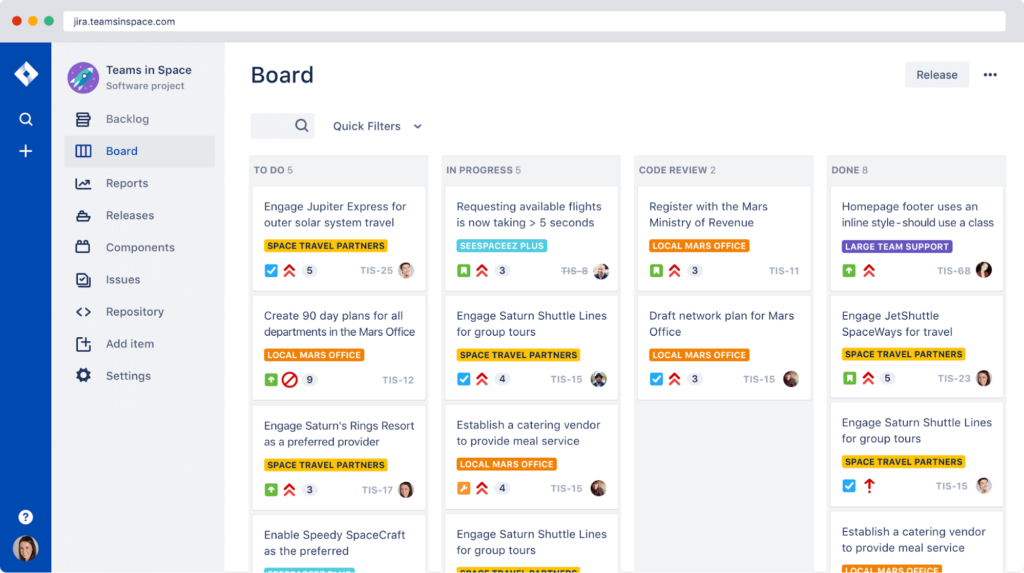 Providing an overview of the progress, issues and bugs of different phases, it allows others to access your team's boards to see or assign tasks. This holds the key to effective collaboration within cross-functional or agile teams. Jira helps find issues with design and development, making sure nothing gets lost in translation.

When do we recommend it? When development forms part of your overarching project.
Price: $10 / month for up to ten users, $7 / month / user for the first 100.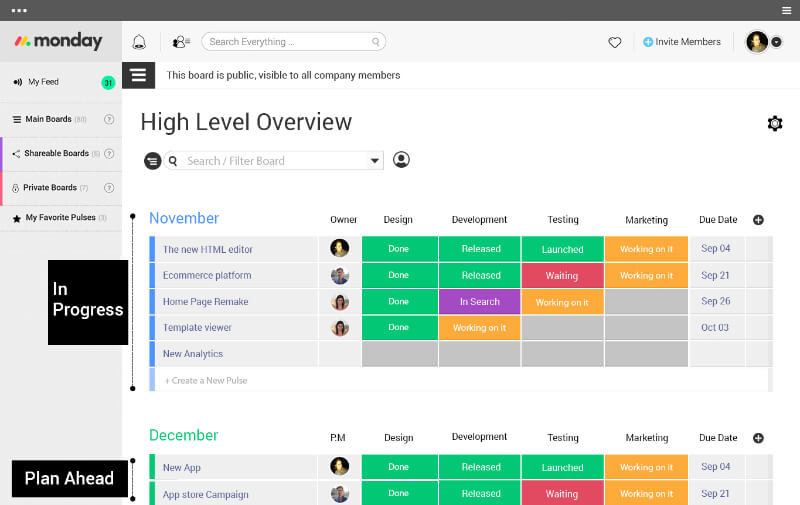 With seamless onboarding, mobile version and progress reports, Monday makes remote work run smoothly. Overseeing your projects and collaborations helps ensure you never miss a deadline or have to reschedule.

When do we recommend it? When you want to get organized and efficient without developing a rigid structure or micromanaging your own progress.
Price: Basic plan: $25 / month billed annually for five users, $49 for ten or $250 for 50.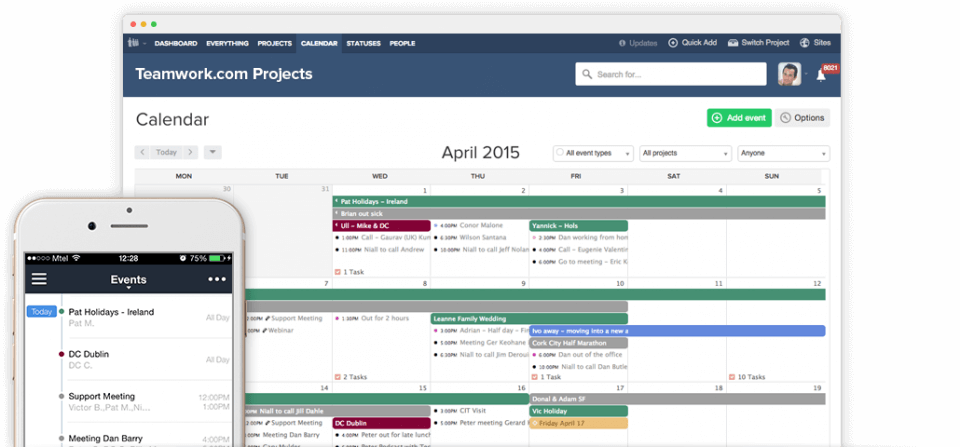 Track your team's progress with clear strategy mapping and pinpointing crucial tasks. Keep everybody on the same page regarding tasks and milestones with the help of transparent collaboration features. Boost your performance based on straightforward reports and measurement.

When do we recommend it? When you are planning a complicated project and already seem to get lost with prioritizing tasks and setting a timeline.
Price: Free for up to users; Pro: $9 / month / user with at least five.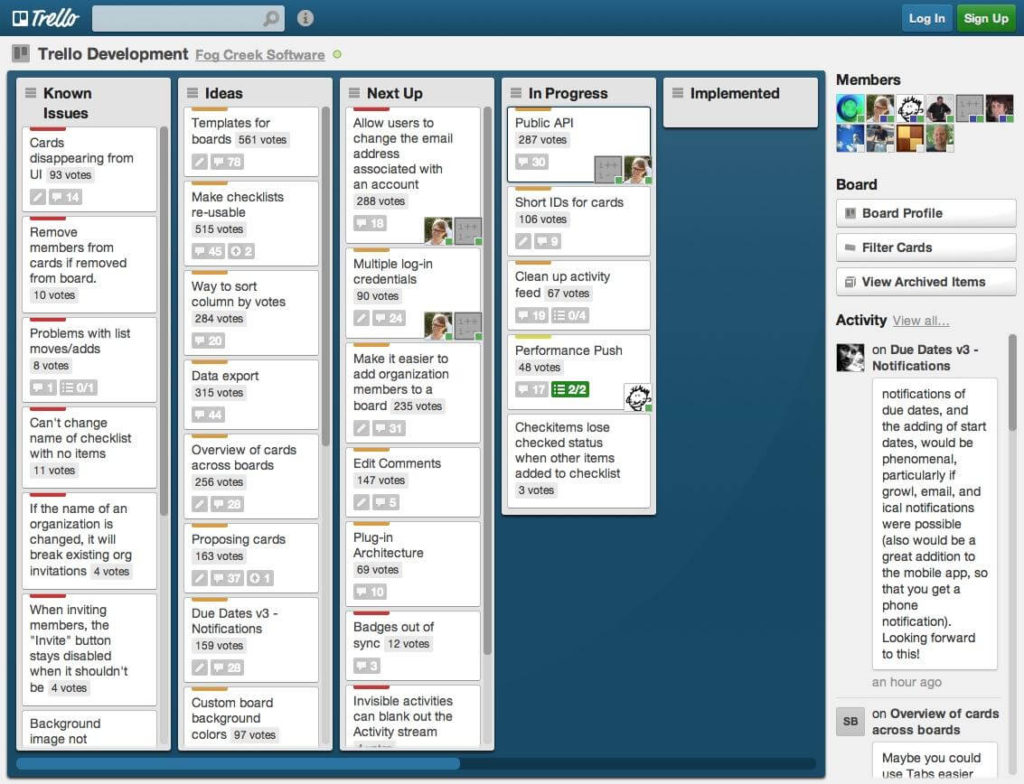 Build customizable tables for your projects and oversee your tasks easily. With Trello's intuitive no-nonsense project management, you won't get lost along the way or spend more time administering tasks than actually working on them.

When do we recommend it? When you are about the start your project management journey, work with a smaller team or individually and want something easy-to-use.
Price: Free for individuals; Business Class: $9.99 / month / user if billed annually.
UX portfolio creator tools
UX portfolio creator site that helps you build your UX portfolio super quickly and easily. No coding is needed, save time and focus on the content instead: show your design process and design decisions in your case studies. With UXfol.io you will get tons of help in creating a meaningful UX portfolio.

When do we recommend it? When you want to create a meaningful UX portfolio quickly and easily. Many unique features, created especially for UX professionals, are included:
Create a portfolio site with a profile page and add 3-5 case studies with your best work.
Select the UX methods you used and use some copywriting help: just follow the guiding questions and save tons of time for yourself.
Showcase your design easily with built-in mockups. Add a cool gallery section too!
Set up a password for projects with sensitive information.
Set your own domain.
Customize your portfolio: use portfolio templates and choose from 300+ fonts.
Ask for personalized feedback on your case studies from the UXfolio community or from UX experts.
Price: Free for 1 project, $9 / month for Standard features, $15 / month for all the Premium features
Sign up here to UXfol.io and try it out for free!
Did we miss any UX tool?
Let us know in the comments if you have any other favorite tools for the UX design process. We would really like to hear about your preference when it comes to UX tools!
Finding the UX right tools and doing great work makes for a first step. Then comes the part where you want to let the world know about it. Everything that you accomplished with the help of these tools deserves presentation as a coherent story of your project. Luckily, you can easily showcase your process in UXfol.io, our portfolio design tool that lets you tell the whole story about the UX design or research project you have done.